NHAI wants to lay waste 95 hectares of lush-green forest between Thane and Palghar as it 'stands in the way' of the proposed 379-km Vadodara-Mumbai Expressway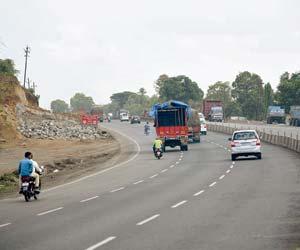 Another 95 hectares of pristine forest between Thane and Palghar is set to be sacrificed for the proposed 379-km long Vadodara-Mumbai Expressway, which will run parallel to the existing Mumbai-Ahmedabad Highway. The forest is the size of 54-odd football fields, for which the National Highway Authority of India has now filed an application with the Ministry of Environment and Forests for required clearances.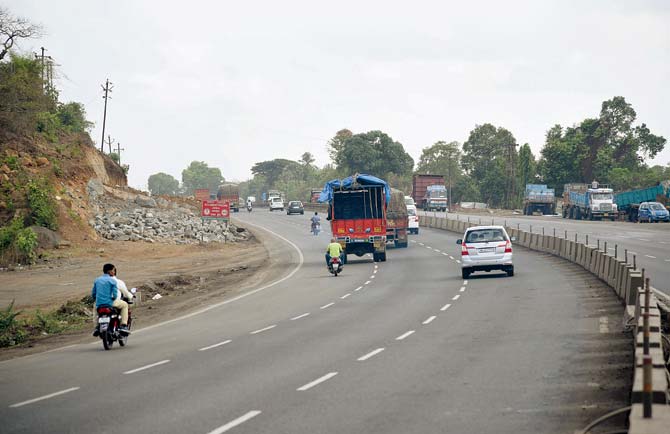 The new expressway will run parallel to the Mumbai-Ahmedabad National Highway. File pic
Senior NHAI officials told mid-day that acquisition of non-forested land required for the six-to-eight lane expressway project is already underway. The proposal was submitted to the ministry on October 11.
Deputy Conservator of Forests, Dahanu division, Nanasaheb Ladkat said, "We have received the proposal from the NHAI for the forestland that will have to be diverted for the construction of the Vadodara-Mumbai Expressway alignment passing through Palghar and Thane districts; the proposal is in process."

Illustration/Ravi Jadhav
Green to grey
The stretch in question falls between Vasai and Talasari. A total of 50 villages fall along the proposed alignment, and forestland close to 22-25 villages will have to be diverted.
With areas in and around Mumbai already losing green cover at a fast rate, this project is another big blow to the environment. It will not only have a huge impact on that portion of forest, but it will also affect mangrove patches at a few places along the alignment.
The NHAI, however, has justified its ask. "The project being a green field alignment, sufficient care was taken during the design to keep it away from forest areas. But a few such areas could not be avoided due to geometric constraints..." states its letter submitted to the MoEF.
NHAI had written a letter to Ladkat in August, a copy of which is with mid-day. It states, "The online application has been submitted to MoEF&CC for the diversion of 94.0924 hectares of forestland of Dahanu division."
The second letter dated September 15 talks about the submission of the online application "to MoEF&CC for the diversion of 0.5051 hectares of forestland of Thane division".