With physical and mental abuse going unnoticed in the guise of treatment, the Forum for Autism has drawn up a charter of rights for the affected, as it is Autism Awareness Day today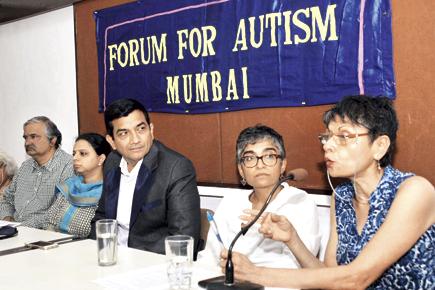 Imagine a small boy, tied to a chair. He wants to go to the bathroom but isn't allowed to. He cries to be released. He cries for his mother, who is just outside the door. She does not intervene. This child has not committed any crime or offence. And the adult who is subjecting him to this abuse is considered to be not an abuser, but a therapist.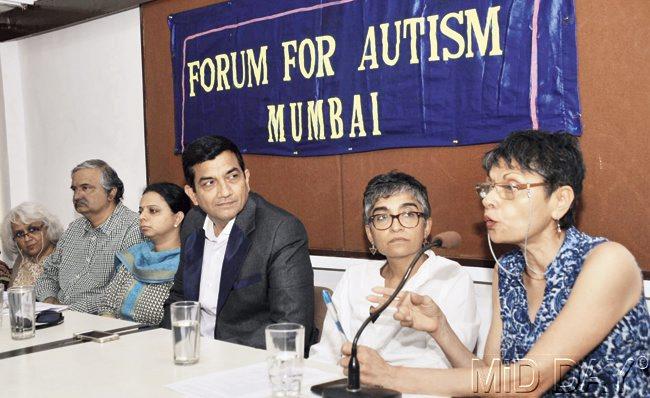 Announcing the charter of rights for autistic children, (from left) Forum for Autism office-bearers Parul Kumtha and Anand Kumtha, parent Babita Raja, autism awareness ambassador Sanjeev Kapoor, paediatrician Dr Vibha Krishnamurthy and Action for Autism director Merry Barua. Pic/Suresh KK
Because the child has autism and this is part of the "treatment". Countless instances of such "invisible" abuse goes on in the guise of treatment and therapy, but the fact is that it is neither necessary nor advisable.
But parents do not know that there is any alternative, or that their children do not need to be treated in this way. Moreover, those who are differently abled, particularly children, are unable to assert their right to be treated fairly, and so beating and humiliation are allowed to continue. In the case cited above, the therapist was eventually pulled up, but the fact is that like her, many therapists do not know that there are kinder alternatives.
Stopping abuse
In order to put a stop to such abuse, and to ensure that all children including the disabled are given justice and fair treatment, the Forum for Autism (FFA) has drawn up a charter of rights for those with autism spectrum disorder (ASD), as the syndrome is now termed.
The charter was announced at a press conference in the city yesterday, to coincide with Autism Awareness Day today. Among others, celebrity chef Sanjeev Kapoor has been a supporter of the forum and was present at the launch of the charter. Kapoor remarked that as a nation and a set of people we are not very sensitive to those around us, including the environment. When it comes to autism, he said, this lack of sensitivity translates to a lack of awareness.
"When people leave the country they realise that in other parts of the world they can get the support and understanding that is lacking in India. In our country, sensitivity lacking in all areas of life — including blowing the horn!" Kapoor added that since supporting the forum for autism, besides contributing to the cause he himself has learnt a lot, and is still learning, he said.
The charter
The charter of rights, which the forum describes as nothing more than extending basic human rights to those with ASD, has been formulated by parents after many years of studying the problems and discussing ways of resolving them with professionals.
The rights listed in the charter include basic things such as respect, patience, being treated in a non-stressful way, and not being punished physically. In Mumbai there are approximately 40 schools for special-needs students, and also some mainstream schools which include autistic children.
Among other things, children with ASD are prone to higher levels of anxiety, which gets aggravated when they are treated roughly by adults who cannot understand them. Adding to this is the fact that autistic children also cannot express themselves and tell the adult what they feel.
Parent and FFA activist Anand Kumtha explained that FFA is a parent support group which has drawn up the charter to give voice to children who have suffered abuse. "It is a result of years of observation and putting up with abuse in the guise of therapy and treatment, seeing children locked in the toilet, in the cupboard.
Parents are helpless, and some opt for home schooling rather than endure the abuse, but not all parents have this option. It is actually the duty of professional bodies to come out with such a code of conduct. But since this has not happened, parents have felt the need to do so," he said. Kumtha added, "Drawing up the charter was an emotionally heart-wrenching experience but also an empowering experience."
Total acceptance
Parent of an autistic child Babita Raja, sharing her experience, said that she realised there is an alternative only when she went abroad. "The environment was very liberating for us," she said. She added, "As parents, though we accepted our son, total acceptance came when we realised that society can also accept him as he is, and that disrespectful behaviour does not need to be accepted. In India there is very little tolerance for those who are different."
Paediatrician Dr Vibha Krishnamurthy explained that there is no reason to condone beating, as there are many other techniques which are effective. "It is a scientific fact that fear and learning cannot co-exist, and frightened children do not learn. And every child has the right to learn," she said.
Merry Barua, director of the group Action for Autism, said the first step after formulating the charter is to make parents and therapists aware about the issue. The charter will be discussed with therapists and the possibility of setting up a monitoring agency is also likely to be explored, she said.