Bandra and Khar students join hands with Raddi Connect to recycle scrap and raise funds to provide shelter for families of street children suffering from cancer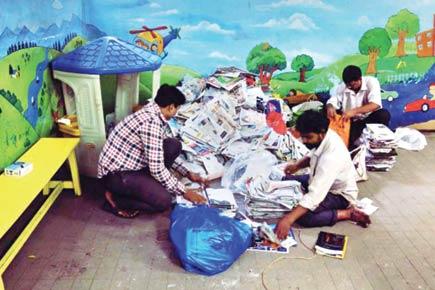 What if you could change the fortune of an entire family with the stacks of old newspapers lying in your home? School students from Bandra and Khar have woken up to this realisation and are collecting newspapers from their homes to raise funds to provide street children suffering from cancer with shelter.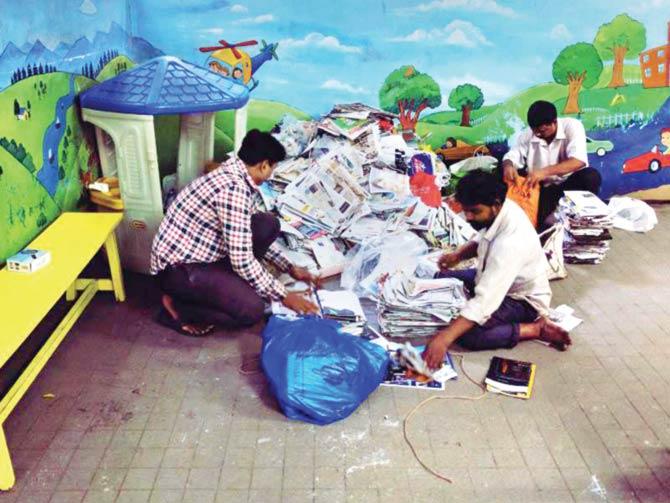 The scrap collection of Beacon High School in Khar
ADVERTISEMENT
The funds will go to Helping Hands Foundation, an NGO, through Raddi Connect — a start-up of young professionals who offer practical recycling solutions by joining hands with raddi collectors across Mumbai.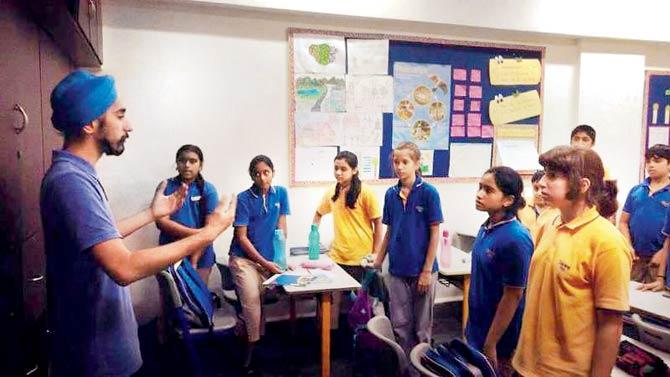 Raunaq Singh Sahni, co-founder of Raddi Connect, interacts with students of Billabong High School in Bandra
The students — of Billabong High School in Bandra and Beacon High School in Khar (W) — have over the last 15 days collected newspapers that could bring in Rs 27,000. With this money, three families of street children suffering from cancer can be given shelter at welfare homes.
The aim is to provide shelter to 55 families, whose children are undergoing free cancer treatment at Tata Memorial Hospital.
Life on the streets often forces such families to stop treatment mid-way. The initiative hopes to prevent this by taking care of their accommodation. Tata Memorial Hospital offers free cancer treatment to 1,800 street children every year.
Sold at a 'good price'
Rahul Nainani and Raunaq Singh Sahni, co-founders of Raddi Connect — which has raised Rs 3 lakh in a year for different initiatives across the city — say the students collect newspapers from their homes and place them in bins provided by the start-up in their school corridors. The scrap is then sold to recycling companies for "a good price".
"Students have even formed committees of eight to 20 members from Std IX-X to keep tabs on newspaper collections. A healthy spirit of competition to raise more funds than others is making the initiative a big success," says Nainani.
The initiative also helps cut the middlemen involved in selling scrap. "We often accuse raddiwalas of cheating us. But their cut after paying off the middlemen is very small. That's why they resort to tricking people. We train them to not only perform better but also eliminate middlemen," says Sahni.
Teachers at the two schools believe that the initiative has made the students more empathetic to the needs of the underprivileged. "I loved the idea. So did the students. They have been asking if they can get more newspapers every day to help the cause further. Teachers have also decided to chip in. It's a fantastic opportunity to reach out to the underprivileged," says Devpriya Mukherjee, who teaches biology and environmental science in Std IX and X at Billabong High School.
Earlier, Raddi Connect had helped 10 children of St Catherine of Siena School and Orphanage in Bandra fund their education by making them collect discarded newspapers and other scrap from the premises.