Kabutarkhana in Jain temple inside Borivli East society responsible for rising cases of asthma and hypersensitive pneumonitis among residents, but BMC's health department is yet to act on complaint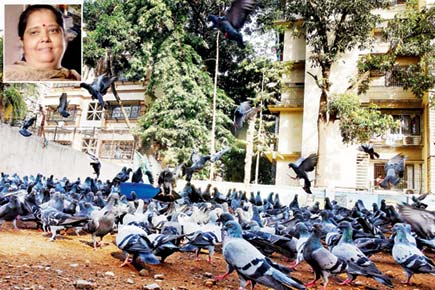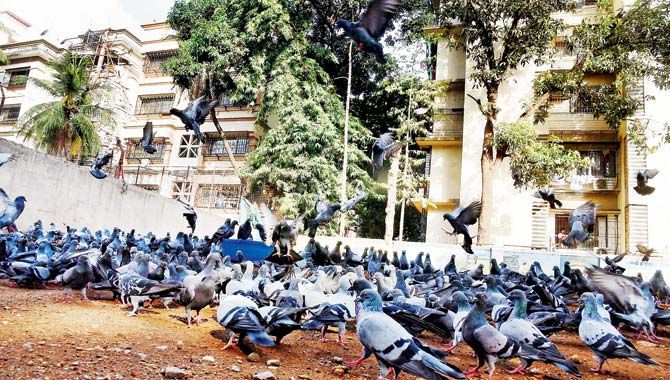 A kabutarkhana has been beside Neelkamal Society in Borivli East for eight years. Pic/ Nimesh Dave
Last year, when 26-year-old Naitik Zota took his mother Jayshri (53) to a pulmonologist following a severe bout of breathlessness, the doctor confronted him with a bizarre question: Do you have pigeons in the vicinity of your home? When Zota told him about the presence of a kabutarkhana next door, the doctor advised him to place nets on the windows of his home, and move Jayshri to a room that wouldn't be frequented by the birds. The advice, unfortunately, came late.
ADVERTISEMENT
A few weeks later, Jayshri died of a lung infection, which the doctor alleges was the result of harmful fungi present in pigeon droppings.
Several residents of Neelkamal Cooperative Society in Borivli East, where Jayshri lived, say they too have been victims of ill health for the last eight years since the kabutarkhana came up close to their homes. They have complained of lung infection, breathing problems and asthma. After repeated complaints to local bodies fell on deaf ears, the society members filed a complaint with the BMC health department last month, demanding immediate action against the growing menace. But, the BMC is yet to act on their complaint.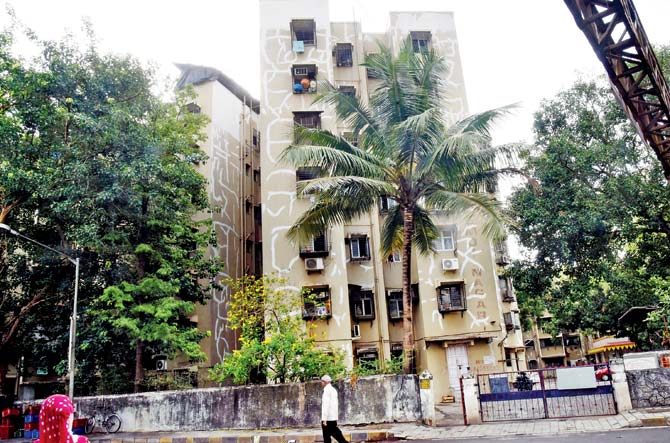 Neelkamal Society in Borivli East
'Pigeons killed mum'
Zota recalled the time he ran from pillar to post after doctors were unable to identify the cause of his mother's breathing problem. "First, I took her to a GP, who diagnosed her condition incorrectly and gave her medicines for asthma. This deteriorated her condition. She was then admitted to Jaslok Hospital," he said.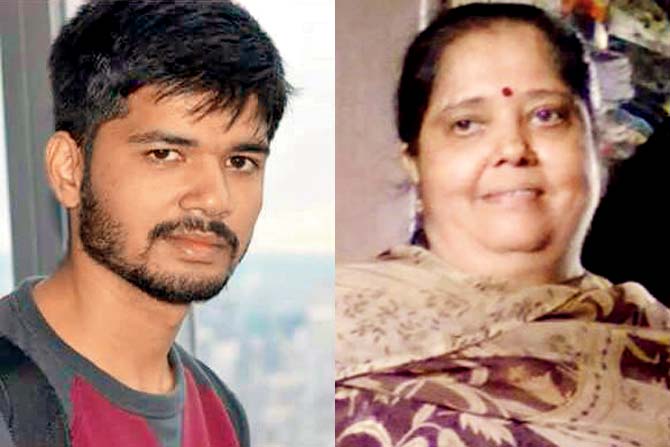 Naitik Zota and the late Jayshri Zota
At Jaslok, Dr JR Shah, consultant pulmonologist, attribute her illness to pigeon droppings. "But, by then, my mother's lung capacity had decreased by 40 per cent," said Zota of his mum, who succumbed a few weeks later. "In severe cases, patients develop interstitial fibrosis that causes irreversible scarring of the lungs, like it happened with Jayshri. It affects the exit and entry of air to the lungs. This happens when a person lives in close proximity to pigeons or hens. I get five to six such cases every year," said Dr Shah, referring to what's probably a city-wide menace.
Residents at risk
"The kabutarkhana is causing health problems and many people are suffering from respiratory diseases. The physicians to whom these people consulted have opined to get rid of the pigeon feeding that starts every morning (sic)," reads the complaint copy. More than 40 residents have also submitted a petition.
Hitesh Upadhayay, a resident of the society, said that around three months ago, his wife suddenly developed trouble breathing. "There is a Jain temple inside the society where devotees come and feed the pigeons. The feeding continues till late evening," said Upadhayay.
Medical experts recommend that patients with low immunity or history of respiratory problems should stay away from pigeon breeding grounds.
Dr Balwant Samant, a retired professor with KEM Hospital, explained that the problem is caused due to exposure to the soil, where the pigeons leave their droppings. When the droppings dry and scatter in the soil, microscopic fragments from it break away and become airborne. "These particles contain dormant fungi and bacteria that people around end up inhaling. It gets inside the lungs and becomes a breeding ground for infectious agents."
BMC clueless
In 2016, when the issue raised in a BMC meeting, authorities had proposed to add fertility control pills in pigeon food to control the population. There has been no progress so far.
A senior health officer from the BMC, said, "People consider feeding pigeons a religious act. Most kabutarkhanas in the city are illegal, and usually near places of worship. We have been dissuading residents from feeding pigeons."
When mid-day reached out to Dr Padmaja Keskar, health officer, BMC, she said she would look into the matter.