As the city witnessed heavy downpour yesterday, trains ran late, while many taxi and auto drivers decided not to work in the waterlogged city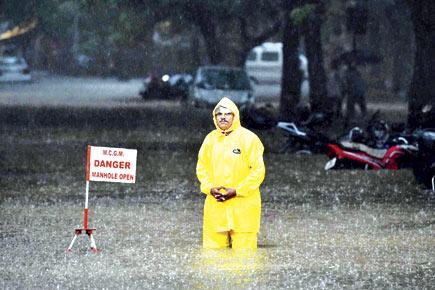 The incessant rains have exposed the shoddy work the Brihanmumbai Municipal Corporation (BMC) did in clearing the choked drains before the start of monsoons.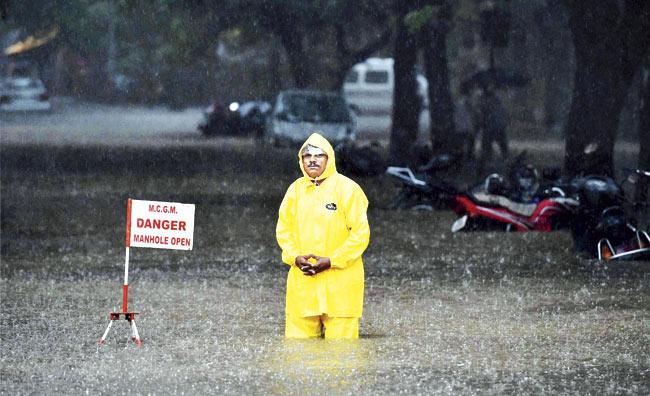 The BMC had to open manholes to allow faster drainage of water. Pic/PTI
On Tuesday, the city's transportation systems went for a toss, with Colaba witnessing more than 119 mm rainfall and the Santacruz region 23.2 mm, and several areas in the city flooded with water. Even taxi and auto drivers had a tough time in the heavy rainfall.
Railways
Trains on the Central Railway (CR) were running late by over 30 minutes, as the rainfall increased during evening peak hours. Waterlogging on tracks was reported near Masjid, Sandhurst Road, Byculla, Kurla and Chembur.
"Trains were running late due to water logging at certain areas," said A K Singh, PRO of CR. Commuters complained that train services haltered at several locations on both Main and Harbour lines of CR, while they waited inside the train.
Sources said that the heavy rainfall caused the trains to slow down, as it was affecting visibility. However, the Western Railway (WR) did not seem to witness similar problems, though a technical glitch detained a Borivli-bound slow train in the afternoon.
"There was a minor glitch, but it did not delay services. Otherwise, there were no issues of waterlogging. Trains usually run a bit late during heavy downpour," informed Gajanan Mahatpurkar, the PRO of WR.
Commuters were seen rushing to stations even before the normal evening peak hours started, as they feared that train services would be affected due to the heavy downpour.
Jampacked roads
Meanwhile, the roads witnessed traffic congestions due to waterlogging at several areas like, Hindmata, Parel, Mahalaxmi, Pedder Road, Reay Road and Tardeo.
Civic authorities had to open up manholes to allow faster drainage of water. Waterlogging was most severe between 2 and 4 pm, aggravated by a high tide of 4.95 metres at around 2.28 pm.
"There was a shortage of at least 40 per cent taxis in the city, mainly due to heavy rainfall and less drivers," said A L Quadros, leader of the city's taxi union. On a normal day, there are around 36,000 taxis on the road. One could see several black-and-yellow vehicles parked at the side of roads.
Even autos were plying less than usual. "At least 15 per cent of autos were not plying due to rain. However, the intensity of rain was less in Santacruz region, so the situation was not that bad," said Thampy Kurien, leader of the auto union.