Wim Pijbes, General Director, Rijksmuseum, Amsterdam, is in the city to deliver a talk on the radical transformation of The Netherlands' national museum of arts and history. He talks on the need for open museums, why the youth must be engaged and how digitization can take the museum experience to another level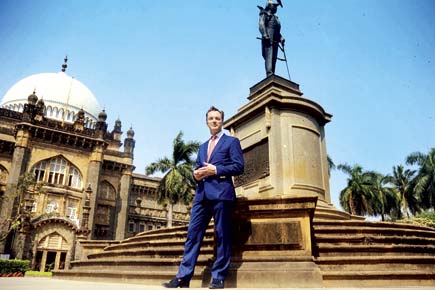 It is a sweltering April afternoon inside the Chhatrapati Shivaji Maharaj Vastu Sangrahalaya (CSMVS). Wim Pijbes, General Director of Amsterdam's Rijksmuseum, is at ease, dressed impeccably in a sharp Prussian blue suit. "It doesn't feel hot, if you stay calm," he says, with Zen-like wisdom.

Wim Pijbesat the Chhatrapati Shivaji Maharaj Vastu Sangrahalaya in Mumbai. Pic/Bipin Kokate
ADVERTISEMENT
The beads of perspiration don't matter. He would know. We suspect it's this calmness that saw Pijbes anchor the new Rijksmuseum to become the centrepiece of The Netherlands, when it reopened in 2013 after a decade of renovation and restoration.
"We had to shut down the entire building; never before has something like this been done," he shares, the sense of pride and relief, reflecting in the same breath. Sipping on black tea at the cafe inside the leafy environs of the CSVMS, he tells us more:
Q. How can museums attract people in today's day and age?
A. There is no one best way. Museums are open to everybody, and everybody has different expectations, hails from different backgrounds, practises different religions and are from different age groups. Museums should ensure that it should become their best, most memorable visit.
Q. What should museum curators bear in mind while selecting collections?
A. The 19th century model was one where an authoritative museum and curator decided what/when/how a museum should appear. Today, the classical model of authority is questioned, thanks to the Internet where everybody can be a transmitter or a consumer.
Therefore, this one-dimensional mode of authority doesn't work. With this in mind, I feel institutions like the classical museum based on an authoritarian, top-down model will have to play another role than what they did in the past.
But at same time, museums are treasure houses, our cultural heritage and national identity; places where phenomena are cherished for the present and the future. We should find a way to make big themes like identity, beauty and national treasures relevant to people in our times, and fit for the future as well.
Q. The Rijksmuseum took a decade to be ready. How did you reinvent spaces within an existing building?
A. The Dutch press dubbed it, 'A curatorial revolution' when the new Rijksmuseum opened in 2013. Earlier, sections in the museum were divided. In the new display, we have mixed everything, and set it up chronologically.
Visitors can walk through the history of The Netherlands but in an international context. We have simplified the reinstallation of the collection by using the chronology concept but at the same time, it can become complex, as we've combined sections, so you might come across paintings along with weapons or furniture. It's a radical change.
When you visit The Louvre or the British Museum, displays and collections are separated. But at the Rijksmuseum, we've torn down the walls. People and professionals loved it. It offers a new way of looking at a collection. Each object follows another.
It also succeeded because the mixed installations remind one of extensions of their own homes —the furniture, the art, and so on, just as one would be surrounded by it at home. The museum has become relatable to a modern audience.
Q. How important is it for museums to engage with youth?
A. It is important to invest in the youth. The door of the museum stands at the schoolyard. Curriculum must include two-three visits in every semester; students must be prepared for such visits beforehand. They needn't have to see all the works; even 10 pieces are fine. It's more relevant in India, because of its huge young population who should be aware of where they come from.
Q. How relevant is history in today's times when attempts are being made across the world to alter the past?
A. This is not a question of good or bad. History is history. We live in the present, so you better deal with the past. You can't change history. But you can change the future. However, if you wish to change the future, you must be aware of the past.
Q. What can India and its museums give to the world?
A. India is a country of change. It had a great past and has a great future. When Mr. Ratan Tata visited the Rijksmuseum he told me that the demand in India for knowledge from the West was immense to educate, and support India's cultural society.
The West isn't too familiar with India's diversity. It's up to us to gain knowledge from different worlds that will help enrich our lives. In the past, the Dutch shared cultural and trade ties with India.
We must take this further. Where politics stops, culture goes on. I would like to bring art from Holland to India's museums and hold exchange exhibitions. Curators and restorers can visit Dutch museums too.