An activist has alleged that BMC has endangered 34 trees on the pretext of road repair work, at Charkop in Kandivli West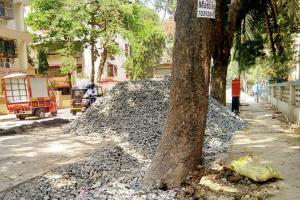 A picture shot by activist Shubhajit Mukherjee shows the base of one of the trees which he claimed was concretised by the BMC
It is clear from many instances that the Brihanmumbai Municipal Corporation (BMC) is callous when it comes to protecting the greenery in Mumbai. Now, an activist has alleged that BMC has endangered 34 trees on the pretext of road repair work, at Charkop in Kandivli West. He claimed concrete is being poured close to the roots of the trees, posing a threat to them, in violation of National Green Tribunal laws.
'Tree bases being concretised'
Activist Shubhajit Mukherjee, who has been fighting to save trees, was shocked to see that these trees were endangered due to the road work. Speaking to mid-day, Mukherjee said, "Road construction across Mumbai is a threat to roadside trees as National Green Tribunal laws are not followed. It is mandatory to leave 3 feet by 3 feet space around a tree for the roots to breathe. The contractor carrying out the road repair work at Sector-2 at Charkop has choked the trees by concretising their bases. No effort is being made to protect the trees in Mumbai. In the past five years we lost more than 20,000 trees across Mumbai due to such concretisation."
On April 7, Mukherjee wrote to the Charkop police demanding an FIR be lodged against the contractor, as he did not follow the NGT order. "I want the police to register an FIR against the contractor because if the concrete surrounding the trees is not removed, then the trees will die," he said. Mukherjee has sent a copy of the letter to the VMC R-South ward.
'Citizens pay attention'
Mukherjee who organises tree plantation drives in the city, also feels that it is important for citizens to be vigilant while road work is on and said that they should insist that the contractor follows the rules. "It is only the awakening of citizens that can protect trees. I request the authorities and road construction companies to take special care of trees and not just work for profits," added Mukherjee.
He has taken pictures of the trees endangered by the road work and sent them to mid-day. They show that there is stone crush mixture surrounding the tree base, which, if not removed in time, can prove fatal to the trees. He also pointed out that there are 34 lakh trees in Mumbai, and each of them must be protected.
BMC speak
Asked about the issue, Assistant Commissioner of R-South Ward, Sanjay Kurhade said, "We received a complaint regarding the problem three or four days ago. I have given instructions to our officials to ensure all care is taken to prevent damage to trees while carrying out road work."
Catch up on all the latest Mumbai news, crime news, current affairs, and also a complete guide on Mumbai from food to things to do and events across the city here. Also download the new mid-day Android and iOS apps to get latest updates