Family of 32-year-old man from Nalasopara who was killed claim police didn't act on tip-off about assailants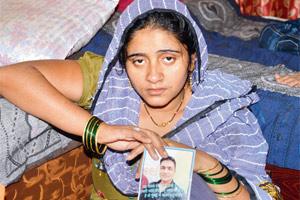 Narendra Mishra went missing on March 4; four days later, the police found his body. Pics/Hanif Patel
A week ago, Narendra Mishra stepped out of his home in Nalasopara to collect Rs 8 lakh that one of his customers had owed him for years. Narendra never returned. Four days later, the police found a mutilated body resembling him, but they cremated the corpse before the family could take a look at it. The family has now alleged that the police deliberately botched up the probe to shield the culprits.
Narendra, 32, was a resident of Nalasopara East, but ran a wholesale cloth store at a mall outside Malad railway station. On March 4, he told his wife he was heading out to Swagat Hotel in Nalasopara to recover his dues from a fellow cloth merchant, Rohit Singh. Rohit and his brother Pankaj Singh had owed him Rs 8 lakh since 2015, but kept delaying payment. This was the cause of several heated fights between them.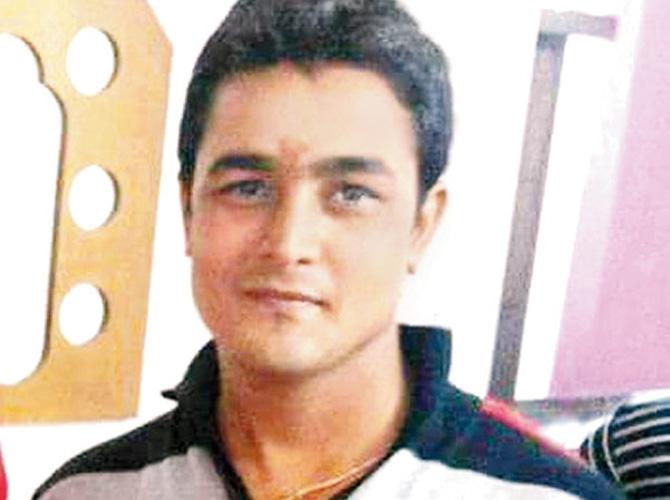 Narendra Mishra
When Narendra failed to return till the late night, Dipti informed his brothers about the matter and approached the police. But the cops turned her away and said that they would have to ait for 24 hours before registering a missing complaint.
"If the police had made one call to the suspects, my brother would have been with us today," said Narendra's brother, Ramrup, who travelled from Chandigarh to Mumbai to seek justice for his brother.
Is he really dead?
On March 7, the police found a body of a man around Narendra's age at the Padgha forests in Bhiwandi. The head had been bashed in, and there were several scorch marks on the body. But the cops cremated the body without waiting for Narendra's family to identify it. Senior police inspector Bhaskar Pukhale from Tulinj police station said, "The body was highly decomposed, so we cremated it. We took the viscera samples and are waiting for the forensic report to ascertain the cause of death."

CCTV footage shows Narendra Mishra (in shorts, foreground) meeting Rohit Singh (background) outside Swagat Hotel
With just photographs of the body to go on, Narendra's family isn't sure the body is his, but the clothes on the body did seem similar, said Ramrup. They now fear the worst. Sub-Divisional Officer (Nalasopara) Datta Totewar said, "We are still unsure if these are his remains. We will conduct a DNA test to determine that."
What are cops doing?
The family was even more confused by the police's contradictory statements. "Initially, the investigating officers claimed that Rohit was present at the spot where they found the body. But later, they claimed Rohit and his brother were not there on that particular day," said Ramrup. In response to this allegation, Totewar said, "Based on the family's allegations, we checked the Call Detail Records of Rohit and Pankaj, according to which their location was somewhere else."

When Narendra Mishra went missing, his wife Dipti approached the police on March 4, but they told her to wait for 24 hours. Pics/Hanif Patel
During investigations, the police recovered CCTV footage from Swagat Hotel which showed Rohit chatting with Narendra and calling him outside. Totewar added, "Rohit told us that he called Narendra outside the hotel to give him the money and dropped him under a flyover near Tulinj police station. Five teams have been formed for the probe, and some of our officers have left for Gujarat in search of suspects.
Also Read: Man arrested for killing lover in Nalasopara