The city - sliced, diced and served with a dash of sauce
Out in the open
Anti-Corruption Bureau chief Pravin Dixit is by now known for being "upright" that refers not to his posture (although we laud uprightness of the spine, too) but to his work ethic.
The ACB is bound to be a ripe target for those wanting their dark deeds to disappear from the record, and seeking to employ equally dark means to make it happen. But Dixit has found a way to circumvent all that, and without much hassle, we hear.
He simply declines to meet people in his office, and prefers to meet them in the waiting room outside. This takes care of two problems one is politicians who "drop in" for a casual chat, which may not be so casual after all. The other problem is the surprisingly frequent occurrence of middlemen trying to misuse the ACB chief's office.
These middlemen promise those who have cases against them, that they will "take care of it", and keep them waiting outside while they go into the chief's office cabin.
There, they talk about something innocuous but later emerge and pretend that they have "taken care" of the problem, and then pocket a sum for their trouble.
Now this is corruption right under the ACB's nose, and rather than set up an elaborate (and expensive) system to stop it, Dixit's solution is to just come out of his cabin to meet everyone, pre-empting any such skulduggery.
Weather or not, we like it
People looked to the skies in surprise yesterday as parts of the city became cloudy, some areas experienced dust storms, showers were seen in places, and the wind blew a promise of a cooler change through the parched streets.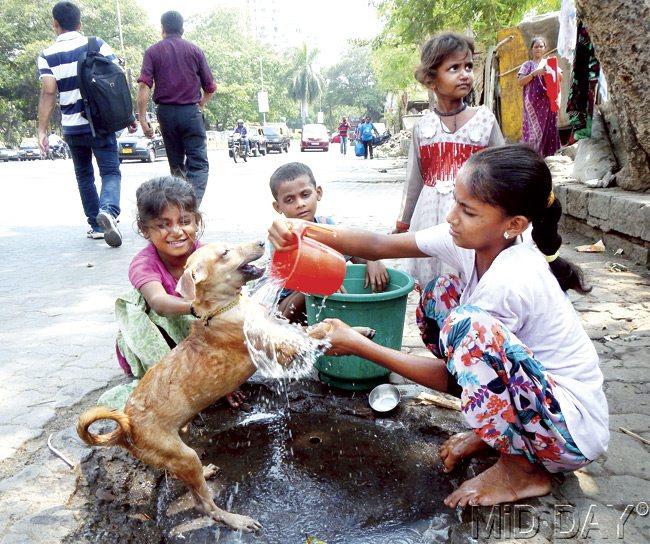 The family that bathes together, stays together, and that includes the dog. Pic/Suresh KK
Most of the action was outside city limits, though; looks like the weather gods know that the Brihanmumbai Municipal Corporation is not yet quite geared up for wet spells.
And while the breeze wafting through some parts of the city brought a bit of relief from the afternoon heat, it was still sweltering, and people looked to ice cream, watermelon juice and just plain water to cool off. Impromptu showers were welcome, too for people as well as their pets, as this picture bears out.
Way to go, kart!
As the line from the animated movie Cars goes, "Well, cover me with axle grease and call me slick!" It has taken just Rs 46,000 to make a car.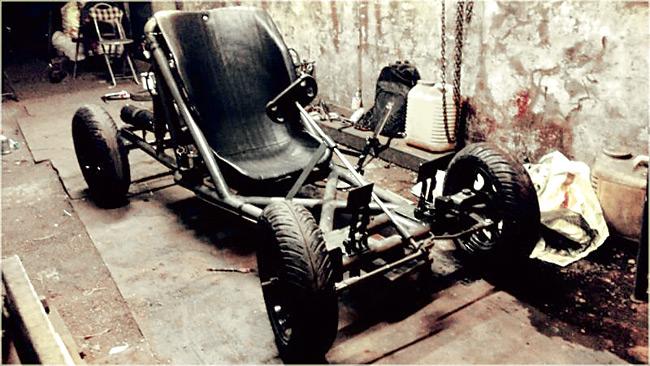 Of course, the car seats only one person, but hey, any possible solution to our transport woes as well as budget woes sounds like good news.
Mustafa Tambawala, a mechanical engineering student from NMIMS Mukesh Patel School of Technology Management and Engineering, Vile Parle has made this low-budget car, and that too out of spare parts.
Based on a go-kart model, the car, which was part of a college project, has a 3-litre engine that can run up to 90kmph.
Tambawala and his four teammates used spare parts from Chor Bazaar and a secondhand motorcycle engine, and worked on the car from January till April during their spare time. Tambawala hopes to promote low-budget kart building and practicality in the education system. We say, "Vroom!"
Stress and distress
When it comes to saying 'No', rickshaw and taxi drivers are the experts.
From the casual, barely discernible shake of the head, to the suddenly-developed faraway look in the eye, to the range of creative excuses, there are ways and there are ways to refuse fares.
Some claim the cab is not working and some say their shift is over. One cabby recently refused a fare and proceeded to spin a long-winded tale, something about the route not being close to a CNG station etc, etc.
The man was not mollified and snapped in Hindi, "Just say no, why are you giving me a lecture? I don't want to do a PhD on taxiwallahs!" Ouch.
The sweltering heat makes tempers shorter than a miniskirt. Cabbies need to realise that Mumbaikars are hot and bothered, and put a lid on their spiel.