Exclusive >> Did the UAE snatch a US-registered yacht from Goan waters in a bid to take back Dubai ruler's daughter, who'd escaped with a former French spy? Worse, was India a silent bystander or an active accomplice?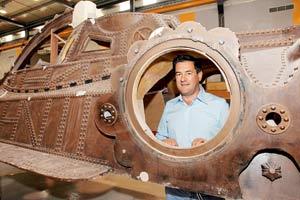 Herve Jaubert poses inside one of his company's model submarines in Dubai on May 11, 2006. Pics/AFP
We wouldn't blame you for thinking this one is straight out of a 007 film. Former French spy and now USA native, Herve Jaubert, who had made a dramatic dash for freedom from Dubai back in 2008, has landed slap bang in the middle of another sensational international controversy.

Herve Jaubert in front of his company's office in Dubai, on May 11, 2006
Rescuing damsels
Reports say that Herve was on a mission to rescue 33-year-old Sheikha Latifa, daughter of Dubai's ruler Sheikh Mohammed Bin Rashid Saeed Al Maktoum, from Dubai by sea. In a video, Latifa has claimed she was being beaten and tortured and hence wanted to escape to the USA, to freedom. Herve had packed Latifa and her companion and capoeira (Brazilian martial art) instructor Tiina Johanna Juahiainen into a yacht, Nostromo, registered in the US, and was headed from the Dubai coast towards India. But, the yacht, cite reports, lost contact mid-sea.


Sheikha Latifa (centre) flanked by friends
Gunshots heard
Reports then state that the founder and CeO Radha Stirling of the NGO Detained in Dubai, which was formed to assist victims of injustice in the United Arab emirates (UAe), got an SOS on March 4 from Latifa, who is reported to have said she had heard gunshots on the yacht. "After that, contact with all on board has ceased." At the time, the Nostromo was traced to 50 miles off the Goa coast.
Fears grow
As the story gained international traction, with social media abuzz and media reporting skeletal details, fears about the fate of those on board the Nostromo grew. early on March 23, there was some news, said Stirling, in an email to mid-day on Friday. "Herve is currently at sea and we do not have an exact location confirmed and neither do we have information as to whether he is safe or free," she said.
She said, "Nostromo actually had six passengers onboard. There were three Fillipino nationals, too, with Herve, Tiina and Latifa. The next that Nostromo was seen was at a military base in the United Arab emirates. This shows that the US registered yacht was seized from Indian or international waters by the UAe and with the knowledge and/or assistance of the Indian government."
Entirely illegal
Stirling added that, "If this is the case, the action of the kidnap and seizure of a United States yacht is wholly illegal and in breach of a number of international and maritime laws and treaties."
Asked specifically about Herve and Tiina, Stirling said that they know for sure that, "Both Herve and Tiina had been released from the custody of the UAe and Tiina had been confirmed to be home with her family in Finland after leaving Dubai on an emirates flight. There has been no official announcement about the whereabouts or safety of Latifa but she is presumed to be in the custody of the UAe. If this is accurate, then the UAe has apprehended her from what is legally US territory and she should legally have been returned to that same yacht that Herve is now sailing on."
Stirling said, "The passengers onboard Nostromo had planned to disembark in India and fly from Mumbai to the United States where Latifa had intended to seek safety and asylum." In fact, the proposed landing in Mumbai will mirror Herve's own flight from Dubai in 2008, encapsulated in his book called 'escape from Dubai'. In August 2009, Herve had spoken to this newspaper about his James Bond-ish escape from Dubai where he had claimed that he was wrongly indicted for embezzlement, fraud and sexual harassment.
Flashback
At the time, Herve had said that, "I created exomos in Dubai in 2004, a subsidiary of a company called Dubai World to make submarines for the leisure market." The Dubai downturn meant hard times and Herve said he was accused of wrongdoings and knew he had to get out. By May 2008, he began to plan his escape. On the eve of his escape, Herve disguised himself in an abaya – the full cover worn by Muslim women, including the niqaab, which is a face veil. Herve had said, "I escaped from a beach off Fujeirha, on a dinghy. I sailed for six hours before I met a friend at a rendezvous point, who had taken my sailboat out of Fujeirha. Once on the sailboat, I sailed to India."
In that report, published in this paper on Aug 23, 2009, Herve had said, "I landed in Gateway of India at 2am on May 28, 2008 after approximately a week on the sea." One feels this is the same way Herve may have planned Latifa's escape, only something went wrong near Goa, and what exactly will be known only by establishing contact with those who were on the yacht. It is evident though that the world has not heard the end of this story. Stirling says, "No intelligence as to what happened that night on Nostromo has yet been provided, but will be demanded through legal channels."
On Stirling's
Twitter account
#Nostromo seen at #MilitaryBase in #fujairah then seen moving through gulf of #Oman #HerveJaubert later reported to have called wife for few seconds. Said "coming home". Awaiting direct contact with Herve. #WhereisTiina? #WhereisLatifa?
Herve's last email to mid-day
On March 3, this reporter got an email saying: 'Hello, are you still a journalist, i have a huge story for you. - Herve Jaubert. When I replied that I am still a journalist there was another email: Ok, great, I may have a huge story for you, so stay on standby.' All the best
- Herve Jaubert
Read what happened in 2009: Escape From Dubai
Also Read: Remembering Herve Jaubert
Catch up on all the latest Mumbai news, crime news, current affairs, and also a complete guide on Mumbai from food to things to do and events across the city here. Also download the new mid-day Android and iOS apps to get latest updates