The woman said how she made space for the senior and later found out that she'd been a hockey player, a model and an employee at the French embassy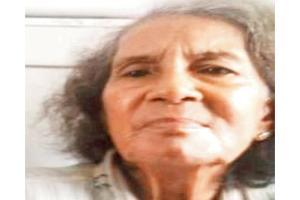 Ivy Pinto
On July 25, you might have come across a now deleted thread on the Twitter handle @EmpoweringGoa, about a young woman who described a heart-warming experience she had in a Churchgate-bound local train with a senior citizen, who wasn't being given a place to sit by fellow passengers because of how she looked.
The woman said how she made space for the senior and later found out that she'd been a hockey player, a model and an employee at the French embassy. Turns out, almost all of those claims are untrue. mid-day learnt this after speaking to Virar resident Ivy Pinto, the septuagenarian whose story went viral through the tweets.
No state-level hockey
Last Wednesday, a user named Dipika Naik posted a picture with Ivy, detailing the experience she had with her on a Churchgate local. Dipika mentioned how Ivy, wearing 'messy clothes' carrying an 'unorganised bag' was met with judgemental stares in the women's compartment, where none of the passengers budged to offer her some space to sit. The passengers moved eventually, but refused to sit next to Ivy. She came and sat next to Dipika, who felt bad about Ivy being judged for her appearance.
Dipika then wrote how Ivy said she doesn't mind the comments, because the women don't know she'd been a state-level hockey player in her youth. Ivy denied mentioning this. She told mid-day, "I've never played hockey for the state. I used to play it with a friend of mine in Byculla, who had a group called 'wild cats'."
The thread further mentioned how Ivy has worked at the French embassy as a 'bilangular'. Ivy denied this too, "I've never worked with any embassy, in fact, when I was young, I used to work for a private company." Another claim the thread made was that of Ivy being a 'part-time model,' which Ivy told mid-day she has never worked as. The thread made another tall claim, about how Ivy travels from Virar to Bandra everyday in peak hours to teach underprivileged children. But while Ivy agreed to travelling daily, she said she only does it to go to the church.
One truth
The thread did have an ounce of truth, though, involving her family. It mentioned how Ivy has stayed strong after the passing of her husband and their only daughter. Ivy said this was true. mid-day contacted Dipika, but she refused to comment.
Catch up on all the latest Mumbai news, crime news, current affairs, and also a complete guide on Mumbai from food to things to do and events across the city here. Also download the new mid-day Android and iOS apps to get latest updates