Once known and envied for its driving discipline, Mumbai is now suffering serious dents in its sterling reputation. Experts and old-time drivers talk about changing standards and traffic sense in the city
In Mumbai, being stuck in bumper-to-bumper traffic is part of driving on the road. Once known for its disciplined driving, Mumbai has slowly lost this prestigious tag, to now being known as a driver's nightmare. According to experts, Mumbai is sliding down fast in road discipline.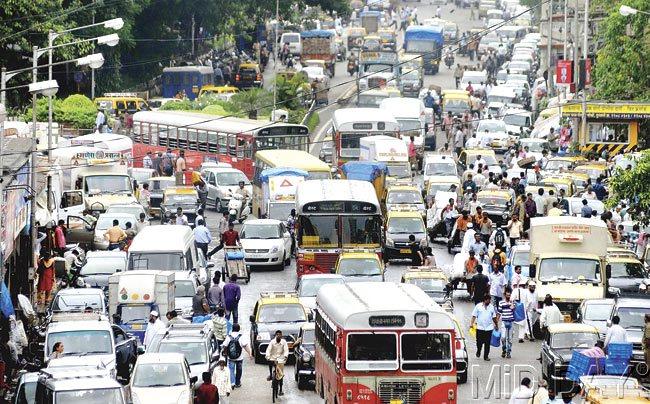 Crawford Market witnessing traffic congestion almost every day. Pic/Bipin Kokate
Whether it is jumping traffic signals, overtaking from the wrong side, lane cutting or disrespecting pedestrians, Mumbaikars on the whole, do not adhere to traffic rules. With the number of private cars in the city increasing and ongoing infrastructure development, tempers are fraying and drivers challenged by traffic jams and dug up roads are throwing discipline and in many cases, caution to the wind.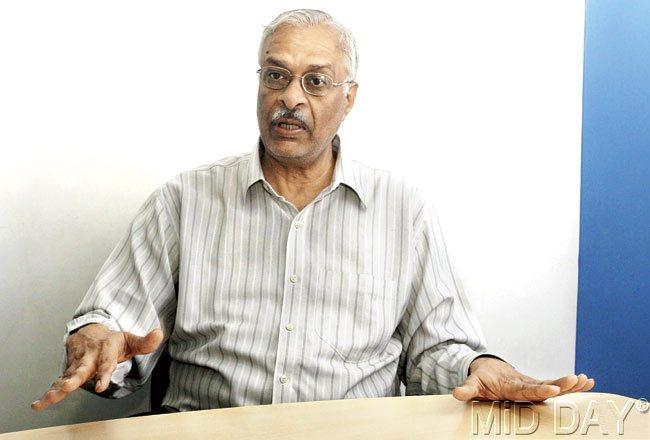 Deepak Kapadia. Pic/Santosh Nagwekar
Lack of planning
Executive chairman of Western India Automobile Association (WIAA) Nitin Dossa (62) says, "Drivers today are very rash and rough. They don't understand Mumbai roads, and nor do they understand their cars.
Around 20 years ago, all we were known to drive was a Fiat or an Ambassador. With a Fiat, there was a mechanism called the Governor and because of which, we had to adhere to a certain speed limit. Now cars have no such concept and the drivers enjoy driving fast."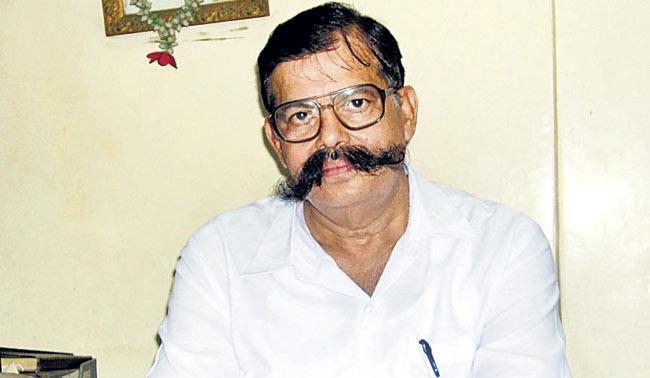 Mumbai Taximen Union general secretary A L Quadros wants public transport to be promoted on a larger scale
Dossa also points out to the fact that the pedestrians and hawkers moving on the roads, is restricting road movement. According to Dossa poor planning of the city is one of the many reasons for bad traffic in the city, "I don't understand why the Government is wasting money on the monorail or constructing flyovers, at places where they are not required.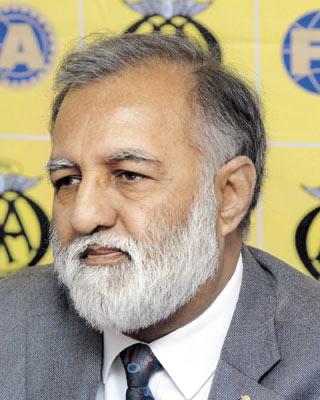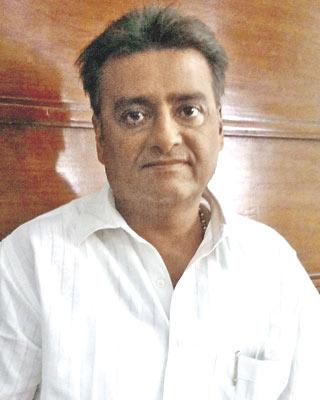 WIAA executive chairman Nitin Dossa blames poor road planning for Mumbai's traffic and Sunil Merchant
These constructions cause traffic. We have a vast water body, and I don't know why we are not using it for public transport. This will ease the city's traffic problem." While some argue, lack of infrastructure in the city is the cause for traffic, Road Safety Committee member of the Rotary club of Bombay, Deepak Kapadia (62) says, "The infrastructure in the city has improved in the recent times. Though multiple roads are dug up, which causes traffic, but these roads will benefit the people. We have to look at the larger picture."
Need for speed
On February 30 Colaba resident, Khozema Ziauddin (66) was crossing the road near Churchgate station when a biker, at full speed crashed into him, knocking Ziauddin off his feet. While a passerby helped Ziauddin, the biker didn't stop to help.
"I was completely paralyzed when I saw the bike coming towards me. I was crossing the road near a turn and while most drivers slow down, this rider didn't. In a moment I was in the air and on the ground!" he says. Due to the collision, Ziauddin has suffered from multiple hairline fractures on his ribs.
Driving for most his life, Ziauddin feels that the increase in traffic congestion results in bad driving. He explains, "There is no such thing as maintaining the speed limit, respecting lanes or no-entries. Even the pedestrians are responsible; they cross the road rashly at times.
Though the rules are in place, the traffic police have to be more observant. Over the years, the number of bikes in the city has increased and they are the worst riders in the city. They do not follow traffic rules, take sharp turns and always overtake from the right. Drivers fear the bikers the most."
Better than rest?
Kapadia feels that traffic is Mumbai is the best when compared to other metros like Delhi, Hyderabad and Bangalore. "Almost 15 years ago, the length of Mumbai was 1,900 km, and now, it has increased by only 30 km. At the same time, there are around 200-250 new cars on the road, almost everyday. With road density increasing, there is no scope of expansion as the city is surrounded by water on three sides.
People say that the government should do something, but what can they do? The two wheelers and public transport drivers are responsible for traffic in the city. I live at Marine Drive, and at night with the bikers riding in speed, the stretch becomes a racetrack. To a certain extent, even pedestrians are to be blamed. They cross the road while talking on the phone and despite of footpaths at some places, they walk on the road."
Time for self-discipline
Raja Kapadia (37), owner of the 51-year-old Goodluck Motor Driving School at Charni Road, says, "I am not talking about 20 years ago, but even 10 years ago, when students came in to learn driving and get their licence, they were responsible drivers.
They used to pay attention in class and care about being safe on the road. But today, the mentality of drivers has changed. For youngsters, driving means freedom. During classes, the students pretend to know it all, and once they get their licence they start driving rough. Though driving tests have today become computerised and the laws and training sessions are stricter, people are not responsible while driving."
He adds, "The city's infrastructure does not support the newer generation of vehicles. Mumbai roads are handling cars beyond capacity. There are no proper footpaths in the city, and most of them are used by the hawkers, leaving people to walk on the roads. This disrupts traffic movement.
Though the traffic cops are doing their work, it is time we (citizens) discipline ourselves. We can't blame the traffic cops or the RTO. I think it's time we work towards retaining the tag of one the most disciplined driving cities in the country."
Upping public transport
Though Mumbai is known for its well-connected public transport, general secretary of the Mumbai Taximen Union A L Quadros says, "I have been driving since 1960. Earlier Mumbai was the known as a driver's paradise in India, and Kolkata as a nightmare. But today, we are worse than other cities in the country, when it comes to driving. I think the fines should be increased and only then, will people think twice, before breaking a signal or honking in a silent zone."
Educating the young
Businessman and Marine Drive resident Sunil Merchant, who has been driving for the last 30 years, says, "Lane cutting, breaking signals and not respecting other traffic rules is regularly seen. Only 10-15 per cent of the drivers respect traffic rules.
And this is why Mumbai lost its tag of being a disciplined driving city, a while ago. We need to inculcate traffic education amongst children from a young age, so that they grow up to be mature drivers. Have more traffic parks, road safety talks at schools and colleges and encourage people to drive safely.
If someone breaks the law, don't just accept the fines, but show road safety movies or demand community service as punishments, for the law breakers. This will curb rash driving. Despite naka bandi (police check points), we still have cases of drunk driving; why? Our driving licence should be treated as a lethal weapon and sometimes I am scared for my life, when I am driving in the city. Mumbai is in dire need of transport management."