Onions, which arrived in Navi Mumbai's wholesale market last week, are rotting due to heat; the blackened and wet onions have been laid on the floor for drying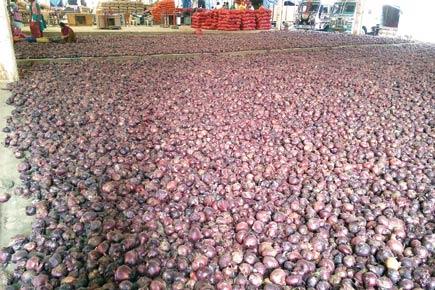 The government, with a view to stabilise the prices of onions, has been flooding the market with onions from Egypt, but its prices have kept rising. These onions that were imported are now rotting at the wholesale APMC market in Vashi.
Also Read: India imports 18,000 tonnes from Egypt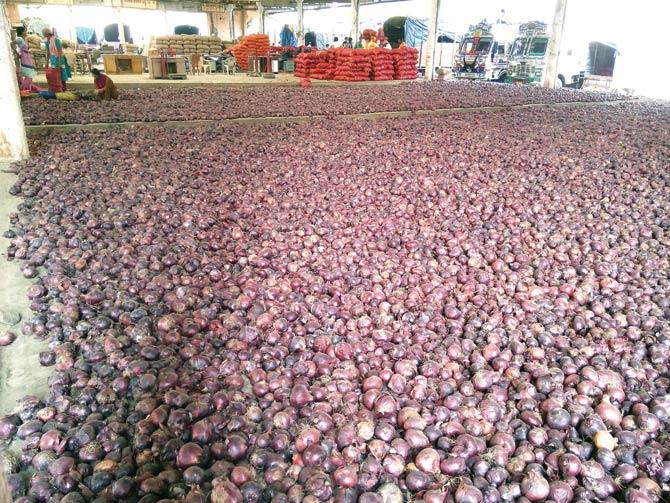 The onions that were imported to bring down prices are now rotting at the wholesale APMC market in Vashi
On Monday, nearly 10 tonnes of imported onion brought from Egypt were rotting at the APMC market due to heat and poor sales.
Traders at the market revealed that this is due to drastic change in temperatures as the imported onions were brought in refrigerated containers. Subsequently, when they were exposed to heat here at Mumbai, water started coming out of these onions that led to their rotting.
How did the onions rot?
According to the traders at the wholesale market in Vashi, these imported onions are almost a month old, since they were filled into a refrigerated container and dispatched here.
Read Story: No takers for onions at APMC, despite price drop
"Onions usually remain in good condition when kept in natural air. However, these imported onions were stuffed into refrigerated containers and then got exposed to the heat after coming to APMC. It takes 10-15 days for onions to arrive by ship. This produce has to be sold within a few days after arriving at the market as exposure to extreme temperatures affects the quality of onions," said Sandeep Bhaskar, an onion trader at APMC.
Over 20 tonnes of imported onion had arrived at the market a week ago, but half of the stock did not get sold due to poor demand as a result of which water started coming out of these onions, affecting their quality. On Monday, when mid-day visited the onion market at APMC, onions in large quantity were spread across on the floor for drying as most of the imported stock had blackened.
Also Read: Will Egyptian onions bring down prices in Mumbai?
The rate of imported onion also fell at APMC on Monday to Rs 40-45 per kg compared to Rs 50 per kg last week. Traders added that demand for imported onions is usually low as they are not as good compared to the ones produced across Maharashtra.
"Now this stock has to be sold within a day or so, else it will not be fit for consumption if further delayed," said Babaji Dhumal, another onion trader at APMC. Between August and September this year, India has imported over 18,000 tonnes of onions from Egypt.