Only 10 per cent of inmates see their family members visit them at the hospital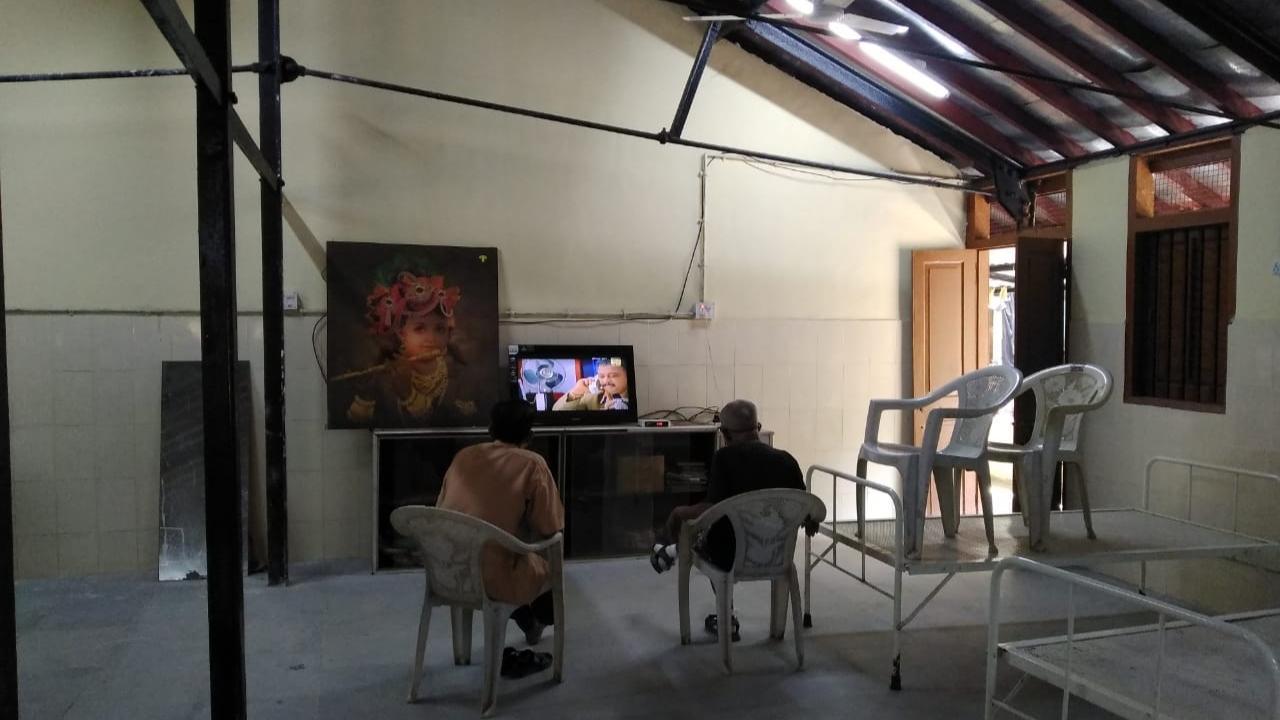 Inmates watching TV inside the ward. Pic/Anagha Sawant
"During the Covid-19 pandemic, many people had to stay isolated and away from their families, but it is nothing new for us. It is part of our daily lives," says Ramdas Pai, a 63-year-old inmate at Acworth Municipal Hospital for Leprosy, who has been staying at the Wadala-based hospital for 11 years now.
Since the pandemic began, just like Pai, all other 60 inmates (patients who have recovered from leprosy) at the hospital tested negative for Covid-19 even as Mumbai was witnessing a rise in Covid-19 cases. This was primarily because rarely anyone would come to visit them at the hospital.
"This is our small world. Hardly any inmate goes out for any work. We are completely cut off from the world outside. After hearing about Covid-19 in news, we realised that getting infected with leprosy and the stigma around it, is nothing. Coronavirus is a much bigger problem. We have been staying isolated since the time we were infected with leprosy and, due to social stigma, none of us goes back to live our pre-leprosy life again," adds Pai.
According to Dr. Amita Pednekar, medical superintendent of the Acworth Municipal Hospital for Leprosy, "Relatives of three to four inmates visit the hospital occasionally (once in month or two). But due to lack of transport facilities, even those relatives stopped visiting."
 
She adds, "Many of these inmates like to spend their time watching TV. Due to this, they were well aware of the coronavirus situation. During these two years, we reduced the number of staff members to one or two, who would visit these inmates in their wards. All precautionary measures were taken to keep them away from the virus."

"An awareness session was conducted for us to understand more about the virus, so that we don't panic. Regular checkups were conducted. if any inmates had a slight fever or any other symptoms,  they were immediately given medicines," says Pai.
Apart from the regular wards, two isolation wards were created as a backup, in case any of the inmates tested positive. "As we never got any infected cases, we used these wards to admit new leprosy patients. Overall, around 160 of them were admitted in 2020 and 2021. After recovering, they were discharged," adds Dr Pednekar.

While all inmates have received both the vaccine doses, Dr Pednekar says due to lack of identity documents, many were not able to take the vaccine earlier.

She adds, "Since April 2021, we started giving vaccination to those inmates who had their documents. After the government agreed to allow exceptional cases without any documents, we were able to vaccinate all inmates." 
Inmates now wait to complete 90 days before they become eligible for the precautionary dose.