The absconding officer had shared a pen drive with an audio recording, claiming that he was offered a bribe every month to spare angadias; Tripathi sent R59 lakh to Lucknow through hawala, says police sources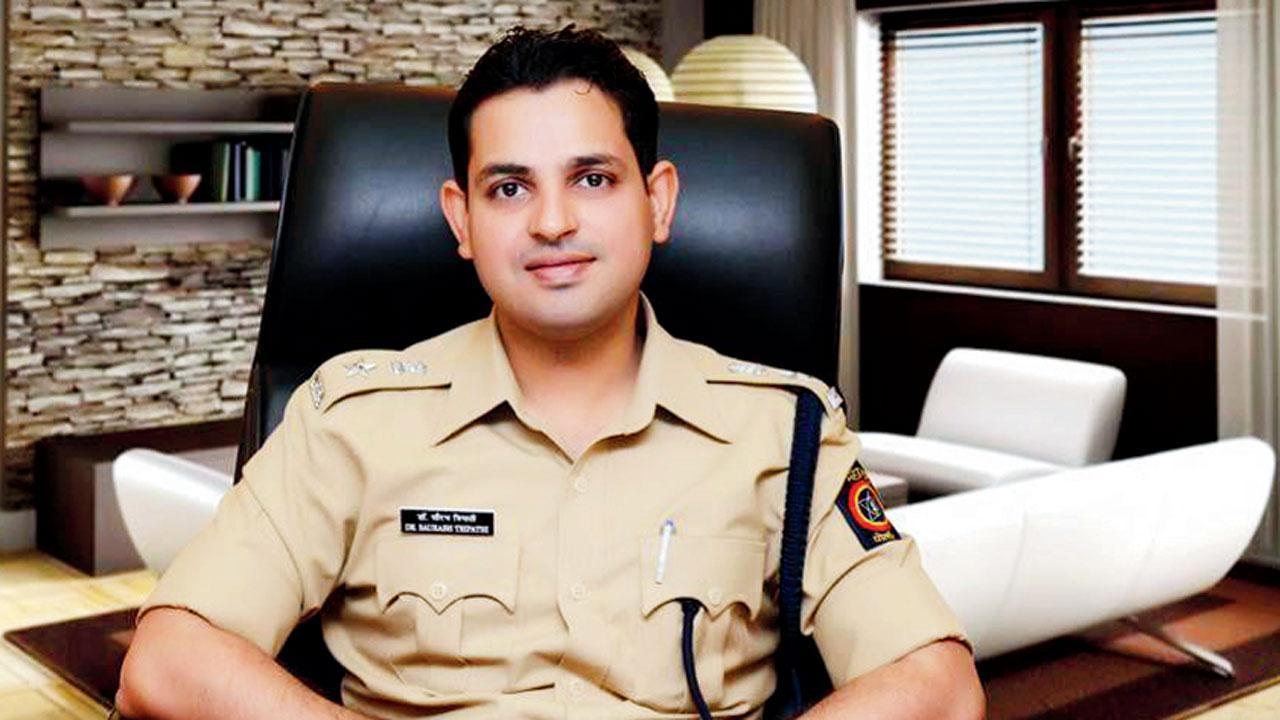 Mumbai police officer Saurabh Tripathi's last-known location was Lucknow, his hometown
Absconding Mumbai police officer Saurabh Tripathi, who has now been suspended in connection with the angadia extortion case, had submitted a doctored audio clip in his defence during a preliminary probe, suspects the Crime Branch. DCP Tripathi is accused of ordering raids on the couriers in his attempt to pressure them to fulfil his demand of Rs 10 lakh every month.
Sources said Tripathi had shared a pen drive with an audio clip in which a voice purportedly offers him a bribe every month to spare angadias from police action. They said the clip was handed over to Additional Commissioner (north region) Dilip Sawant when Tripathi was called for questioning following a complaint against him by the angadias. 
Officers from the Crime Intelligence Unit (CIU) of the Crime Branch that is probing the case believe Tripathi has manufactured the defence. They said the CIU will seek the help of forensic experts to check the authenticity of the audio clip.
Suspension order
On their part, the angadias have also submitted what they claimed recordings of calls from Tripathi asking them to take back their complaints. In fact, this allegation was one of the grounds for Tripathi's suspension. "It has been found that Shri Saurabh Tripathi, IPS (MH:2010) has not informed the office superiors about his absence nor submitted any medical documents for leave. In the meantime, it has been observed that Shri Saurabh Tripathi, IPS has been exerting pressure on the witnesses in the FIR registered with LT Marg police station," the suspension order reads.
Sources said the CIU, which has declared Tripathi a wanted person, has established the money trail involving the disgraced officer. Between November last year and January 2022, they said, Tripathi transferred about R59 lakh through hawala. "Only R19 lakh is related to the current case which we are investigating based on the statements of victims. We are yet to ascertain the facts about the R40 lakh that has also come to the light," said a source in the Mumbai police. Tripathi's last-known location was Lucknow, his hometown.
Hawala operator nail officer
Sources said the money sent by Tripathi through hawala was received by his house help Pappukumar Gaud, who was arrested from Lucknow last week. The Crime Branch which has recorded more than 30 statements including that of angadias, businessmen and cops. 
So far, CIU has recovered only R1.5 lakh from house help. One hawala operator has apparently shared all the records of the money transferred on behalf of Tripathi to Lucknow. The hawala operator has turned out to be a crucial link in the case as his statement throws more light on Tripathi amassing money. "Currently, we are focusing on this case. If needed, we will initiate a disproportionate assets case against him," said an officer.
Sources, the plan to extort angadias was hatched by Tripathi, who was then DCP of Zone 2,  and he asked his confidant Om Vangate, PI (crime), LT Marg police station, to execute it through WhatsApp call. Vangate then took the help of his colleagues Nitin Kadam, API (detection) and ASI Samadhan Jamdade. 
Jamdade, who was a part of the Anti Terror Cell of the police station, was authorised to randomly check bags and the luggage of anyone. "The raids were carried out on 2nd, 3rd, 4th and 6th of December 2021 where angadias were detained by Vangate, Jamdade and Kadam and money was extorted," an officer said.
Sources said the raids were a message to angadias to give in to Tripathi's demand. The harassed couriers then approached then police commissioner Hemant Nagrale who asked additional commissioner Sawant to conduct a preliminary probe. Sawant in his report said that the allegations of angadias are cognisable and he got the FIR registered to ensure that the angadias won't take back their complaint. Sawant himself became a complainant in the case.
Sources said the Crime Branch will record the statements of angadias under section 164 (recording of confessions and statements) of CrPC.
Meanwhile, Tripathi's anticipatory bail application will come up for hearing on Wednesday. The CIU has filed a reply opposing it.
Rs 10l
Monthly amount allegedly demanded by Tripathi