The alleged chats state that the actor was asking Wankhede not to put his son in Jail. Mid-day got access to the chats made available in the court, but could not verify the authenticity of the chats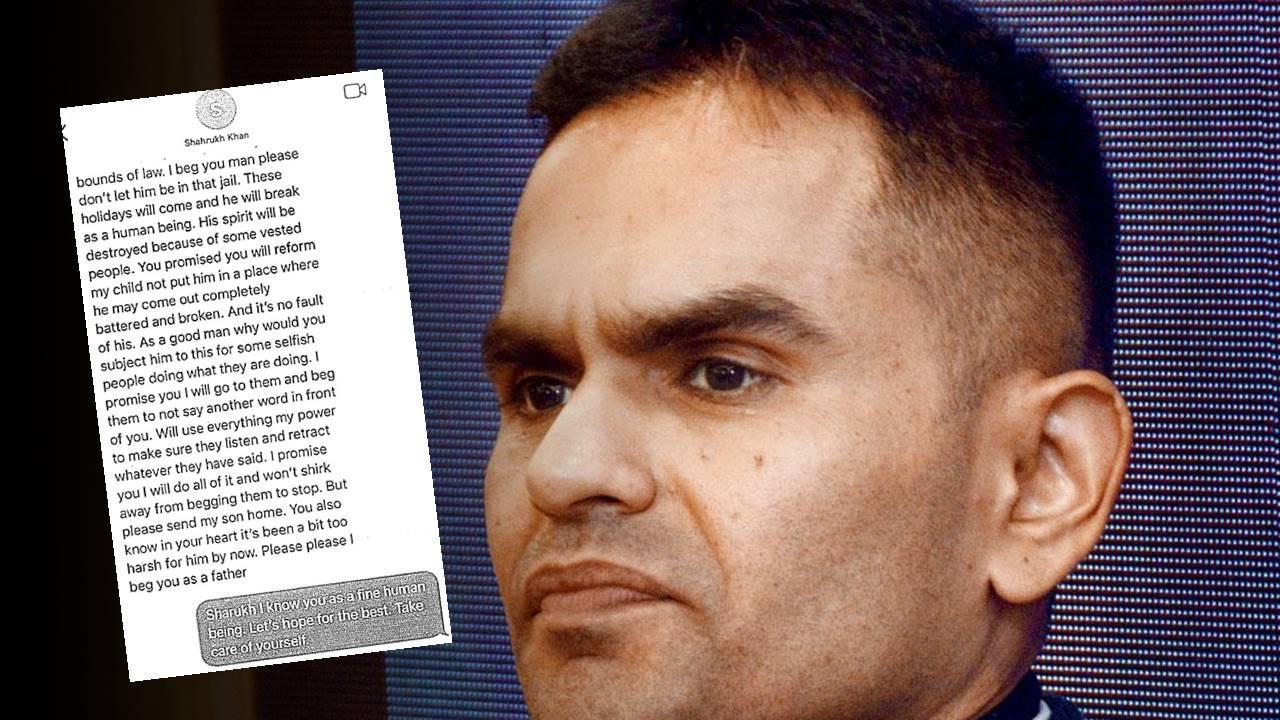 Sameer Wankhede. Pic/Satej Shinde
IRS officer Sameer Wankhede on Friday revealed alleged chats between him and bollywood actor Shah Rukh Khan, in his petition moved before Bombay High Court seeking relief and cross FIR against NCB Deputy Director-General Gyaneshwar Singh who has conducted vigilance probe against him.
The alleged chats state that the actor was asking Wankhede not to put his son in jail. Mid-day got access to the chats made available in the court, but could not verify the authenticity of the chats.
ADVERTISEMENT
On Friday, Sameer Wankhede, an IRS officer, filed a plea in the Bombay High Court regarding the alleged ₹25 crore extortion case related to the arrest of Aryan Khan, Shah Rukh Khan's son, in 2021. Wankhede claimed that the actions taken by the CBI against him are an act of retaliation. The court had granted an urgent hearing at 2:30 pm.
Earlier, on Thursday, Wankhede, the former NCB Mumbai zone chief, skipped CBI summons as he had received protection from arrest until May 22 by the Delhi High Court. The Delhi High Court had allowed Wankhede to seek further relief from the Bombay High Court on May 17. In addition, Wankhede also requested a cross-FIR against NCB Deputy Director-General Gyaneshwar Singh during the proceedings in the Delhi High Court.
Aryan Khan was arrested by the NCB on October 3, 2021 after a raid on the Cordelia cruise ship. He was granted bail by the Bombay High Court after three weeks as the anti-drug agency failed to substantiate its charges against him.
Also read: Sameer Wankhede moves Bombay HC to seek quashing of CBI FIR against him
The CBI booked Wankhede and others for alleged criminal conspiracy and threat of extortion, besides under provisions pertaining to bribery under the Prevention of Corruption Act on a complaint by the NCB.
The probe agency has alleged that the NCB, Mumbai Zone, had received information in October 2021 related to the consumption and possession of narcotics substances by various individuals on the private cruise ship and that some of its officers conspired and obtained undue advantage in the form of bribes from the alleged accused.
(This is a developing story, will be updated with more inputs) Do you practice ecotourism?