Funds will be used for cancer care facilities at Navi Mumbai, Mullanpur, Visakhapatnam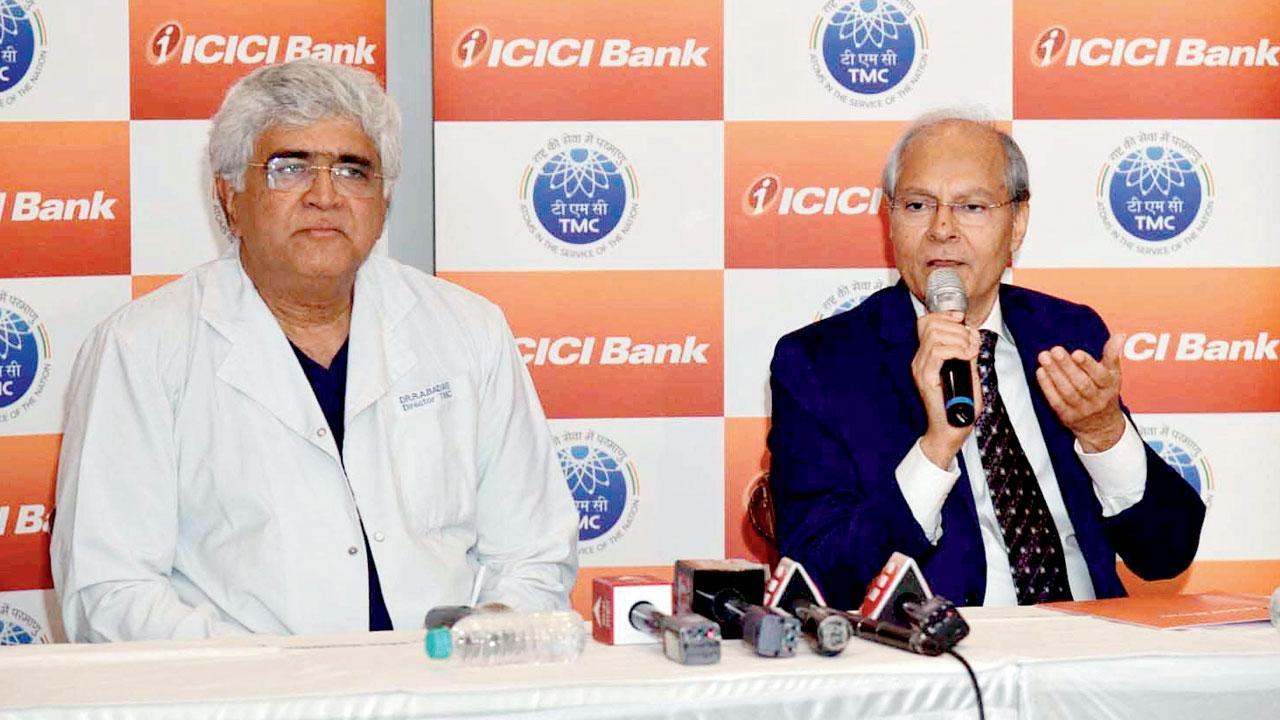 Tata Memorial Centre Director Dr R A Badwe and ICICI Bank Chairman Girish Chandra Chaturvedi address the media on Friday
Tata Memorial Centre (TMC), which caters to lakhs of cancer patients every year, will receive a major infrastructural boost as ICICI Bank has pledged to donate Rs 1,200 crore to the facility, the largest such commitment made by a corporate entity so far. With these corporate social responsibility (CSR) funds, three buildings will be constructed for the treatment of patients. More than 70,000 cancer patients visit Mumbai to register for treatment at the Tata Memorial Hospital (TMH) in Parel annually. To reduce the burden on the facility, TMC set up hospitals in Uttar Pradesh and Bihar, among other places.
The CSR funds will be used to establish three new state-of-the-art blocks at TMC's hospitals at Navi Mumbai, Mullanpur in Punjab and Visakhapatnam in Andhra Pradesh by 2027. It will also equip them with the latest cancer care machines which will help diagnose and treat patients. With modern equipment and specialised multidisciplinary teams, these new centres will help to treat nearly 25,000 new patients a year, which will be double the present capacity and provide a significant boost to the country's cancer treatment infrastructure.
ADVERTISEMENT
Sanjay Datta, president, ICICI Foundation and Dr R A Badwe, director, TMC signed the agreement in the presence of Girish Chandra Chaturvedi, chairman, ICICI Bank and Sandeep Batra, executive director, ICICI Bank. Chaturvedi said, "ICICI Bank has a long-standing legacy of being in service to the nation. ICICI Foundation has positively impacted more than 10.9 million beneficiaries through its various initiatives. Today, we are committing Rs 1,200 crore for building three new blocks at TMC's centres at Navi Mumbai, Mullanpur and Visakhapatnam by 2027. 
As part of our commitment towards promoting healthcare, this initiative will enhance comprehensive cancer care services in different regions of our country by providing patients access to advanced and latest cancer therapies. These new buildings will also serve as regional referral centres and mitigate the need for patients to travel long distances to visit Tata Memorial Hospital at Parel in Mumbai." Dr Badwe expressed gratitude towards ICICI Foundation for "embarking on one of the largest CSR initiatives to improve cancer care across the country".
He said, "The infrastructure which is being added at the three TMC hospitals at Navi Mumbai, Visakhapatnam and Mullanpur will provide timely and high-quality treatment to people in the region at highly subsidised costs. It is critical that advanced cancer care is delivered closer to home so that more people from the region benefit from accessing such therapies. The radiation therapy block at ACTREC, Navi Mumbai will play a vital role in not only providing timely radiotherapy to a large number of patients but will also be delivered with the most advanced techniques, both of which are critical for a successful outcome. Childhood and adult blood cancers are highly curable but require very intense therapies. The ICICI centres being established at Visakhapatnam and Mullanpur are dedicated children and blood cancer centres and will provide state-of-the-art multidisciplinary care. These centres will soon become regional hubs offering advanced therapies such as bone marrow transplant and cellular therapies to patients from the region."
One more MRI machine
On Friday, the ICICI chairman also inaugurated the ICICI MRI Facility at the TMH. As per the TMC, there are now two MRI machines at the centre, which will help to bring down the waiting period from 20 days to a week.
"Exciting news! Mid-day is now on WhatsApp Channels

Subscribe today by clicking the link and stay updated with the latest news!"
Click here! Do you practice ecotourism?