As WHO labels Mu a variant of interest, and variant C.1.2 is being monitored, doctors warn they have immune escaping properties and may be more infectious, spreading and mutating faster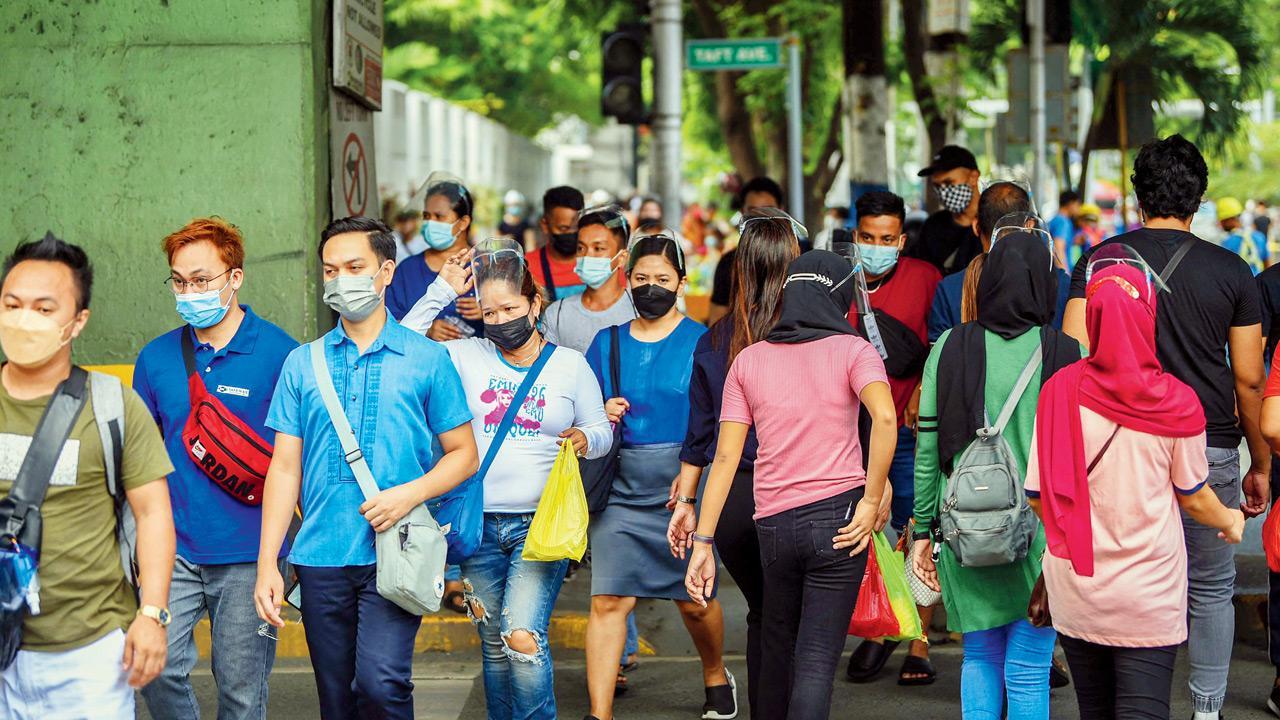 People cross a street in Manila on September 7, a day before the authorities lifted a stay-at-home order amid record infections fuelled by the contagious Delta variant. Pic/AFP
The global surveillance on Covid-19 variants has led to the identification of four 'Variants of Concern (VOC)' — Alpha, Beta, Gamma and Delta, and five, namely Eta, Iota, Kappa, Lambda and Mu 'Variants of Interest (VOI)' based on the criteria of their transmissibility, disease severity, immune escapability, etc. The variants have emerged as a result of rapid multiplication of the SARS-COV-2 virus that causes Covid-19. The variants are defective RNA strands that tend to alter the functions of the Covid-causing virus, making it more damaging or less damaging to the human body.
With the beginning of the festive period, crowding in public places and transport facilities is seen. Breach in Covid appropriate behaviour will inevitably cause a surge in infection rates best described as the third wave by health experts. While health care experts are concerned about the Delta variant, new variants like C.1.2 and  B.1.621 or Mu are emerging in some countries. Doctors warn that these variants spread and mutate at a rate even faster than Delta.
"The WHO has classified yet another SARS-CoV-2 variant — B.1.621 — as a variant of interest (VOI) that emerged in Colombia and Ecuador, and given it the label Mu. The WHO is monitoring the variant's epidemiology in South America that has a prevalence of 39% and building its interaction with the Delta variant. So far, no case of Mu variant has been detected in India. Another variant that has emerged in South Africa is C.1.2 but it has not been given a label by the WHO as yet", said Dr Subhash Hira, professor of Global Health at University of Washington-Seattle, and an expert on infectious diseases.  
Also Read: Ganesh Chaturthi 2021: Third-wave knocking, crowds still galore in markets
Dr Hira added, "A VOI represents a lower level of concern than a VOC such as Alpha, Beta, Gamma, or Delta, which is associated with factors such as increased transmissibility or detrimental change in epidemiology, etc."
'Investigate the variants'
Dr Wiqar Shaikh, professor of Medicine, Grant Medical College and Sir JJ Group of Hospitals said C.1.2 and Mu need to be carefully investigated, particularly in India where we are already troubled by the Delta variant. Dr Shaikh quoted from an article in the journal MedRxiv published on August 24, which concluded that the new variant C.1.2 has "mutated substantially" compared to C.1 and the original Wuhan strain of Covid-19. "A mutation," he explained, "happens when a virus makes an error during multiplication which results in a change in its genetic code. This results in the virus becoming more transmissible and possibly more resistant to vaccines." Dr Shaikh added that since its discovery in South Africa, C.1.2 has been detected in the UK, China, Democratic Republic of Congo, Mauritius, Portugal, New Zealand and Switzerland.
Dr Shaikh said Mu has been reported in 39 countries including South America, USA and Hong Kong. He said that like the C.1.2 variant, Mu also has immune escape properties and may be more infectious. The WHO has said that Mu could be more resistant to Covid-19 vaccines. Dr Ketan Vagholkar, professor of Surgery at DY Patil Medical College said, "Citizens both unvaccinated and vaccinated should exercise restraint and meticulously follow Covid appropriate behaviour. The best way of prevention is twofold, that is vaccination and following Covid appropriate behaviour at all times," he said.
'Could infect vaccinated, too'
Dr Santosh Bansode, head of department, Emergency Medicine, Wockhardt hospitals, Mumbai Central, said, "One thing to worry about is that C.1.2 and Mu spread and mutate at a rate even faster than delta. So there is a high possibility that they can infect even fully vaccinated people. If these virus strains start spreading then we will face a major increase in patients and the healthcare system again will face stress. Now the festive season is very near and restrictions are minimal in the city so people will definitely gather in public places. We must educate people about these new strains and take maximum precautions while gathering in public places."
The civic corporation has reopened the Jumbo Covid Care centres to handle the anticipated third wave. "We are anticipating a surge in the number of cases by the end of September onwards. At present we have 35 cases at our centre. We are geared up and so are our team of medical experts and support staff, for the possible third wave," said Dr Rajesh Dere, dean of the Jumbo Covid Care Centre, BKC.