For the first time in a generation, Mumbai will get to know issues that are close to the BJP's heart about the city's development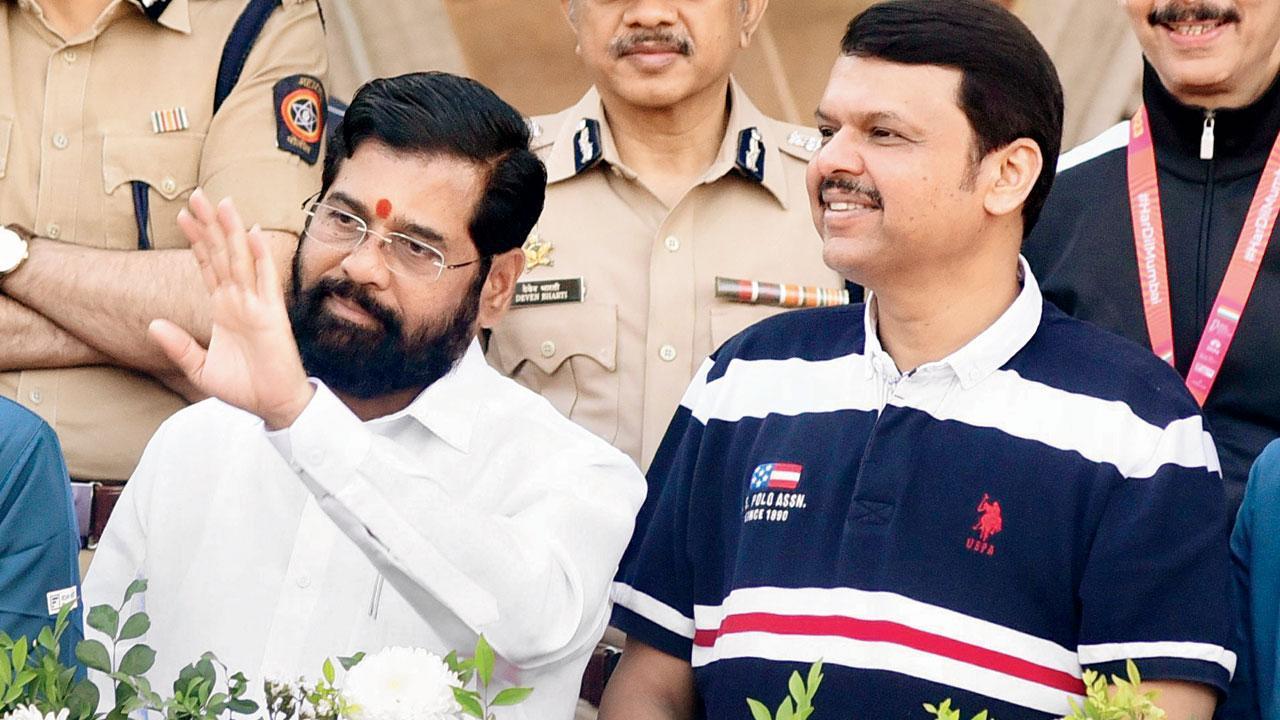 The Eknath Shinde-Devendra Fadnavis govt has proposed a big budget for road works. File pic
This year's BMC budget will not reflect impressions of the Shiv Sena chief for the first time after 27 years, and will instead include the plans of the state government. The budget is likely to keep aside a sizable amount for concretisation of roads as proposed by the state government ruled by Shinde Sena and the BJP.
The Brihanmumbai Municipal Corporation has seen mayors from the Shiv Sena since 1996 and the budget reflected the same. Last year's budget introduced two such new schemes—Hinduhrudaysamrat Balasaheb Thackeray health clinics and Shiv Yog centres. This year, however, the budget will reflect the viewpoint of the ruling parties in the state as the term of the corporation came to an end and fresh elections are yet to take place.
Infra boost
A BMC official said, "The budget may not have a big announcement but there will be a major chunk for the ongoing projects announced by the state government like concretisation of roads." After Chief Minister Eknath Shinde's direction, the BMC has floated tenders to concretise 400 km of roads at a cost of Rs 6,080 crore. Prime Minister Narendra Modi laid the foundation stone of the work in a recent ceremony at BKC.

The budget is expected to make provisions for Bhandup multispeciality hospital, Siddharth Hospital at Goregaon, Oshiwara maternity hospital as well as seven Sewage Treatment Plants. Representation pic
The budget is also expected to make provisions for Bhandup multispeciality hospital, Siddharth Hospital at Goregaon, Oshiwara maternity hospital as well as seven Sewage Treatment Plants at Worli, Bandra, Dharavi, Versova, Malad, Bhandup and Ghatkopar—which also got green signal at the BKC event. 
Also Read: Mumbai: BJP kept BMC's coffers safe from extortionists, says Ashish Shelar
"Though these projects were mentioned in the last budget and had hopping budgetary provisions, now they will be included as state government projects," said a civic official on the condition of anonymity. 
The beautification project, which has already kickstarted in many wards, may also get provision as the work will spill over even in the next financial year. The proposal to increase public toilet seats, which was pushed by BJP leaders, may also get a mention in the budget. 
Green measures
Last year's budget had various environmental related measures as per the suggestions of then environment minister Aaditya Thackeray which included Majhi Vasundhara Abhiyan, procuring electric buses for BEST and vehicles for BMC, electronic vehicle charging stations, etc. 
This year, BJP Mumbai chief Ashish Shelar has demanded an Air Quality Monitoring Commission which might be included in the budget. Shelar has demanded a time-bound response action plan, including ban on coal or wood in restaurant kitchens, by helping establishments with loans of Rs 100 crore. He also pushed for reduction in pollution caused by the public transport system by converting all BEST buses to electric ones in the next 18 months. He, in a letter to the BMC, suggested appointing an IIT committee to study measures to tackle pollution.
Meanwhile, Vinod Mishra, former corporator from BJP, has demanded strict rules to control air pollution at construction sites. He is also going to suggest rescheduling fixed deposits into smaller ones to get maximum benefit from interest rates. "The interest rate for deposits below R5 crore is 6 per cent. The BMC has more than R91 crore in FDs, so it will get more interest if it deposits less than R5 crore at a time. The extra income can be utilised for the health insurance of taxpayers," said Mishra.
Rs 100cr
Suggested amount for giving loans to eateries to stop using coal or wood