BMC allocates Rs 25 crore to fight pollution levels; environmentalists unimpressed by a few measures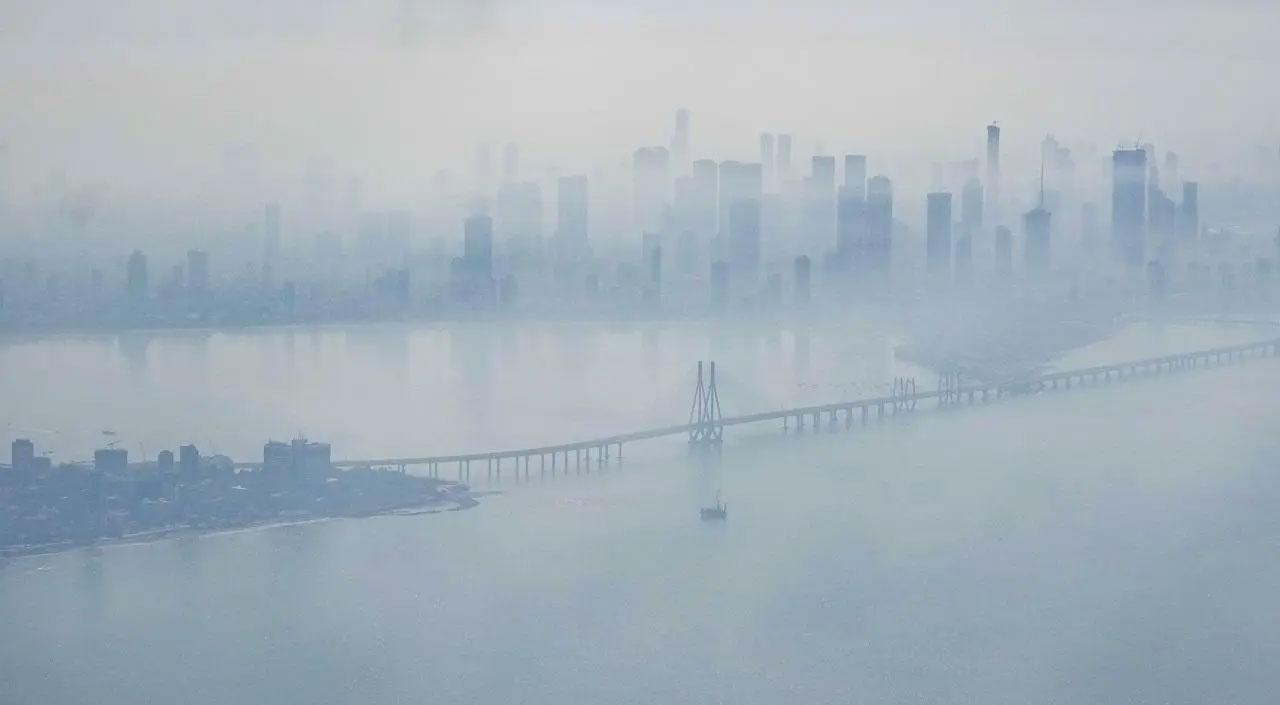 City skyline seen through dense smog in Mumbai. Pic/PTI
The BMC addressed Mumbai's depleting air quality levels in Saturday's budget, with an elaborate seven-step plan to combat air pollution issues. In a first, it has allotted Rs 25 crore specifically towards improving air quality.
Introducing the plan in his budget speech, BMC chief Iqbal Singh Chahal suggested a slew of measures, including power sweepers for dust cleaning; sprinklers to settle the dust on roads and footpaths; deployment of vehicle-mounted misting equipments and vehicle-mounted air purification units; and ionic air purification system for dust mitigation. The BMC has decided to set up air purifiers in five crowded locations in the city. "We will not replicate Delhi's air purifier models, but the Lucknow model. It is good to do something rather than nothing to curb pollution," he said.
ADVERTISEMENT
Chahal acknowledged that construction and demolition waste account for a significant portion of the city's total emissions. "We will be providing construction guidelines for departments and agencies to reduce dust from public infrastructure projects," he added.
Also Read: BMC budget: All roads to be concretised, but where's the money for it?
As part of Budget 2023-24, BMC has carried forward its pending plans of setting up a Climate Action Plan Cell in the civic body, as well as the Construction and waste processing centre it had promised in the 2022-23 budget speech. 
Former environment minister Aaditya Thackeray said the environment budget was "80 per cent copy-paste of last year's. The remaining 20 per cent has been printed from Varsha Bungalow for the contractor and builder. This is moral, legal and financial corruption." 
Dr Harshal Salve, Additional Professor, All India Institute of Medical Sciences (AIIMS) said, "Smog towers or air purification units have significant limitations. The primary one is that they are expensive and fail to have any real impact on air pollution exposure."
Debi Goenka, executive trustee, Conservation Action Trust called the smog towers "a waste of money that could have been better utilised for setting up a real-time air monitoring network with real-time alerts".
Seven-step plan
>> Sustainable and clean construction/demolition
>> Road dust reduction measures
>> Sustainable and clean transport measures
>> Sustainable waste management measures
>> Ecologically sustainable urban greening projects
>> Effective monitoring
>> Communication and Awareness Campaigns