While vaccine shortage is no longer a concern, officials say lack of turnout is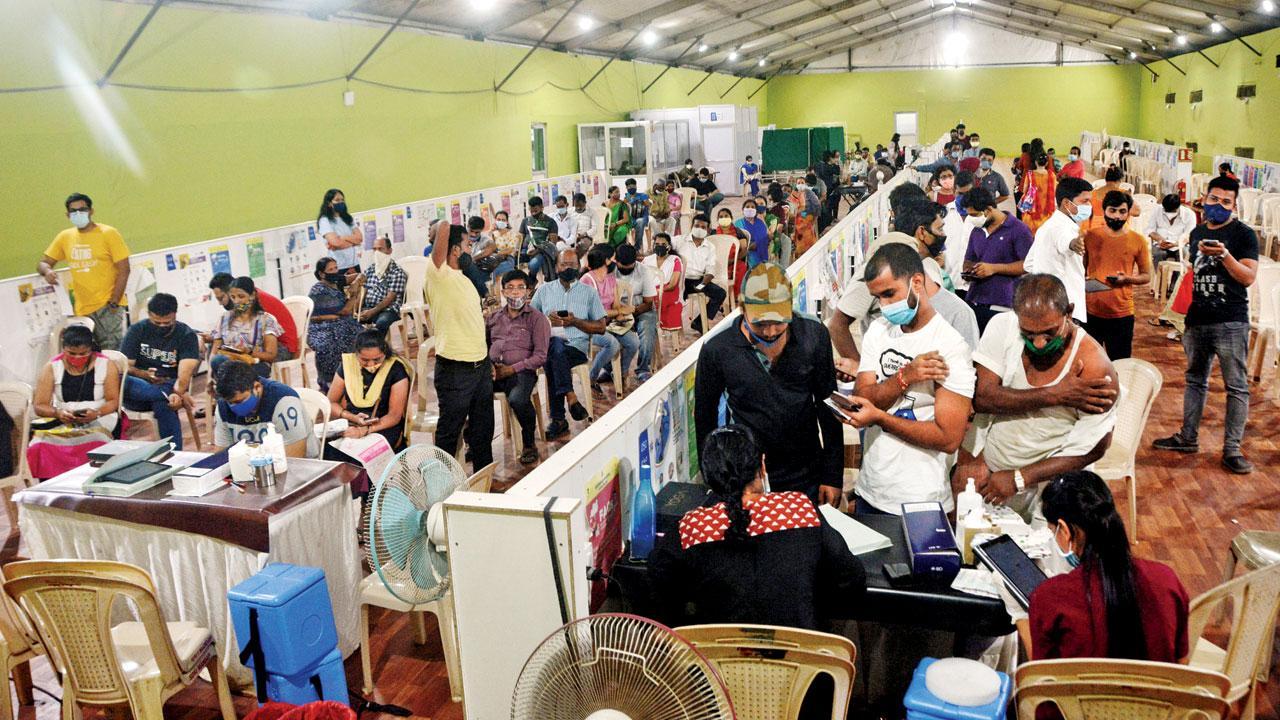 Second dose beneficiaries get vaccinated at the Dahisar jumbo centre. Pic/Satej Shinde
The BMC is just 29 per cent short of completing the immunisation programme against Covid-19, the civic body has revealed. The news comes amid growing concerns about the spread of the variant, Omicron, which experts believe is possibly even more transmissible than the highly infectious Delta variant, and that current vaccines may be less effective against it.
With 71 per cent of the total eligible population of 92 lakh being fully vaccinated so far, it has gone 100 per cent and above by administering first doses. There is no shortage of vaccines, unlike in the past, and the BMC wants citizens to come forward to get their doses. Even as the jumbo centres lie vacant, it is the vaccination drive that is helping them remain afloat. The BMC has over 427 sites that are conducting inoculation drives in the city and the BKC's Covid jumbo centre tops the chart. The female population still remains hesitant to come out to get their doses, revealed the data.
The city has administered over 1.60 crore of vaccine doses to the citizens, out of which 66.29 lakh have been administered to women, whereas the remaining have been given to men. Among the top 10 sites that have been conducting the immunisation programme, majority are government centres and hardly three are private hospitals, as citizens have started showing more confidence in public vaccination centres.  Currently, 65,95,422 citizens in Mumbai are fully vaccinated. Moreover, out of 427 vaccination centres, 311 belong to the government agencies and 116 are private.
As per the data available on CoWin, the BKC Covid Jumbo facility tops the chart as it has administered 1.97 lakh doses, followed by NESCO and Seven Hills with 1.94 and 1.74 doses respectively. This is followed by the two private hospitals, Surana Sethia and Nanavati with each of the hospitals crossing 1.61 lakh and 1.58 lakh respectively. The facility at Dharavi that was organised under the CSR between Citi Bank and Jaslok Hospital is one of the 10 that have administered over 1.31 lakh doses.
One of the civic officials said, "Our focus remains the inoculation drive and we are urging citizens who have not taken their vaccines to come out and get their doses. While there is no vaccine shortage, there is a clear lack of crowd. We saw a good turnout at BKC as it is one of the largest centres with various units that are operating and as it is centrally located."
1.97L
No. of doses administered by BKC's jumbo facility