The Bombay Dost magazine, India's first Lesbian Gay Bisexual Transgender (LGBT) publication marks 25 years of its existence this year. Milestones and signboards from its journey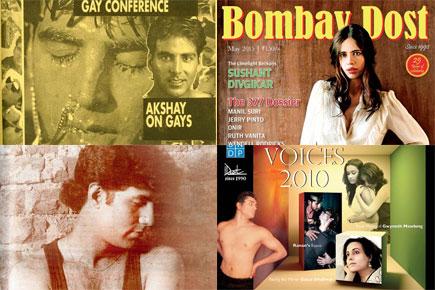 For those who came in late, it is 25 years since the first appearance of Bombay Dost, a small magazine founded by Ashok Row Kavi in 1990 which became a beacon of hope for a whole generation of gay Indians. Here is a look at its chequered journey from clandestine alleyways to mainstream newsstands.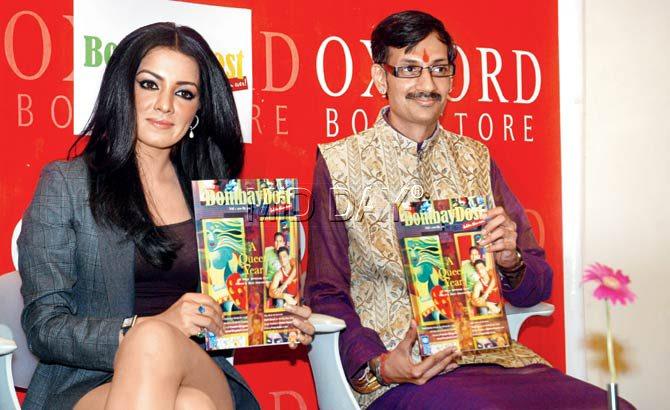 Bollywood actor Celina Jaitley (l) with Prince Manvendra Singh Gohil during the re-launch of Bombay Dost at Oxford Bookstore Churchgate in 2009. The magazine had suspended publication for a few years prior, but was re-launched that year. Pic/Datta Kumbhar
ADVERTISEMENT
1990 The Early Issues
Early newsletter-style editions would be sold at a premium by dealers, even if, priced at Rs 15, they were more expensive than glossies like Stardust.
Quaint tear-me-out condom questionnaires stood alongside agony aunt columns helmed by the no-nonsense 'Papa Passion', who would dissuade a respondent from bringing home Chowpatty beach masseurs, while gently asking, "It may sound old-fashioned but have you considered a monogamous relationship?"
Also Read: Never thought Bombay Dost would survive for 25 years: Ashok Row Kavi
The classifieds, or 'Khush Khat', got you your own PO Box at the now-defunct Veena Beena Shopping Centre opposite Bandra station. If we were to create a word cloud for everything written in them, the following would bubble to the surface: 'fair, slim, young, masculine'. Nothing has changed.
1991 The Asian Lesbian Conference
The 1991 issues brought in lesbians into the fold with many women-centric pieces. An account of Bangkok's Asian Lesbian Conference describes a melee in which lesbians from around the world participated, "There was dance, music, a fashion show, women's martial arts and a lesbian wedding to boot.
Many attendees were visibly moved and wept while sharing their stories with their Asian sisters." The issue highlighted Urvashi Vaid, elected to lead USA's National Gay and Lesbian Task Force (NGLTF). An article said, "For an Indian-American woman to head one of the major lesbian and gay lobbying and activist groups in the country is a stunning coup.
Vaid is at the heart of the fundraising effort of NGLTF, and all this while not being white and not being a man." Perhaps, an early introduction to intersectionality for the gay movement?
1995 Akshay Kumar
In an interview, Akshay Kumar pretty much focused on his heterosexuality, but mischievously said, "I was brought up in Thailand during my impressionable years.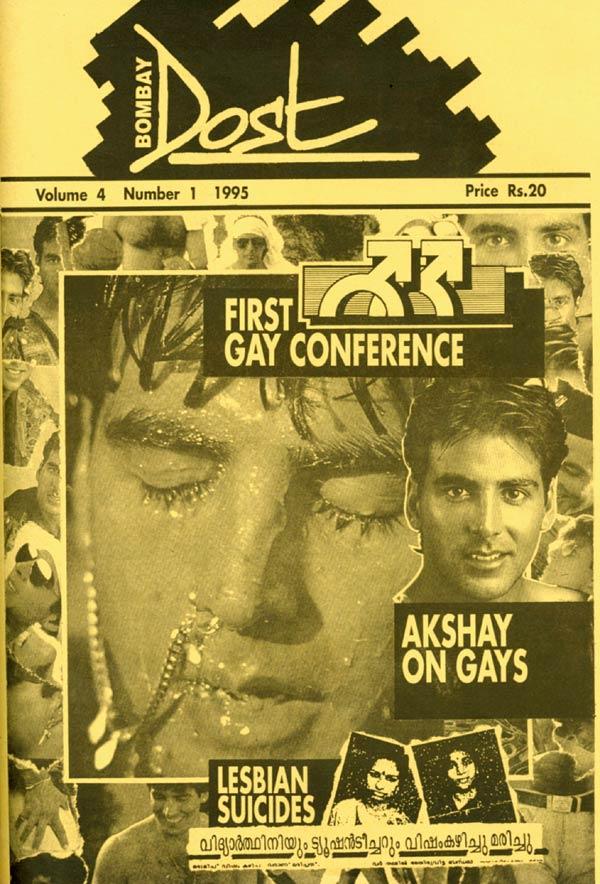 The Akshay Kumar-Saif Ali Khan 'bromance' was the focus of this edition
I've seen it all and I'm not telling you whether I've done it all." Reviewing Main Khiladi Tu Anari, in a piece snarkily titled 'Saif Sex', Row Kavi observed, "The dance sequences emphasise male eroticism, in which Akshay and Saif 'handle each other' rather than the scores of women around."
This was the article Row Kavi blamed for his fracas with Saif Ali Khan, where Khan had slapped him at his residence. The last straw apparently had been Row Kavi's Sharmila Tagore impressions on a TV talk show.
1996 Poison Pudi
This issue introduced the acerbic pen of 'Poison Pudi', a self-styled gossip diva with an inside track on the city's gay scene.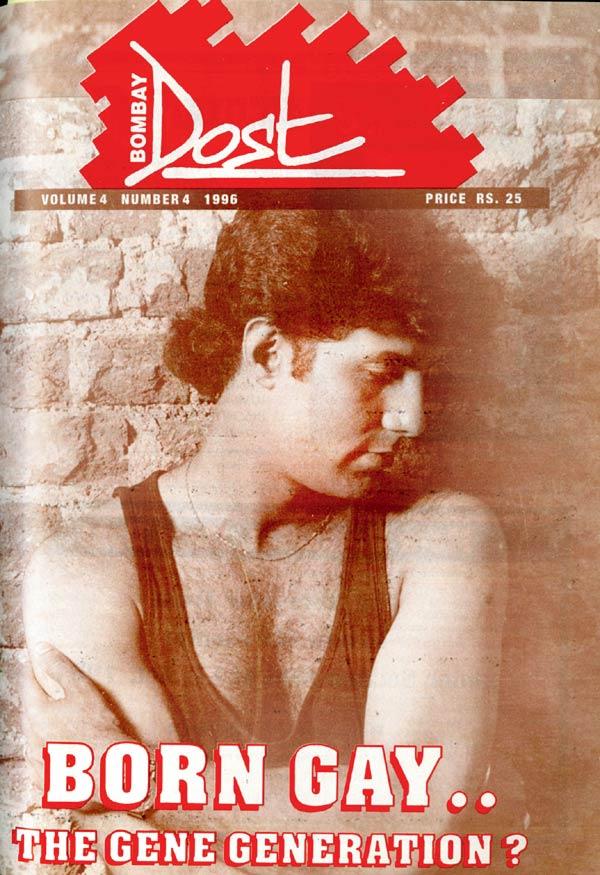 The edition was the first time Bombay Dost had a model on the cover
In the first entry, she talks effusively of a lavish party thrown by "a celebrity artist and his handsome lover", while knocking down the meagre efforts of another who "bought Rs 12 worth of samosas, farsan and boiled eggs, and wanted to charge visiting queens a cover charge to cover herself with glory.
We clapped the living daylights out of this miserly Maharani." The issue was the first to feature a cover model. Sunny Bhalla, drawn from the party circuit, claimed, "Guys in Bombay discover they are gay even after marriage because they meet such beautiful men in trains and buses. I think men are naturally at their best when with their own kind."
1996 The Fifth Anniversary Issue
The cover features a painting by Bhupen Khakhar, a pioneer of queer art in India, whose visionary works embodied a very public engagement with his own sexuality right from the 70s.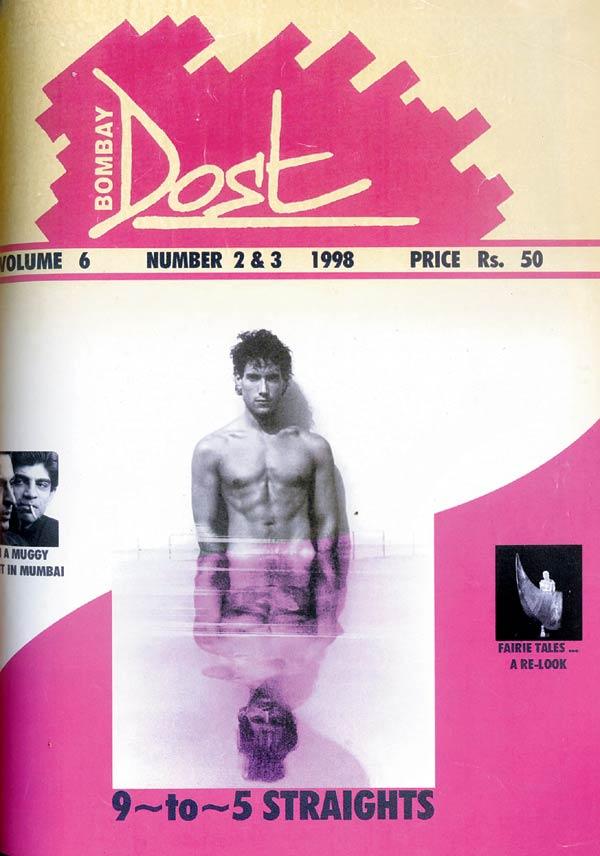 The confusion about coming out of the closet
Not to be undone, the back cover has its own slice of history – the poster of Riyad Vinci Wadia's Bomgay, or the first Indian 'gay' film, self-mockingly illustrated by a photograph of a shirtless Rahul Bose, with sunny-side-up eggs placed precariously on his nipples, below a tag-line that read 'The meek shan't inherit.'
1999 The Coming of the Internet
The cover story was strikingly prescient but its writer perhaps couldn't have predicted to what extent the internet would indeed overhaul queer lives in India, and provide a fillip to gay rights activism.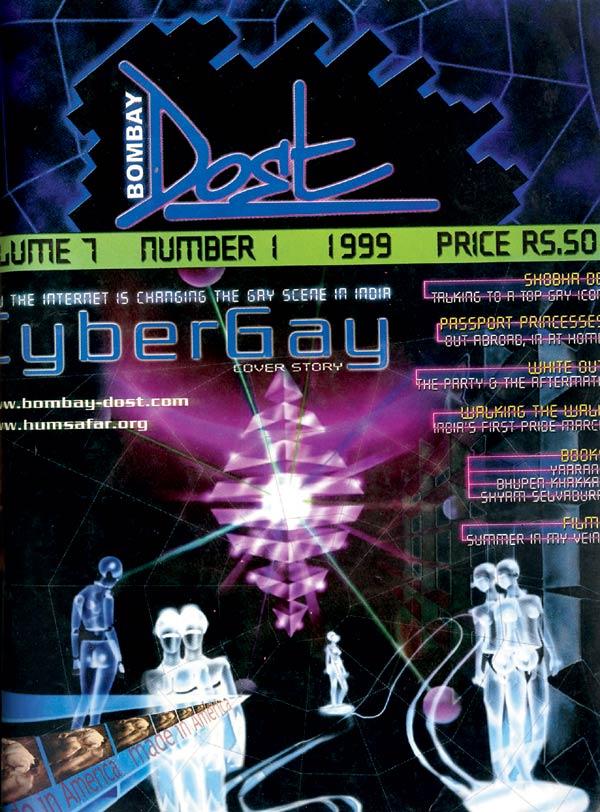 The 1999 edition dealt with the internet and the LGBT movement in India
Nitin Karani describes the first gay pride walk in Kolkata on June 29, where only 14 people participated wearing yellow t-shirts adorned with pink triangles. He wrote, "I walked in Calcutta with the hope that maybe others will take courage and break the oppressive closet of silence." Karani went on to edit several issues of Bombay Dost.
2002 Sex, Lies & Lucknow
An eight-page long feature by Row Kavi describes police raids on the offices of the Naz Foundation in Lucknow in 2001.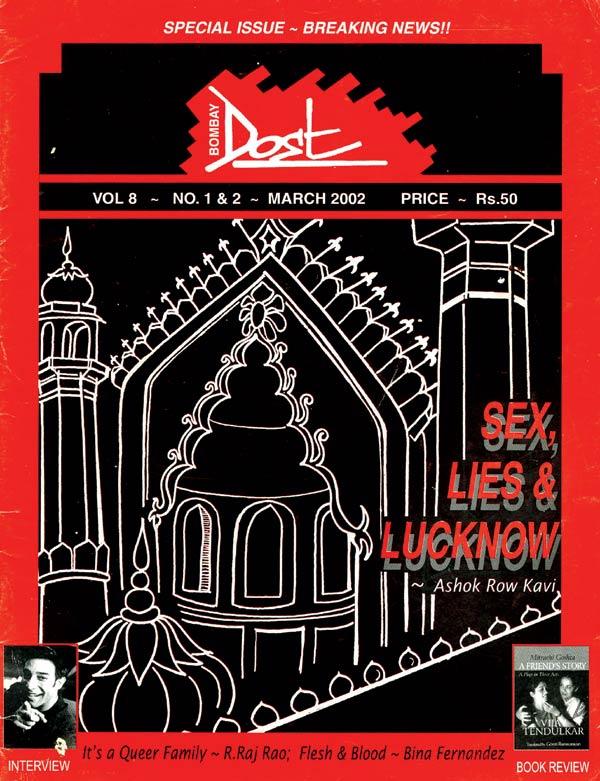 This edition raised many current issues and problems facing the LGBT community in 2002
Four outreach workers were charged with possession of obscene materials and conspiracy to commit sodomy, and detained for six whole weeks before being granted bail by the Allahabad High Court. That very year, Naz filed a Public Interest Litigation (PIL) petition with the Delhi High Court, challenging the constitutional validity of Section 377.
The write-up exposed the growing belligerence of the Lucknow police, and also gave us a measure of the internal politics within activist circles and the behind-the-scenes mobilisation that launched one of the more sustained legal campaigns in Indian history.
Such historical accounts of flashpoints in the gay movement are why the magazine should actively consider creating a publicly accessible digital archive.
2010 The Revival
A seven-year hiatus ended with the magazine's revival in 2009. My brief as editor was to create a 'bolder than ever' imprint that took cognizance of the rainbow identities now embraced by the LGBT movement.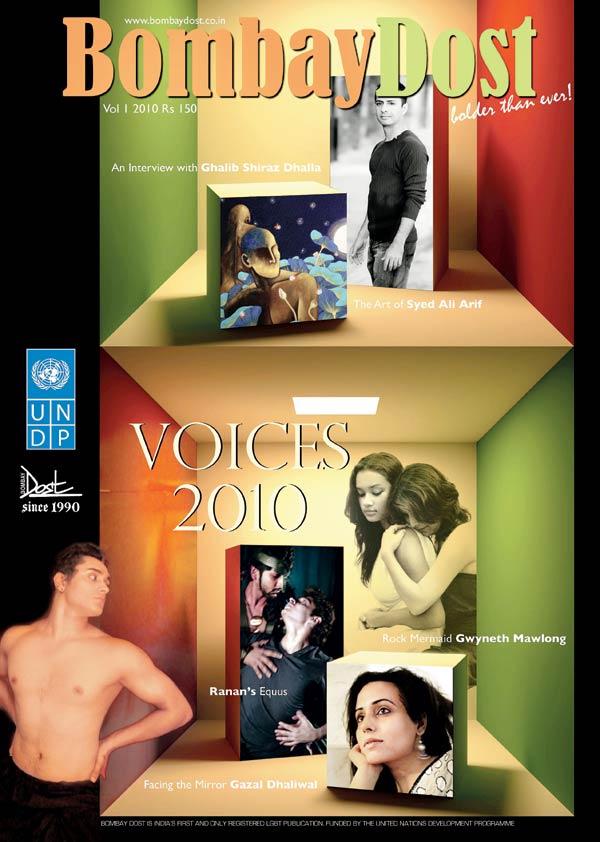 The 2010 issue focused on religion and the LGBT movement
We were happy to have snuck in our revival issue two months before the historic Delhi High Court verdict in July 2009. Themes of inclusiveness continued with our 2010 issue. For the first time, the cover featured identifiable queer people using their own names, as opposed to celebrities supporting the cause or models.
The issue included unabashed interviews about the conflict between religion and sexuality, with novelist Ghalib Shiraz Dhalla, artist Syed Ali Arif and musician Gwyneth Mawlong, as well as writer Gazal Dhaliwal's poignant account of interacting with her 'new self' during her transition as a woman.
2015 Celebrity Covers
Post-2010, the more crowded (if still nascent) post-internet world of queer publishing in India has seen several magazines come and go, like the beefcake rag Fun.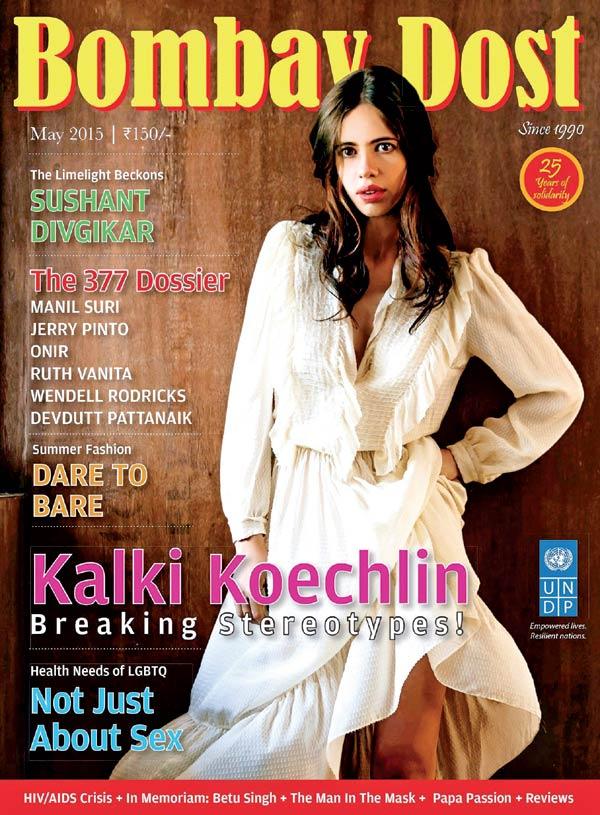 The Kalki Koechlin cover magazine
Many exist primarily on the web, like The Queer Chronicle, The Pink Pages, Gaylaxy and Gaysi, which also comes up with exquisite print editions. This profusion has stolen a march on Bombay Dost, even as it perseveres, celebrity cover models in tow.
The three issues put out in the last five years have featured, respectively, actor Imran Khan, a good choice for poster-boy given his progressive viral video on gay rights; superchef Vikas Khanna in a dishy torso-bared avatar; and, on the back of her convincing portrayal of a bisexual writer with cerebral palsy in Margarita, With A Straw, Kalki Koechlin, an actor who is always the flavour of the season. A 25th anniversary issue is now on the anvil.
Vikram Phukan is the Mumbai-based playwright and stage critic, and has formerly edited Bombay Dost magazine.
"Exciting news! Mid-day is now on WhatsApp Channels

Subscribe today by clicking the link and stay updated with the latest news!"
Click here!