On Monday, October 18, trustee Noshir Dadrawala, on the five-person BPP board went on a hunger strike to press for early elections to the BPP board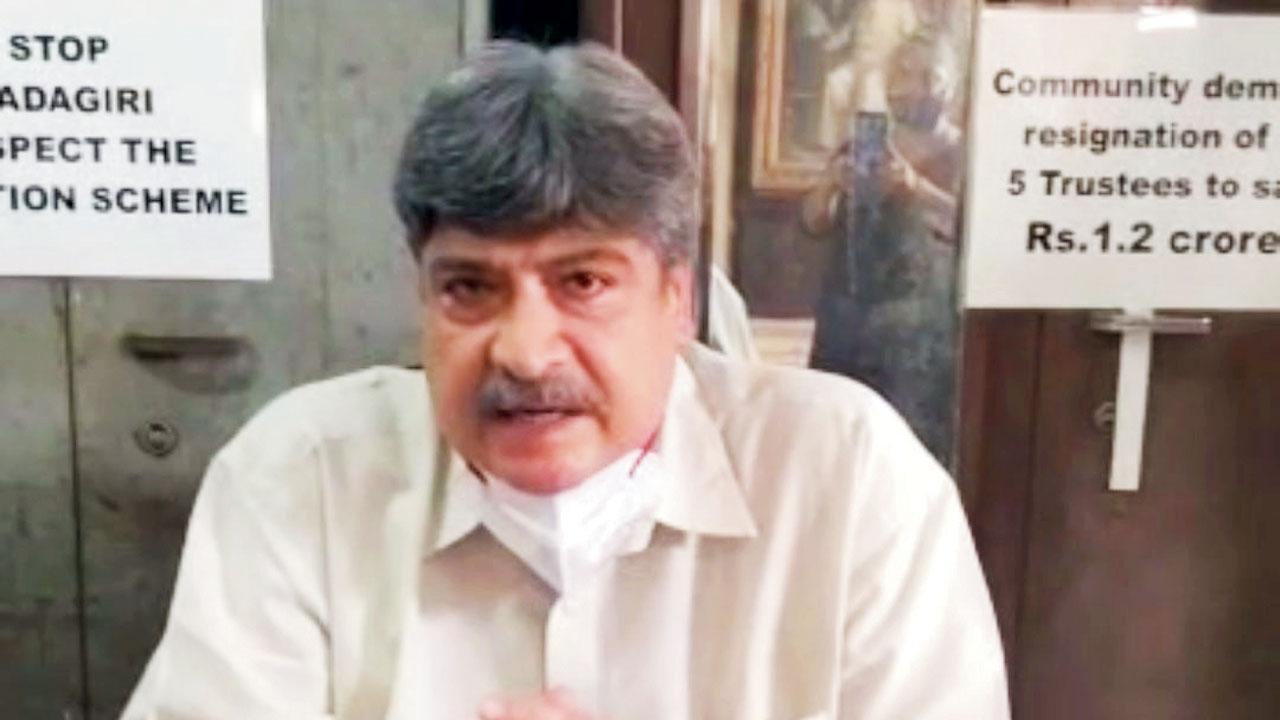 Noshir Dadrawala, BPP trustee, went on hunger strike on Monday
It is all's well that ends well at the Bombay Parsi Punchayet (BPP) office at Fort as trustees of the high-profile body came together on consent terms with regard to its elections.
The backstory
On Monday, October 18, trustee Noshir Dadrawala, on the five-person BPP board went on a hunger strike to press for early elections to the BPP board. There are seven seats on the Board but two are vacant, with one trustee having died and another resigning. Dadrawala's sensationalist action, "desperate times call for drastic measures" had a one-point aim: to stop what he claimed are delaying tactics and press the Board to go ahead with the BPP elections.
On Wednesday, the impasse was broken and trustees on the Board, chairperson Armaity Tirandaz, Noshir Dadrawala, Kersi Randeria, Viraf Mehta and Xerxes Dastur amicably decided to file their consent before the high court. The elections to the Board, said Viraf Mehta and Kersi Randeria, are scheduled for March 27, 2022. "All five sitting trustees will end their term and there will be fresh elections for new trustees," said Mehta.
A furore
There was a furore in the community over Dadrawala's fast. Trustee Kersi Randeria supported Dadrawala. On Tuesday, mediation attempts were unsuccessful, but finally, they found common ground on Wednesday. Viraf Mehta said, "I too was fasting along with Noshir Dadrawala. Though I may have been on the 'opposite' side, I decided to support Dadrawala, as whatever be my stand, he is my colleague on the BPP board."
Earlier, when Dadrawala had decided to start his hunger strike outside the BPP office, Tirandaz and trustee Mehta claimed they had met him on Monday and exhorted that they meet and talk in a mature manner to resolve the issue.
Consent terms
Some of the consent terms reached by the trustees are: 'The parties have agreed to file a petition to amend the election scheme (including but not limited to, limiting the term of office of a trustee to five years from the present seven years) and a maximum of two terms during the lifetime of a trustee.'
An excerpt from another term says: 'The timetable for holding the elections (March 27, 2022) shall not under any circumstances be delayed/derailed/postponed/extended, save and except if the holding of such elections becomes impossible on account of a government/municipality ordered pandemic lockdown.'
The BPP said that now that a consensus has been reached, members of the community "are requested to maintain decorum and exercise restraint in their comments on social media and other forums."
A precedent
With the olive branch and poll dates set, all on the hunger fast can now eat in peace. Dadrawala claimed he will break his fast with "soup and be on liquids through Wednesday evening. It is not so much the lack of food but the very many rounds of negotiation that were enervating." It is evident though, that for the first time in the over 350-year history of the BPP, a hunger strike has set a precedent. Some social media messages even claimed that 'a new community leader has been born' when Dadrawala went on hunger strike. It is too early to tell if this will spawn copycat actions, but one thing is certain: in Bollywood, we have actors earning the label of 'angry young man', in BPP we may now have the 'angry and hungry man'.