Three days after this paper revealed the skewed allocation of civic funds for BJP strongholds and other wards, commissioner allots Rs 3 crore to all wards uniformly but freezes disbursal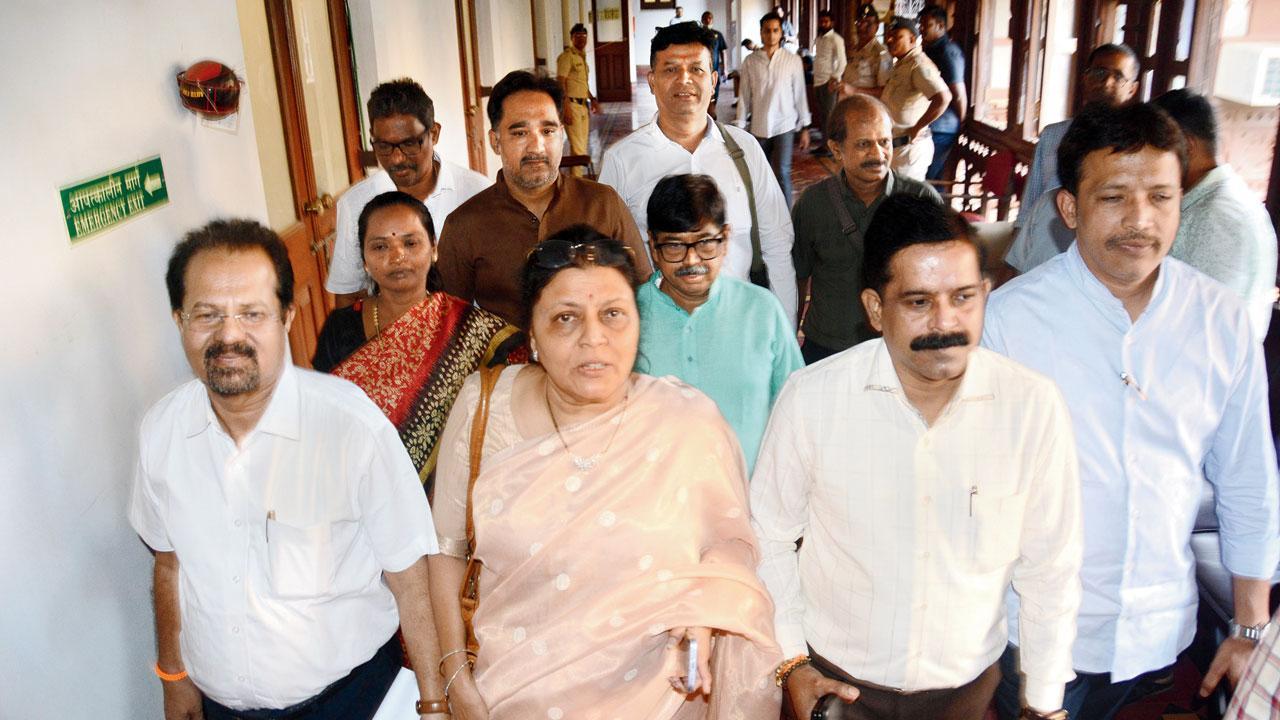 Former Mayor Vishwanath Mahadeshwar (extreme left) and former corporators met civic chief I S Chahal regarding the matter on Thursday. Pic/Sayyed Sameer Abedi
Following the widespread outrage against the allocation of Rs 3 crore for civic works only in BJP strongholds, BMC Commissioner Iqbal Singh Chahal, in his role as the civic administrator, told mid-day on Thursday that the funds can be used only after a new general body is elected. He also sought to assuage the Opposition by allocating Rs 3 crore uniformly to all wards.
Till elections are held, this fund cannot be used," Chahal told mid-day. I have made this provision for new corporators. Only they can use this fund. Further, since there is a misunderstanding about fund distribution, I have now decided to provide Rs 3 crore for every electoral ward," Chahal added. On Wednesday, the Shiv Sena and the BJP's top leaders Aaditya Thackeray and Ashish Shelar got into a twitter spat over mid-day's exclusive report that revealed the discriminatory budgetary allocation.
ADVERTISEMENT
mid-day had reported on Wednesday about how Chahal, as administrator, had provided Rs 3 crore for 77 wards where BJP corporators were elected in 2017 and just R1 crore each for the other 150 wards. While Thackeray took a dig at the skewed allocation, Shelar said the Sena had done pretty much the same in its time at the helm of the civic body. Another Sena leader, Vishwanath Mahadeshwar, said the party is contemplating legal opinion. Thursday's decision by the commissioner comes in this backdrop.
Also Read: BJP's defence of BMC budget bonanza: Shiv Sena did it, too!
A transgender woman at a public toilet at Aarey. The funds are allotted for works such as repairs of public toilets, balwadis, etc. File pic
Chahal told mid-day that the budget document was prepared in January, when it was decided that in case civic elections are held in April or May or later this year, the newly elected corporators must be given a kitty to start local works.
"How can anyone predict which party will win from which ward?" Chahal told mid-day on Thursday. "This is a token provision that can be decided by the new general body. There is some misunderstanding [among the opposition leaders] about fund distribution. Therefore, it cannot be said that certain wards got more funds."  He added that he has now decided to make provision of Rs 3 crore for every electoral ward.
Corporators led by former Shiv Sena mayor Mahadeshwar had earlier on Thursday met Chahal and submitted a letter demanding Rs 3 crore for the wards they represented in the previous administration. Former leader of the house and UBT group leader Vishakha Raut, however, was not convinced with Chahal's clarification.
"If there are no civic elections this year, should we stop development or emergency works in the wards?" she asked. "This is not the corporator's development fund, which is Rs 60 lakh. This is different. The civic chief should provide Rs 3 crore for 227 wards. And this money should be used even if there is no elected general body." Ashish Shelar, MLA and BJP city president, said, "We will do the necessary work in the wards from this fund. The disparity in fund allocation till now has been removed through this fund allocation."
"If this fund is only for the new general body administration should declare this in writing," said SP former group leader, MLA Rais Sheik.

"So after all the public and media ruckus, he has agreed to this.  Will it be used by ward officers? And what about the Rs 1,700 crores last year diverted from the white book to the "beautification fund" at the whim of the administrator? or that too is a scam," asks former minister, Aditya Thackeray.