Fast-spreading variant reached 132 nations, prompting WHO to issue a global warning; speeding up vaccination, following Covid-19 rules crucial, they say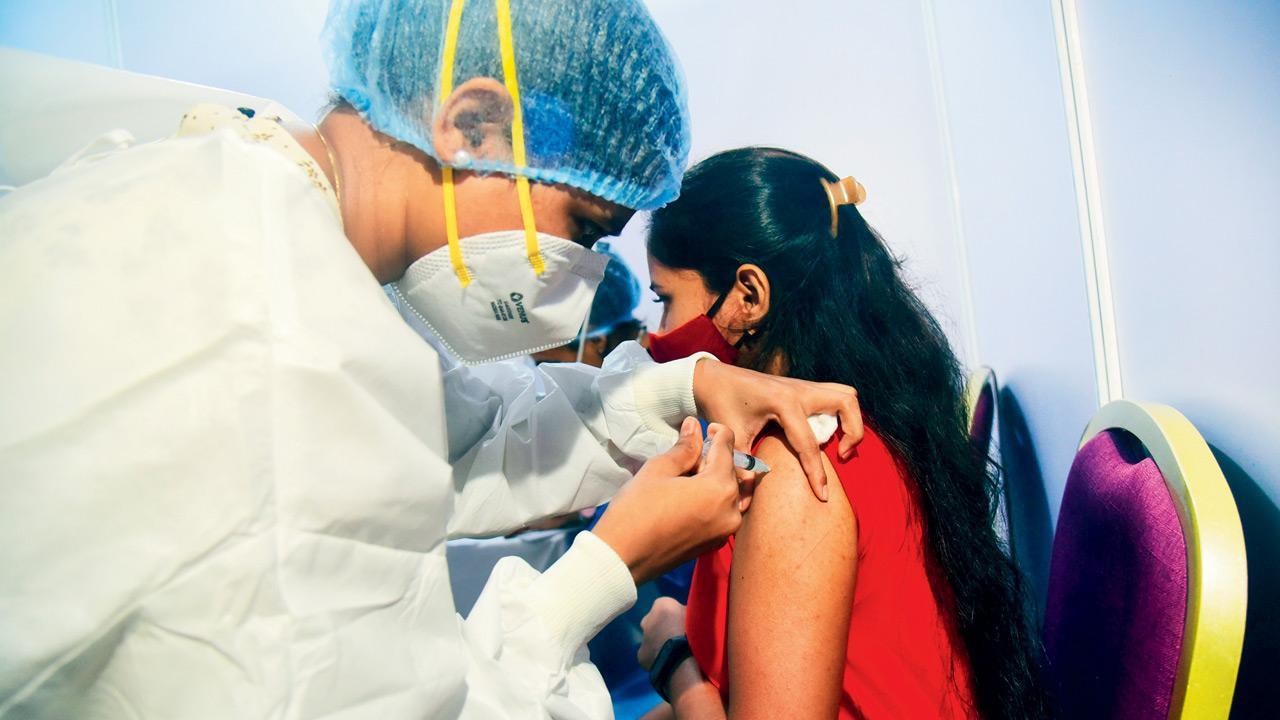 A woman receives a dose of Covid vaccine at Worli Koliwada on Monday. Pic/Shadab Khan
Amid the rise of the Delta variant in India and other countries, particularly in China and Sri Lanka, health experts feel it's high time governments took the recent global warning by the World Health Organisation (WHO) seriously.
Dr Wiqar Shaikh, Professor of Medicine at Grant Medical College and Sir J.J. Group of Hospitals, said the variant, which originated in India, has become a serious concern. He said China, known for imposing harsh restrictions, is staring at the most extensive outbreak of Covid in five provinces since the virus first spread from Wuhan as per the Chinese state media. In Nanjing, authorities plan to test all its 9.3 million residents.
ADVERTISEMENT
The WHO has reported an 80 per cent rise in Delta cases over the past 4 weeks in five of its six health regions and the fast-spreading variant has now reached 132 countries. WHO has called Delta "a warning!" and the "fastest and fittest" of all Covid variants, he said.
While Yale University says Delta can breach protection from the vaccines, the US's Centers for Disease Control claims that vaccinated people with Delta infection will spread the disease at the same pace as unvaccinated individuals. Citing CDC, Dr Shaikh said Delta is more transmissible than influenza, Ebola and smallpox. Dr. Shaikh quoted a recent Lancet report to explain that Delta leads to more hospitalisations and deaths. He said Delta Plus is even more dangerous.
Need to modify vaccines
Dr Shaikh said there is an urgent need to modify vaccines to tackle the Delta variants and it is almost certain that booster doses or annual vaccination will be required.
mid-day last week had held a panel discussion of top experts to spread awareness of the Delta variants—Third Wave Challenge to Mumbai's Paediatric Healthcare.
Dr Subhash Hira, Professor of Global Health at the University of Washington-Seattle, too, is concerned by the Delta surge in China. "This sudden change in compliance of China in sharing its Covid situation with WHO has raised alarms," he said. 
In the US, UK-Scotland, Australia, Sri Lanka, Singapore, and Canada, the R0 (reproducibility score) has been found to be 8 or more, an indication of higher severity of the disease. "Two-third of these new Delta infections are occurring in vaccinated people with similar ease as unvaccinated persons if they got exposed to infected persons without wearing a mask and maintaining a 6-foot physical distance," he said.
Earlier, Dr Hira said, the highest R0 of 2.85/3.5 had been reported in April in New Delhi, UK, and Italy. "The rapid spread of the Delta variant has prompted WHO to issue a global warning two days ago and the recommendation to slow it down by instituting lock-outs, use of physical barriers by individuals, and vaccine coverage. The hidden threat is that if the Delta variant is not contained adequately, its rapid production in infected persons can lead to new, more dangerous variant(s)," he added.
'Variants behave differently'
Dr Fazal Nabi, Director-Paediatrics at Jaslok Hospital, said every variant behaves differently and its spread depends on the immunogenicity of the host. "With the new strain on rise, even though it may seem more transmissible, we can hope that it is less severe as the immunogenicity of the population is changing due to vaccination and natural infection-induced antibodies in the population."
About the surge in China, Dr Nabi said, "This could mean that the virus is more transmissible but does not necessarily translate into the variant being more severe to its counter, as we must take into consideration the anxiety in the population, meaning it could result in the increase in admissions even if the individual shows milder symptoms. Severity depends on the complicated course of the disease and mortality of the patients."
The expert said, "As per studies done in Mumbai, we are entering from pandemic to endemic as more than 55 per cent of the population are antibodies positive. Moreover, as witnessed during the second wave, fully vaccinated populations including the elderly and individuals with comorbidity, who contracted Covid reported a milder and shorter course of the illness and did not require hospitalisation either," he said.  
Shorter, milder outbreaks 
Dr Nabi said future outbreaks will be shorter and milder, while stressing that children have to be vaccinated quickly. "To reduce the severity and complicated course of the new variant, we need to take care of the malnourishment and chronic organ illnesses in children," said Dr Nabi, adding that children must be encouraged to reduce screen time and go out with precautions to improve their physical and mental well-being.
Dr Santosh Bansode, HoD of Emergency Medicine at Wockhardt Hospitals, Mumbai Central, said, "The WHO has stated that the only way to beat Delta strain is to move quickly, to be fast and to be strong. We must educate people about Delta variants, the importance of masks, sanitisers and social distancing. Fully vaccinated people should also be careful now." 
Citing the third wave in many countries, he added, "We cannot take the Delta variant lightly. This strain can again bring trouble to us. We need to vaccinate people at a faster rate and we should not give viruses a chance to mutate more. If all of us work together as a team we can keep ourselves safe."
"Exciting news! Mid-day is now on WhatsApp Channels

Subscribe today by clicking the link and stay updated with the latest news!"
Click here!