Consistently under 200 cases a day till last week, current trend of steady rise continues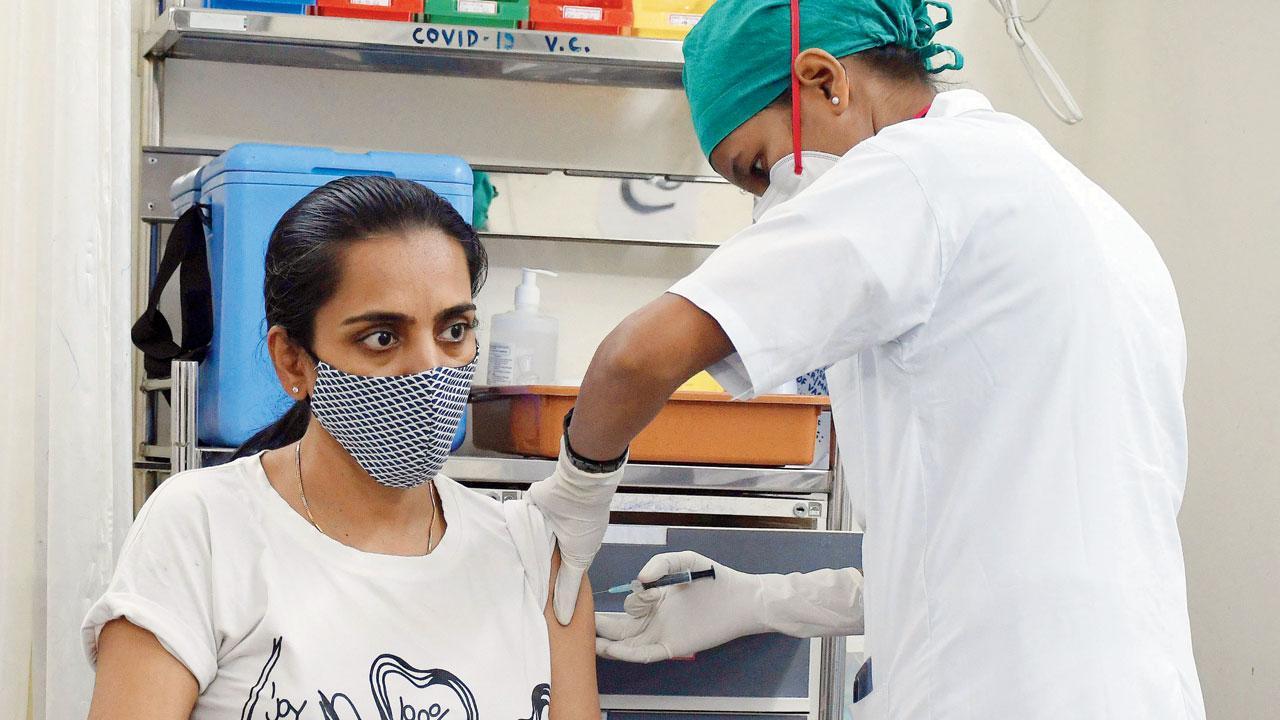 A beneficiary receives a vaccine dose at Nair hospital on Friday. Pic/Ashish Raje
Mumbai saw a marginal dip in test positivity rate as new cases inched closer to the 300-mark on Friday. As per the numbers shared by the Brihanmumbai Municipal Corporation, the city reported 295 new cases with a TPR of 0.57 per cent. The city reported one death. The victim was comorbid and above the age of 60 years, said the civic body.
The city reported one death. The victim was comorbid and above the age of 60 year, said the civic body. While the lowest TPR of the second wave was registered at 0.28 per cent on December 1, the city's zero death toll was reported on December 11 for the second time. The city had consistently recorded under 200 new cases a day up until last week.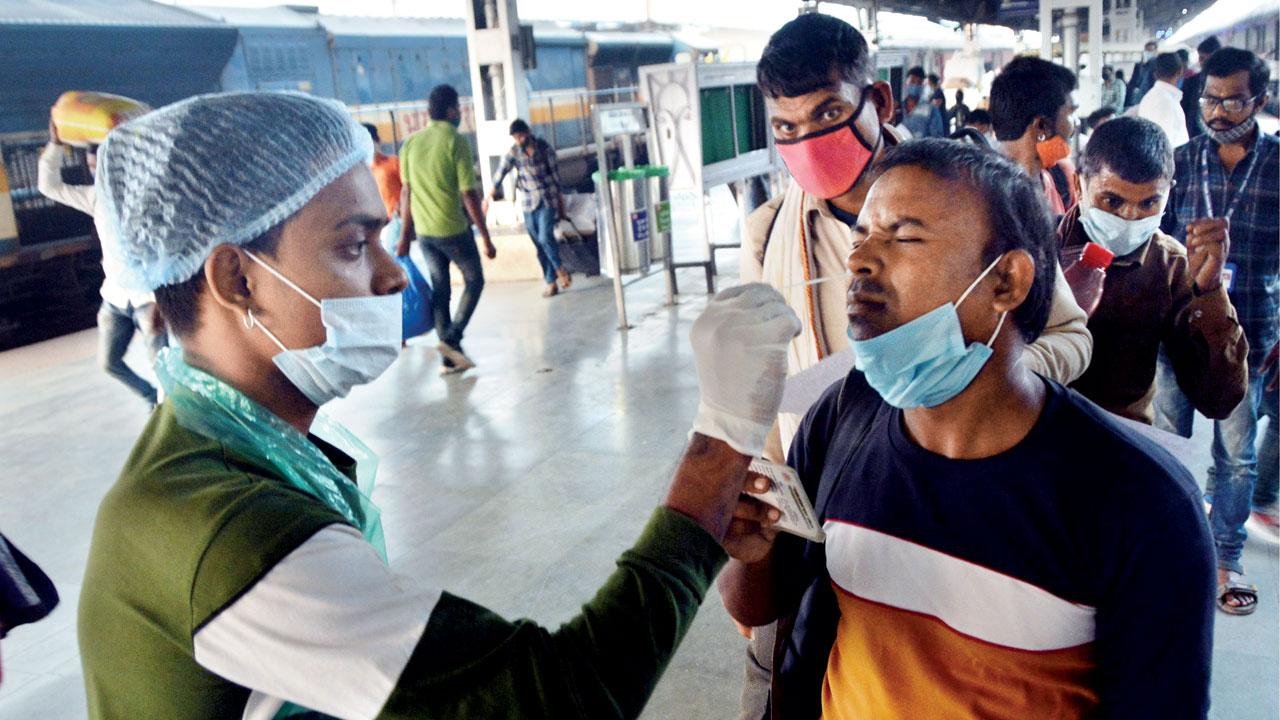 A health worker collects a swab of a train passenger at LTT, Kurla, on Friday. Pic/ Sayyed Sameer Abedi
The spike, even if marginal, is not to be taken lightly since the highly transmissible Omicron variant has begun spreading across many nations, said corporation officials. The doubling rate dipped and stood at 2,468 days on Friday. The city's recovery rate remained constant at 97 per cent as 227 people recovered and were discharged during the day.
The cumulative cases in Mumbai since the pandemic began stands at 7,66,508. Across Maharashtra, fresh infections jumped amid a dip in COVID-19 fatalities. As per a report shared by the state health department, 902 cases were reported along with 12 deaths in all districts. The state's case fatality rate remained constant at 2.12 per cent as 680 patients recovered and got discharged on Thursday. Currently, the state has 6,903 active cases. 
New cases rise in MMR
The Mumbai Metropolitan Region also saw a significant rise in new cases. As per the state report, 472 fresh cases were reported in MMR including the ones from Mumbai. Apart from Mumbai, Navi Mumbai reported 55 new cases, the most in MMR. It was followed by 46 cases under the jurisdiction of the Thane Municipal Corporation. While Kalyan-Dombivil saw 17 cases, Vasai-Virar reported 12 cases each, Raigad recorded 9 cases and Thane city reported 13 cases. MMR, excluding Mumbai, registered two deaths, with Vasai-Virar and Thane reporting one fatality each. 
66,47,840
Total no. of cases in Maharashtra
295
Total no. of cases reported in MMR in the last 24 hours
1
No. of deaths in city on Friday (The deceased had comorbidities and was above the age of 60)
227
No. of patients recovered and discharged in city on Friday
98,24,353
(Total no. of people administered the first dose)
75,29,062
(Total no. of people who have taken second dose so far)
10,801
(No. of people who took first dose on Friday)
36,652
(No. of people who took second dose on Friday)
902
No. of new cases in Maharashtra on Friday