The state recorded 30,535 numbers of new cases, taking the total tally of Maharashtra to 24.79 lakh.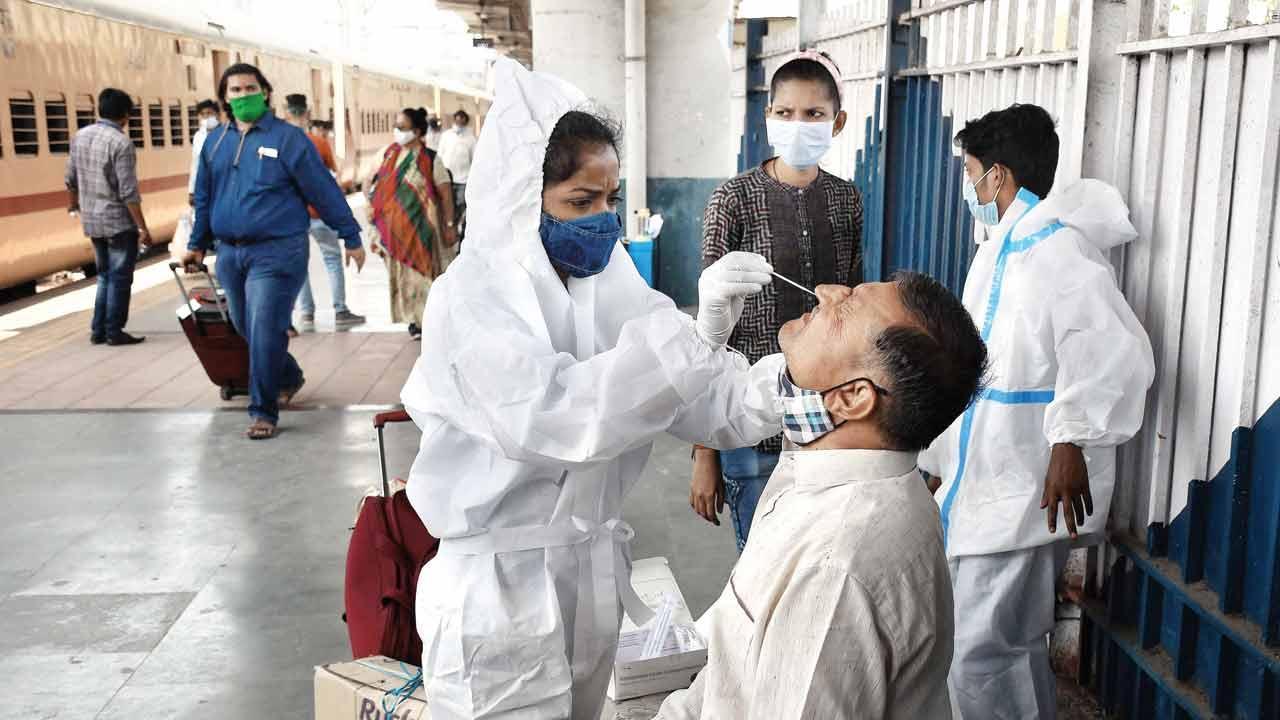 A civic health worker takes a swab sample of a long-distance passenger at Dadar station on Sunday. Pic/Ashish Raje
For the first since the COVID pandemic broke out, Maharashtra has crossed the 30,000 mark in a single day. With the second wave already in full swing, the daily numbers continue to surge in Mumbai as well. The state recorded 30,535 numbers of new cases, taking the total tally of Maharashtra to 24.79 lakh. 
As on Saturday, daily coronavirus infections in Mumbai moved ahead of all its previous records with 3,779 new cases, putting the civic administration under immense pressure. The Mumbai Metropolitan Region saw cases rising above the 6000 mark, with Thane, Navi Mumbai and Kalyan-Dombivali municipal corporations 666, 467 and 764 respectively.
The mortality rate of the state has remained steady around 2.15 per cent. In 24 hours, 99 people, including 10 in Mumbai, died of the contagious diseases, taking the overall tally to 53,399. In the same period, 1,296 citizens died of over causes. These are the cases where patients were positive before testing negative but later died due to other complications.
Of the fatalities in Maharashtra, the most — 18 — were recorded in Pune city followed by 13 in Nagpur city. In the MMR, including Mumbai, 16 people succumbed to the infection. There were 3 deaths in Navi Mumbai, 2 in Raigad region and 1 within the limits of Ulhasnagar Municipal Corporation.  Of the deaths in Mumbai, civic officials said 7 patients were suffering from other ailments, while 9 victims were senior citizens. 
While 11,314 patients were discharged across the state, the recovery rate dropped to 89.39 per cent. The total number of active cases in the state now stands at 21,0120. Mumbai's recovery rate has slipped to 91 per cent and the doubling rate has come down 106 days. The city's overall growth rate now stands at .63 per cent. The number of positive cases in the city is 3.62 lakh. 
24,79,682
Total No. of cases in Maharashtra
6,970
Total no. of cases reported in MMR in the last 24 hours
10
No. of deaths in city on Saturday (Seven patients were suffering from other ailments or comorbidities, while 9 victims were senior citizens)
1,647
Patients recovered and discharged in city on Saturday