Dindoshi police say waiting for written plaint from BMC to file an FIR, society says actor irresponsible, arrogant in leaving without informing them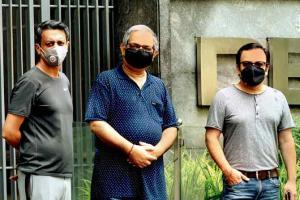 Members outside the building. Pic/ Satej Shinde
The committee of Goregaon's DB Woods has approached BMC and police against a resident, television actor Parth Laghate, also known as Parth Samthaan, for breaking quarantine rules.
The society has alleged that Laghate, who had contracted COVID-19, left for Pune right after a negative test, leaving behind his help who is infected too. They submitted a complaint with the BMC and Dindoshi police on Tuesday.
According to the complaint, the actor tested positive on July 13, and four days later, his cook, Sunil Sahu, 30, did. On July 21, Laghate tested negative but Sahu tested positive, which Laghate did not inform the society of.