BMC and hospital administration settle on building that recently underwent repairs and has no TB patients; three floors to be equipped with furniture, beds, and other facilities to ready wards for patients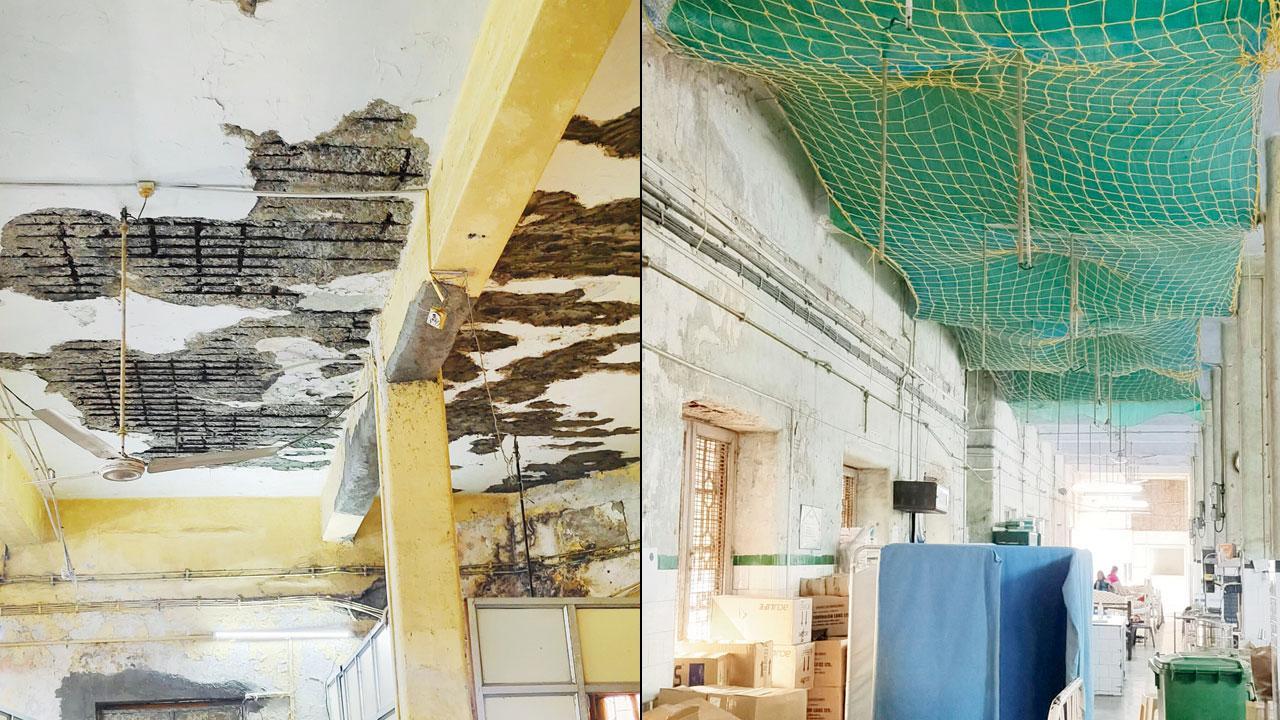 The ceiling of ward 11 at KEM hospital has visible iron rods as the plaster has fallen off; (right) The administration has set up temporary measures at ward no. 8 for safety purposes. File pic
The civic body and the KEM Hospital administration have come to an agreement on where to shift patients from the hospital's six dilapidated wards. According to officials of the Brihanmumbai Municipal Corporation (BMC), a few wards will be opened at the Sewri TB hospital, and patients will be treated there until KEM's dilapidated wards are repaired.
In a January 30 report, mid-day reported how patients, doctors, and medical staff at the civic-run KEM hospital have been risking their lives for three years. A 2019 structural audit found six wards in need of structural repair work. The audit report was submitted in 2021, but no work was taken up. mid-day visited the wards and found that the ceiling at several places was in a bad condition. In some places, iron rods were visible, while in others, temporary measures were put in place to provide support to the structure. Civic officials said they were aware of the building's condition and were looking for a space to shift these wards.
ADVERTISEMENT
Hearing this week
Following the report, the Maharashtra State Human Rights Commission (MSHRC) took suo-motu cognisance and summoned BMC Commissioner Iqbal Singh Chahal and the Dean of KEM Hospital and Medical College Dr Sangeeta Rawat, and asked them to file their reply through an affidavit. The commission has scheduled a hearing on February 15.
A hospital official said on the condition of anonymity, "After discussions with experts and doctors, it has been decided to shift patients to a recently-repaired building on the TB hospital premises. The building has offices on the ground floor, and the wards will be on the second, third, and fourth floors. There are no TB patients in that building."
Also Read: Mumbai: 'Planning to shift dilapidated KEM wards to nearby hospital'
The official added, "Currently, there is no furniture, beds or other facilities required to treat patients at the chosen building. Within a few weeks, the ward will be ready to treat patients. There will be no contact with TB patients. Our doctors, nurses and other staff will also be at the TB hospital premises to serve the patients."
No contact with TB patients
Half of the main building at the Sewri TB hospital is empty due to ongoing repairs, while TB patients are in the other wing of the building. Meanwhile, the BMC is also looking for space at the MGM hospital, which is in Parel and closer to KEM hospital. "MGM hospital is an ESI hospital, and talks are going on with the central and state departments. The BMC is ready to pay rent for the wards," Additional Municipal Commissioner Dr Sanjeev Kumar said. "The safety of patients and staff is our responsibility. We have made the decision to shift the wards to the TB hospital premises after discussions with doctors and experts," Dr Kumar added.