So far, the BMC has seized around 591 kgs of plastic in Mumbai; in Pune, the civic body collected Rs 3.4 lakh in fines from plastic ban violators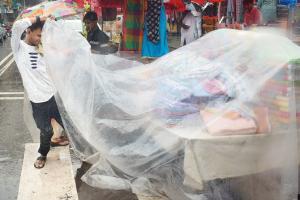 A vendor uses a plastic sheet to protect his wares from the rains in Dadar on Sunday. Pic/Ashish Raje
It was a buzzing Sunday on Day 2 of the plastic ban for shops across the state - not in terms of business, but with respect to the flurry of activity from the relentless raids by the respective civic bodies and the fines slapped on establishments found in possession of banned items.
On Day 2 of the ban on single-use plastic, BMC fined 72 shops of the 867 inspected establishments. Also, inspection report was issued to five shops for not paying fine. Most of this happened in Chembur and surrounding areas.

Vendors cover their carts with plastic sheets
On Sunday's action, Deputy Municipal Commissioner (special) Nidhi Choudhary tweeted, "Squads visited 867 establishments so far Banned Plastic found at 72 shops IR given to 5 (for not paying fine) Total plastic seized 591.67 kg Best thing is less than 10% were found with products under #PlasticBan. Most have complied to #PlasticBan Kudos to Mumbaikars (sic)".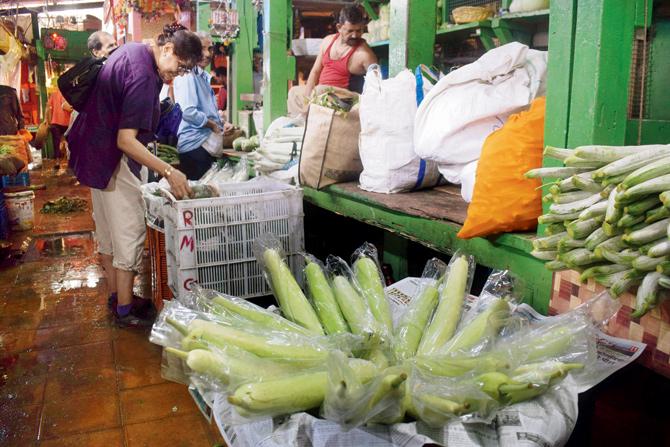 Others use it for veggies, ban notwithstanding
In Pune, locals seemed to have made peace with the ban, as no protests were reported. While small-scale businesses did use plastic on the sly for rangoli and cut vegetables, most citizens were seen carrying cloth bags for shopping.

Fish sellers abandon their thermocol boxes in Dadar after the plastic ban comes into effect. Pics/Ashish Raje
Sunday saw no civic action in Pune, leading to a few, mainly meat shops, using plastic bags. Deputy chief of PMC Suresh Jagtap said, "Today [Sunday] being a holiday, we didn't conduct any raid; but tomorrow, we will go full throttle. We've appealed to citizens to hand over plastic in their homes to the respective ward office."
Inputs by Chaitraly Deshmukh