In gruelling nine-hour procedure, team reconstructed limb by grafting skin of thigh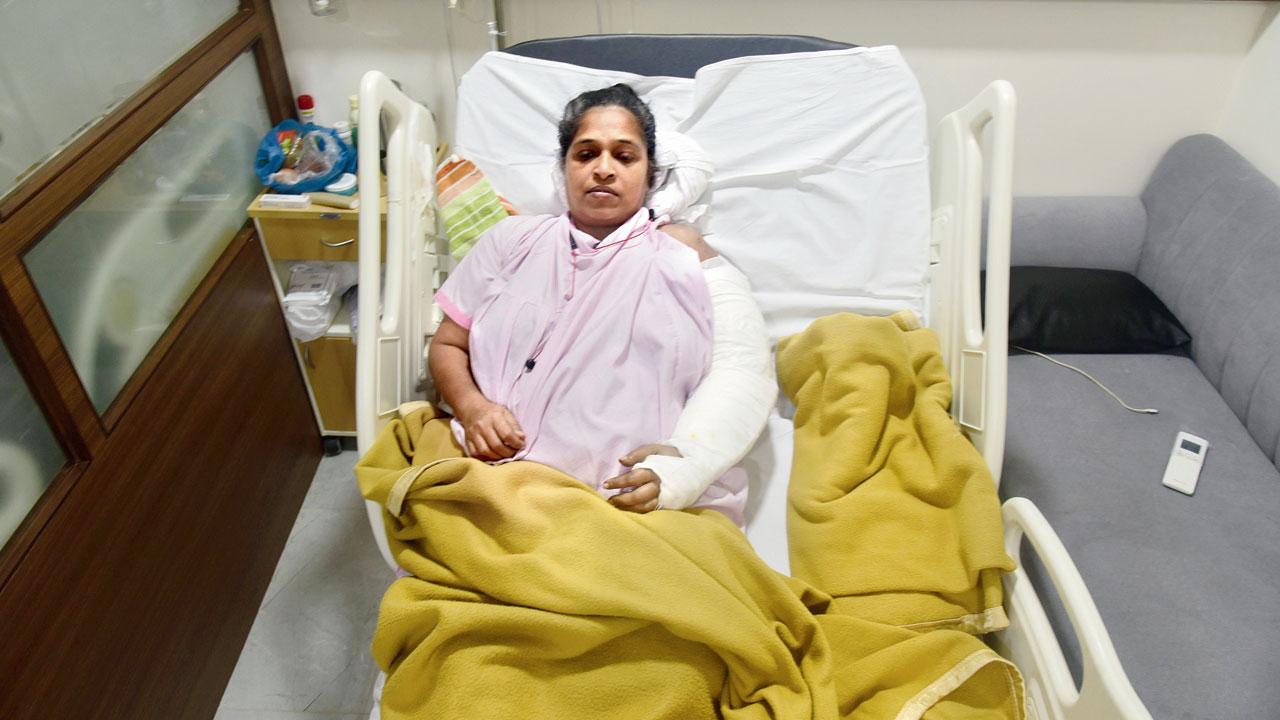 Aditi Sawant at Oscar Hospital in Goregaon West on March 19. Pics/Atul Kamble
Doctors, after performing a nine-hour procedure, successfully saved the arm of a 48-year-old woman, Aditi Sawant, which was 90 per cent severed after her saree got stuck in a diamond-cutting machine at Dahisar on February 18.
Aditi, who resides in Dahisar, works in a diamond factory where she use to cut precious stones. Sawant surgery was completed at the Oscar Hospital, a multi-speciality facility, at Goregaon West. The incident occurred around 2 pm after Sawant switched on the high-speed diamond-cutting machine, which can complete 4,000 rounds in a second, and began work.
ADVERTISEMENT

Dr Dhananjay Kumbhar with Aditi
Aditi told mid-day, "I had finished lunch and was working when my saree got stuck in the machine. Before I could realise it, my arm was almost separated from my shoulder. I rushed to a hospital in Mira Road by myself where doctors told me that it was not possible to relocate my arm and they might have to amputate it. I informed my son Ashish, a gym trainer, and he in turn informed a friend, who works at Oscar Hospital."
Also Read: Mumbai: Health experts alarmed after respiratory viruses soar
The doctors at Oscar Hospital told Aditi's son to rush her there immediately. A team comprising cardiovascular surgeon Yogesh Shukla, orthopaedic surgeon Vinod Pardeshi, plastic surgeon Parag Vibhakar and anaesthesiologist Sonali Puthran eventually got to work.
Rejoin the hand
Surgery began around 4 pm and ended at 1 am the next day. Dr Nitin Pawar, surgeon at the hospital, said, "It was rare. It took us more than eight hours of surgery. Our entire team worked on it. Her blood pressure and haemoglobin were low." "We also found that the bone marrow of the hand was completely crushed and the brachial artery had also completely broken down. There was no blood circulation due to the cutting of veins. We also did grafting in which we removed some parts of the thigh and fixed it to the hand. It was a successful surgery," Dr Pawar explained.
Aditi told mid-day, "My arm has now recovered fully and doctors told me to take rest for six months. There is movements in my hand. The incident was so painful that I took my own hand and rushed to the hospital. I thank the doctors who saved my arm."