At BKC, three grounds were booked and decorated with Sena flags, hoardings, smart screens and chairs; the first ground was packed to capacity by 6.30 pm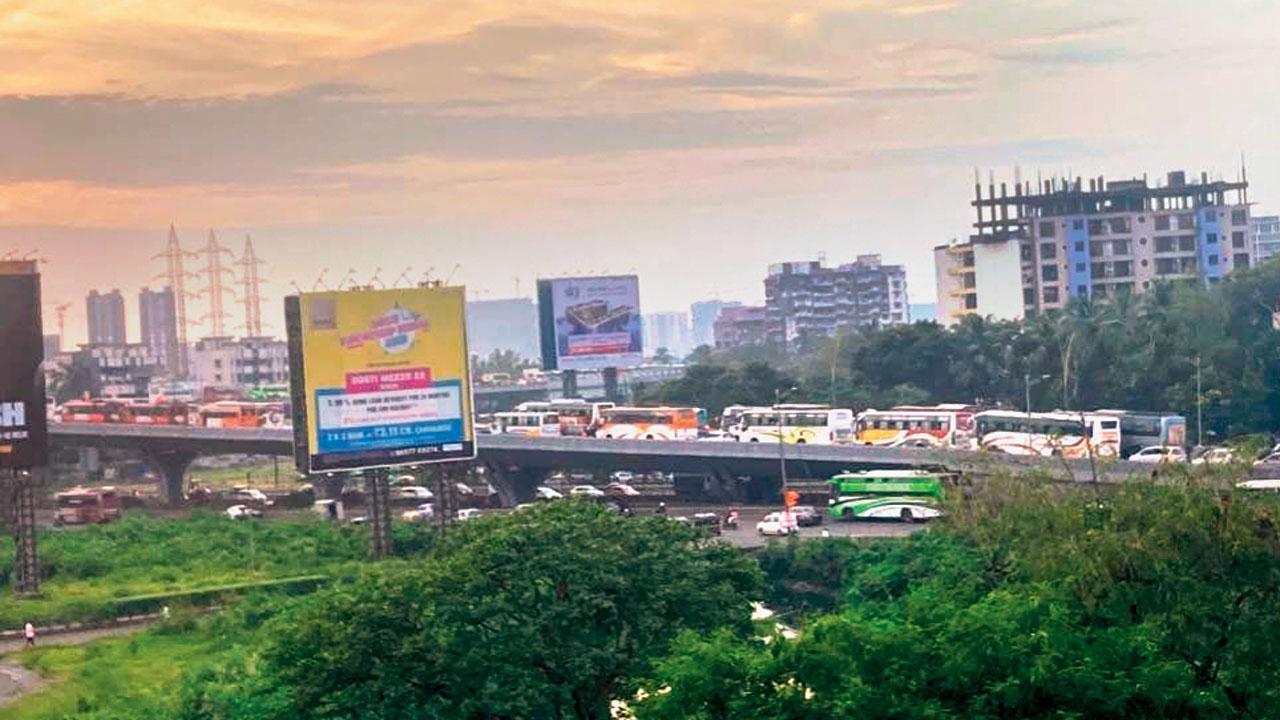 The Sion-Chunabhatti connector chock-a-block with buses bringing people in for the Eknath Shinde rally at the MMRDA ground. Pic/Neha Singh
The Dussehra rally at BKC ground could very well be one of the richest political rallies ever held in Mumbai. The Shinde Sena seemed to have pulled all stops and emptied coffers to provide for transport, food and other logistics to make it an event that would be known for its pomp, lustre and largesse. Thousands of buses, cars and all sorts passenger vehicles were hired to ferry party workers from far flung areas of the state. In fact, to make the travel faster, a stretch of the 'yet to be inaugurated' Samruddhi Mahamarg was unofficially thrown open.
Mumbai-bound travellers were provided decent food on the way. Halls were reserved to provide them rest and refreshment by respective local leaders. The travellers, mainly rural folk, comprised Bhajan mandals, local artists, band players and hard core party workers. Buses trickled in till late evening from all sides, struck in traffic jam over newly built Chunabhatti-BKC connector. Roads in BKC were blocked to provide them parking and ease the regular city traffic. At BKC, three grounds were booked and decked up with Sena flags, hoardings, smart screens and chairs. The first ground which had a dais was packed to its capacity by 6.30 pm. Hung to a pair of mast cranes, hovering over the dais was an apparatus that would create a hologram and flash images.
A massive kitchen was set up at the venue where 10 tonnes of veg pulav and 3 lakh vada pav were prepared for the audience in packets. A separate dining area served the VIPs a sumptuous buffet. In addition, over 2 lakh food packets of thepla, kachori, gulab jamun and dhapata (Marathi style parantha) came from Thane. Minister Abdul Sattar claimed some 25,000 people travelled from 3 Assembly constituencies he made in-charge of. He is one of the 40 MLAs on the Shinde side who were asked to mobilise 2,000-3,000 people each.
Also Read: Dussehra rally: Show of loyalty, legacy at Shivaji Park
A senior leader claimed they have managed over a lakh chairs, a claim mid-day could not verify physically. In drone shots, the venue looked like an unending cricket pitch dotted with coloured spots, split where roads separated the three grounds, but bound by huge screens and crowd standing in between.
Nothing came cheap here. The sofa-like chairs on the dais were brand new, still covered in plastic in the afternoon. A grand saffron-clad chair that stood apart from others was kept vacant as a mark of respect for Sena founder Bal Thackeray. Ministers, MLAs and MPs of the Shinde faction were to occupy other seats. A group of singers regaled the audience as the second-rung speakers vent out the steam against the rival group.
As MLA Shahajibapu Patil, who got famous for his viral conversation with a supporter when he was in Guwahati, took up microphone, a group of youth broke through a VIP gate. The police force acted cordially and helped the trapped move in. Shahaji was given a warm welcome and made to recite his "kaay jhadi, kaay hotel... sagala Okk aahe..." dialogue. 
Govt media crew at rally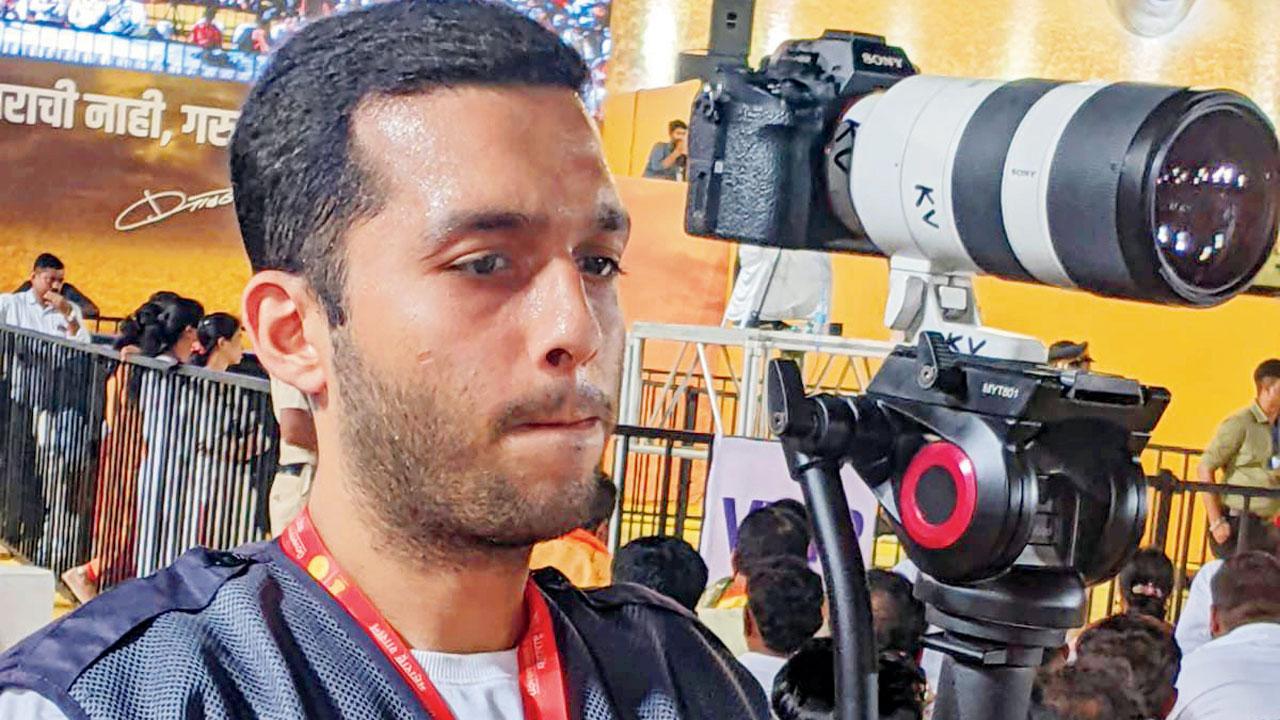 The government's information and publicity agency does not cover party events, yet at BKC, a couple of young photographers bearing the tag 'CM Crew' on their work jackets and carrying the Government of Maharashtra-IDs were seen filming CM Eknath Shinde's Dussehra Melava. 
Dissolve govt: Jaidev
Bal Thackeray's son Jaidev Thackeray and the late Anand Dighe's sister Aruna Gadkari were among the guests on the dais. Jaidev said he came because he was very fond of Shinde. "I have asked whether I have joined the Shinde camp. I'm not a goat  that can be tied to a rope. But I must say Eknath has taken the right steps. Please support him. I say have the elections afresh and let there be Shinde sarkar," he sad. The late Bal Thackeray's daughter-in-law Smita Thackeray and grandson Nihar were in the VIP audience.