Herve Jaubert, the French-American national who tried to help Dubai princess Sheikha Latifa escape from home, says India was complicit in 'military attack' on yacht off Goan waters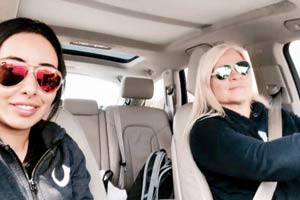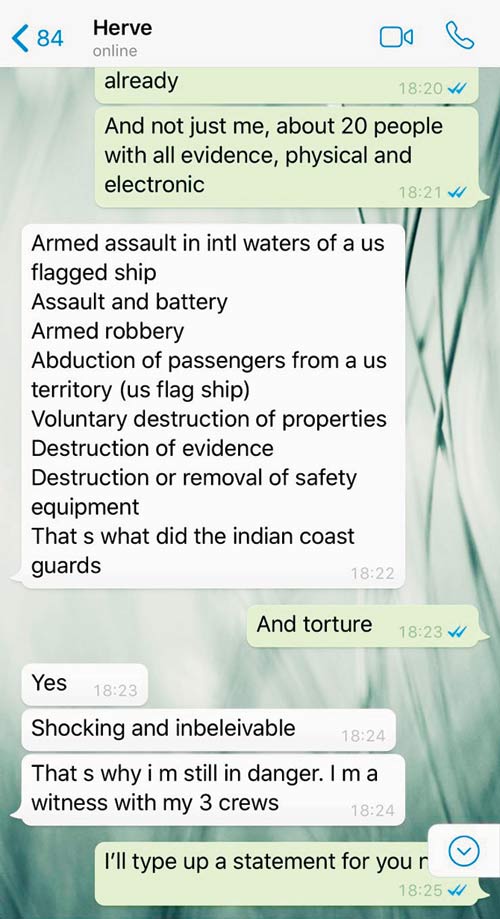 Screenshot of whatsapp message from Herve to Radha Stirling CEO of Detained in Dubai talking about India's role
Herve Jaubert, the French-American national who attempted to help a Dubai princess, Sheikha Latifa, escape 'years of abuse', and whose story has sparked international attention, was abducted along with everyone on board his yacht, Nostromo, in a joint military operation by the UAE and India, he has said in a video. Emirates officials cited 'Islamic law' as the basis for the illegal raid on his boat, says a news release put out by Detained in Dubai, a London-based non-profit formed to assist victims of injustice in the UAE.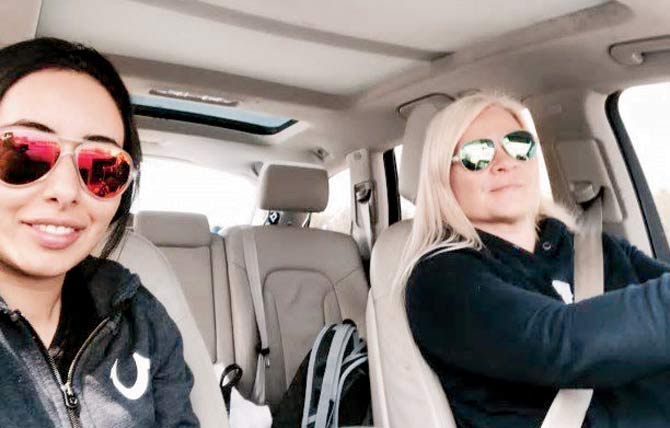 Sheikha Latifa (l) and friend Tiina Jauhiainen
Herve had tried to help Latifa escape by agreeing to transport her and her friend to India on his US registered yacht, Nostromo. After a few days at sea, Herve's vessel, which was close to Goa, was attacked by UAE and India forces. He, his crew, which comprised three Filipino nationals (who are with him now), Sheikha Latifa, and Tiina Jauhiaien, a Finnish national and Latifa's best friend, were abducted and taken to the UAE.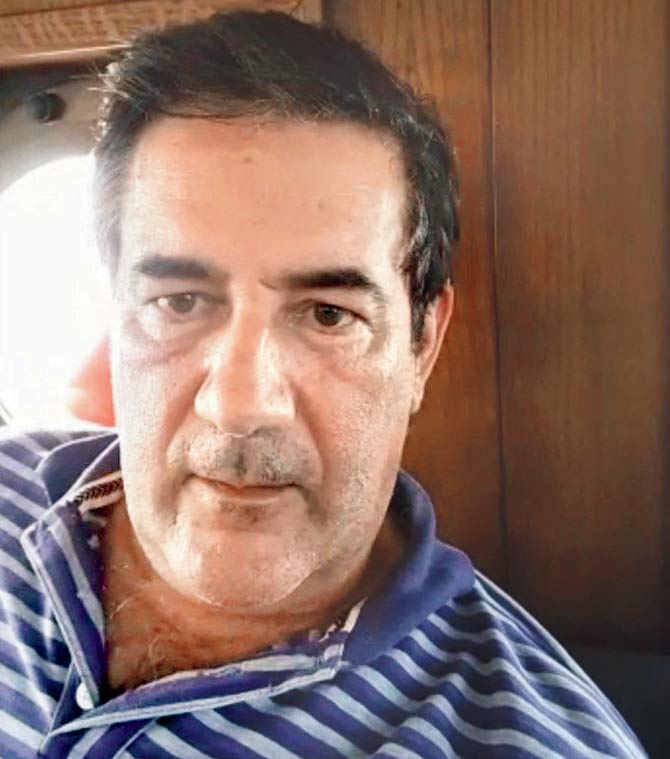 A video grab of Herve Jaubert
Islamic law
Hervé was eventually released from custody. UAE officials acknowledged that he had not committed any crime, but that by helping in the escape of Latifa, daughter of Sheikh Mohammed bin Rashid Al Maktoum, the ruler of Dubai and prime minister of the UAE, he had violated their religious beliefs.
Hervé who is currently on his way to Sri Lanka said, "They told me that although I did not break any laws in the water, I broke Islamic law. Under Islamic law women are in the custody of a father, husband or brother. So, when I helped Latifa escape, they viewed that as kidnapping her from her father."
No idea
When this paper called the Indian coast guard for comment, deputy commandant (west) and Public Relations Officer A Mitra said he was on leave but a representative maintained that they had no knowledge of any foreign boat on Indian waters on March 4 and denied any knowledge of the incident. The Dubai government media office did not get back on requests to comment.
'Coast Guard involved'
Herve maintains that Nostromo was raided by the Indian Coast Guard on March 4 at the request of the UAE. In a statement to Radha Stirling, CEO and founder of Detained in Dubai, Herve said, "We were attacked by Indian forces who boarded the yacht from Indian Coast guard boats. They were about 12 armed men who thrashed us with guns and took everything from the boat."
Taken back
Herve says, "UAE officers boarded the vessel immediately after. The Indian Coast Guard refuelled the yacht, and the journey began back to the Emirates. "We were taken to the UAE and sent to jail. We were blindfolded and handcuffed. I had no idea where they kept us." Herve, who had considered India a friendly country (he had escaped himself from Dubai in 2008 in a sailboat reaching Mumbai shores, a thrilling account of which was printed in this paper) is shocked.
Taken back to the UAE and interrogated for two weeks, eventually, Tiina and Herve were forced to record "confessions", the content of which was provided entirely by the UAE authorities. Tiina says, "We were told that if we did not do so we would never leave and faced the death penalty. The documents were in Arabic, I do not know what it said."
Keep quiet
Soon after, both Tiina and Herve were released; but before Tiina was allowed to leave, she says, the authorities warned her to keep quiet. "They said 'Sheikh Mohammed bin Rashid al-Maktoum is one of the most powerful people in the world and he can kidnap you from anywhere'. Since I got home, UAE secret service has phoned to remind me of the document I signed and have tried to get me to go back to Dubai." Now home in Finland, Tiina is still traumatised and worried about Latifa. "I believe Sheikh Mohammed bin Rashid al-Maktoum would think nothing of killing all of us. However, what happened to us has to be spoken about."
Stirling, who had been and still is in contact with Hervé, says, "The actions of the UAE and India against Nostromo, its crew and passengers, were belligerent and hostile, well beyond the pale of the law. Nostromo is a US registered vessel that falls under American jurisdiction. We have submitted a formal complaint with the United Nations regarding the actions of UAE and India."
'We will shoot you, kill you'
Tiina Jauhiainen's, who is a Brazilian martial arts instructor, recounted what happened on the boat in a statement to Stirling from Finland. "On March 4, as night fell we were off the Goa coast, when we were attacked by Indian secret service and military, including the Indian Coast Guard. Around 15 masked men came onboard with machine guns. It was the most terrifying experience. They shone laser lights on Latifa and me and kept telling me they would kill me. I was thrown on the floor, stood on and found myself next to a pool of blood. At this point I thought they had killed Hervé and I was next. They held me over the edge of the boat, threatening to shoot me. Latifa was screaming that she was claiming political asylum. They dragged her away as I heard her say, 'I won't go back to the UAE, just kill me now'; I haven't seen my friend since."
Also read: Mystery Drama On The High Seas: A Princess, A Spy And An Escape Plan Gone Wrong


Catch up on all the latest Mumbai news, crime news, current affairs, and also a complete guide on Mumbai from food to things to do and events across the city here. Also download the new mid-day Android and iOS apps to get latest updates