NGO survey finds waste dumped in Aarey attracts dogs, pigs, cows, etc., they become prey base for leopards, and bring wild cats closer to human areas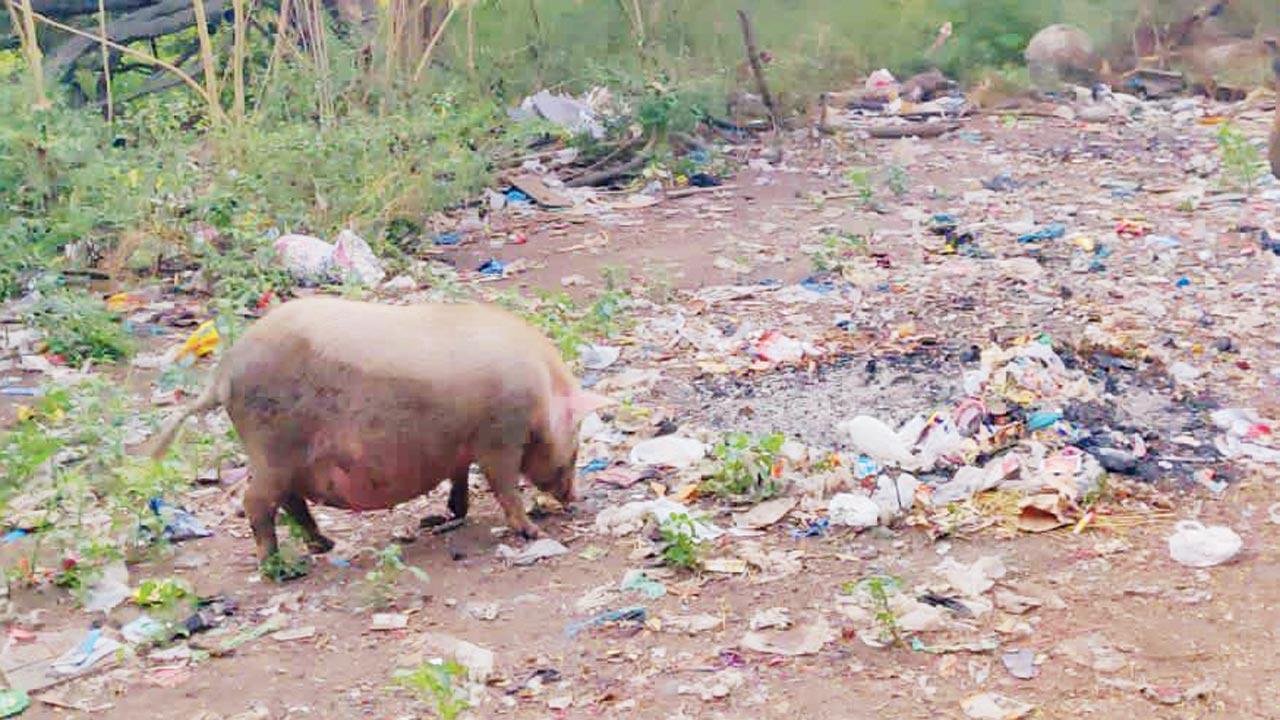 The NGO, in a report to the Aarey Milk Colony CEO and the environment minister, suggests clearing waste immediately
Is the increasing amount of garbage an important driving factor for human-wildlife conflict in Aarey Milk Colony? A root-cause analysis done by NGO Empower Foundation has found that there is a correlation.
The NGO mapped each conflict location with the garbage spots, which showed a direct link. Besides, the forest fires in 2021 were mapped to the conflict zone and also show a connection.
Dr Jalpesh Mehta, founder-chairperson of Empower Foundation, said, "The findings of the RCA (root-cause analysis) proves the cycle in the illustration (we have submitted to the authorities) which establishes that unattended and ever increasing garbage is the root cause of the problem [human-wildlife conflict]. Increasing number of dogs, pigs, cows, buffalos, hens, etc., feed on the garbage, and become the easy prey base for leopards." This brings the wild cats closer to the human settlement.
"Moreover, garbage is at times burnt, causing forest fires which help increase encroachment and illegal immigration in Aarey forest. This in turn causes the human-leopard conflict."
The NGO has been working on wildlife conservation, especially of leopards in Mumbai for the past 12 years. The human-leopard conflict in Aarey colony had peaked in 2013 and 2017. Between August and October this year, Aarey colony witnessed an increase in leopard conflicts, with nine attacks in less than two months.
To get to the root cause of these attacks, the NGO conducted an analysis of the on-ground situation and learnt that garbage was an important issue. Between November 15 and 21, its team collected photographs of the spots with open, unattended garbage dumped in large quantities. The garbage consisted of plastic, thermocol, paper, construction waste, POP, ceramic ware, debris, food and even dead buffalo calves and an ailing buffalo allegedly left to die, the NGO said. The team photographed 56 such spots and shared a detailed report with Aarey Milk Colony CEO and MLA Ravindra Waikar for their and BMC's intervention. A copy of the report was also shared with state environment minister Aaditya Thackeray and Sunil Limaye, PCCF Wildlife.
The NGO has requested the authorities and recommended that they take certain steps immediately, including cleaning all 56 spots. "Our estimate says that this exercise at Aarey can throw up almost 10 per cent of Mumbai's daily contribution of municipal waste (700 metric tonnes or MT) in one go. This will be much more than what Navi Mumbai (700 MT), Goa(250 MT), Chandigarh (479 MT), Puducherry (415 MT), Himachal Pradesh (377 MT) or north-eastern states generate in a day," states the report.
The NGO has also demanded the setting up of large waste bins and regular removal of the waste, which it says is clearly missing.
"Ensure that commercial vehicles are checked at entry points, as it has been noticed that many heavy vehicles containing construction waste or debris dump their waste in Aarey forest, turning it into a landfill. The authorities should also do a survey of domicile (15 years in Maharashtra) of the residents in conflict-affected areas to understand the core issue or rule out any encroachment," Mehta said.
56
No. of spots in Aarey where garbage has been found