The parties' respective chiefs, Uddhav Thackeray and Prakash Ambedkar, announced the union on Monday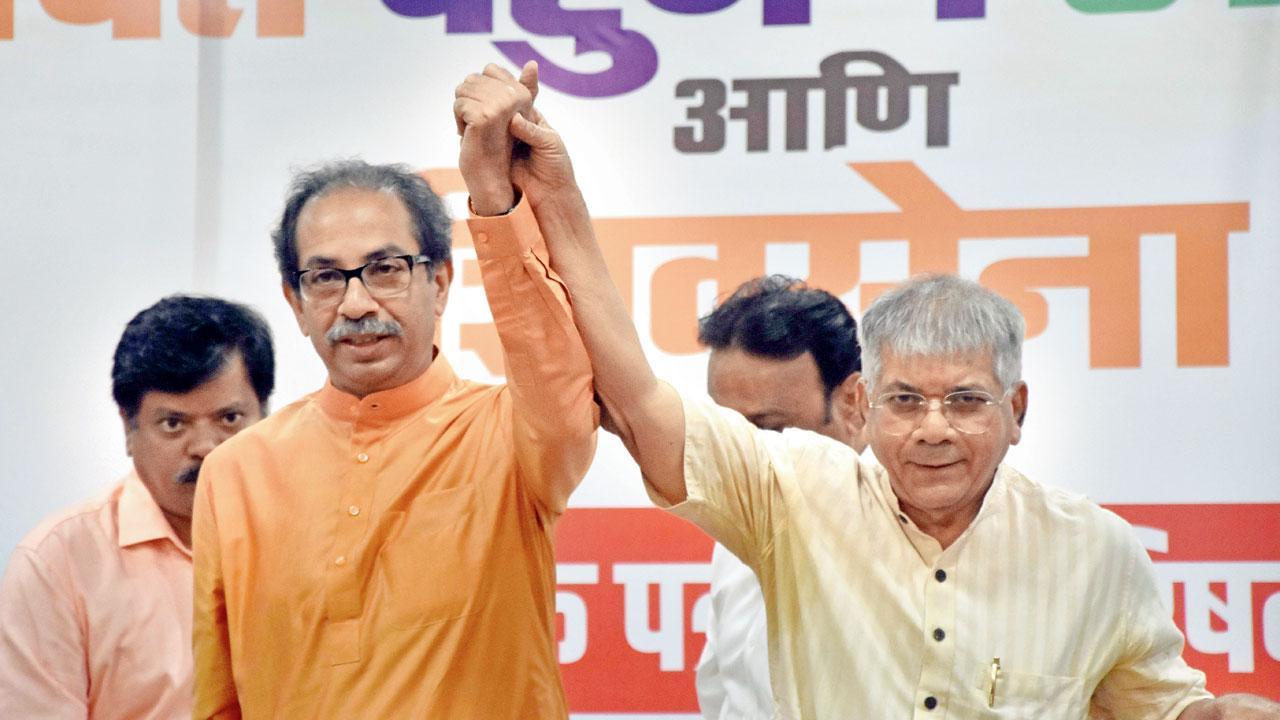 Shiv Sena (UBT) chief Uddhav Thackeray and VBA President Prakash Ambedkar announce the alliance at Ambedkar Bhavan in Dadar, on Monday. Pic/ANI
Shiv Sena (UBT) and Vanchit Bahujan Aghadi began a new chapter in the state politics by forging a pact ahead of the civic polls and next year's general and Assembly elections. The parties' respective chiefs, Uddhav Thackeray and Prakash Ambedkar, announced the union on Monday.
"It is decided that the partners should take care of their respective allies. If it is done, the nation-first theory will get justice from all of us. The MVA will have another meeting to decide the next course of action," Uddhav said at the VBA office in Dadar. He added that he will continue to challenge the state government to hold elections immediately. "Hold the elections if you have real guts. Let's see who wins," he said.
Prakash, the grandson of Dr B R Ambedkar, said he closed ranks with Uddhav because the Sena (Uddhav Balasaheb Thackeray) has been working on the Hindutva ideology of Prabodhankar Thackeray (Uddhav's grandfather). "We are here for effecting a change on the birth anniversary of Balasaheb," he said, adding that BJP's Hindutva was negative, while their agenda was to keep the country's social fabric intact.
Also Read: Mumbai: Who broke ground first for Bhandup hospital, PM Modi or Congress?
Commenting on his legendary tussle with NCP boss Sharad Pawar, Prakash said the two had differences over agenda not related to leadership. He accused Prime Minister Narendra Modi of finishing the political leadership not only in the Opposition, but also within the BJP.
"Crisis produces political leadership and helps it grow, but not any longer. We want to make new leaders across the country and will help regional parties that have a similar intent," Prakash said. "We will be together in protecting the Constitution," Uddhav said, as both the leaders said the country was heading towards dictatorship.
VBA's alliance with Shiv Sena (UBT) is seen as a further extension of the anti-BJP axis, though the Congress and the NCP were reported to be reluctant to let VBA in the MVA fold. However, Uddhav clarified that there was no such sense within the principal MVA partners.