Tyres are reborn as planters in an eco-friendly initiative that brings ease and accessibility to the greening concept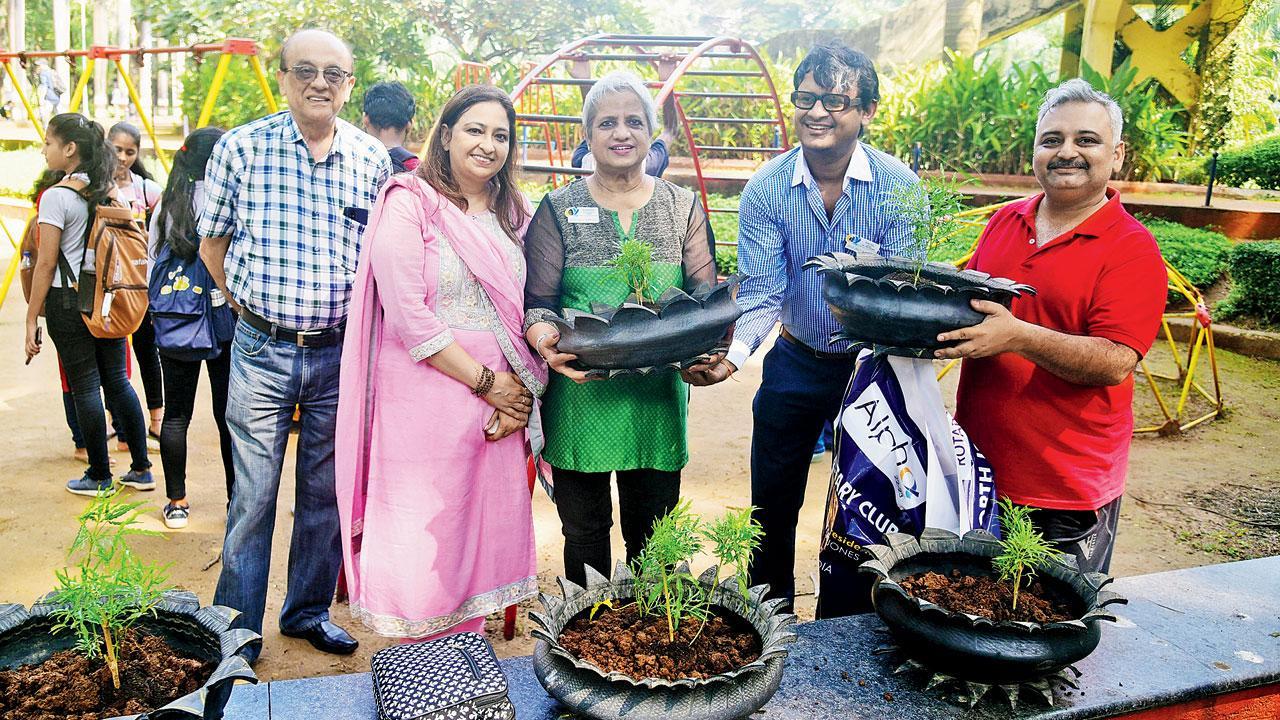 Subhajit Mukherjee (in red) and rotary club members with the planters. Pic/Shadab Khan
The tyre does not retire. Mission Green Mumbai, the BMC Garden Department and Rotary Club of Mumbai North Island have given a new lease of life to defunct auto rickshaw tyres. These wheels, which were going to waste, have been transformed into planters and installed at Patwardhan Park in Bandra West.
"We started by collecting auto rickshaw tyres that were discarded. Then, through the Internet, we learnt how to fashion these into planters," Subhajit Mukherjee, founder, Mission Green Mumbai, said about the project that evoked significant curiosity from walkers in the park.
ADVERTISEMENT
Orders please
The security personnel at the garden, which is opposite the National College on Linking Road, said they have been "flooded with orders for these planters. We told them it is not for sale, but walkers have been asking anyway," they explained as Mukherjee showed the attractive tyre planters, with the sides cut out to resemble a lotus.
The tyre planter has a plate at the bottom, Mukherjee explained, adding, "We have planted conifers in the 26 tyre planters. One can use any plant that goes into small pots. This is a classic example of turning waste into a workable solution. It is also ethereal and tough, so it ticks all the right boxes."
Also Read: Maharashtra: Health dept officials, sales tax commissioner get contempt notice
The Rotary Club of North Island committee and members were at the park on the past weekend morning, smiling as the initiative took off. They said, "The BMC told us to undertake the project in this garden. We are so enthused by the initial response. It has really fired up people's imagination."
Giving back
Pushpa S, president of the club, said, "We have also undertaken various rainwater harvesting projects in different gardens. The point is giving back, and we think people should see Diwali gifting in this light, too, where you give something back to the city."
The club members added, "Rotary is very well networked. So, if this has been started by one club, then, we will see awareness spreading to others. Thousands of members may seek to emulate this, seeing its success. This can be a role model for others."
Thinking, questioning
For the club spokespersons, "it is important that people start asking questions, for only then will they embark on a journey for possible solutions. That question can be: why is it raining in October? Is this climate change? Is it becoming hotter every year? When we start asking and thinking, we realise that we need to become stakeholders in combating climate change, which is not some esoteric concept, but affects us directly."
Outdoor lessons
Dr Mona Kejriwal, associate professor, Department of Botany, R D National College, pointed to youngsters, most of them college students milling around the planters, and said, "This is a classic case of learning outside the classroom. Here, the students are getting hands-on experience and the concept of greening comes alive."
Mukherjee added, "This is an evolving idea. We can get bigger tyres and make a design in a garden. The best part of this is that it is very durable. We are also thinking of placing these on dividers, with all permissions of course. A divider of tyres will be very eye-catching. It is very nascent yet, but there are many possibilities."
BMC speak
Jitendra Pardesi, superintendent of gardens and tree officer, BMC, said, "Tyre planters are just one more project in our outreach to promote eco-friendly measures. The key of course is that they should be sustainable and accessible. It is an ongoing effort that aims to touch the lives of so many people. The tyre planters can also be used in balconies and on terraces. Today, you get vegetables from outside that have chemicals. You can grow your own, pure leafy vegetables in these planters."
"Exciting news! Mid-day is now on WhatsApp Channels

Subscribe today by clicking the link and stay updated with the latest news!"
Click here!