Bhagwant Mann during his two-day visit to Mumbai will meet investors, with an aim to strengthen trade relations between Punjab and Maharashtra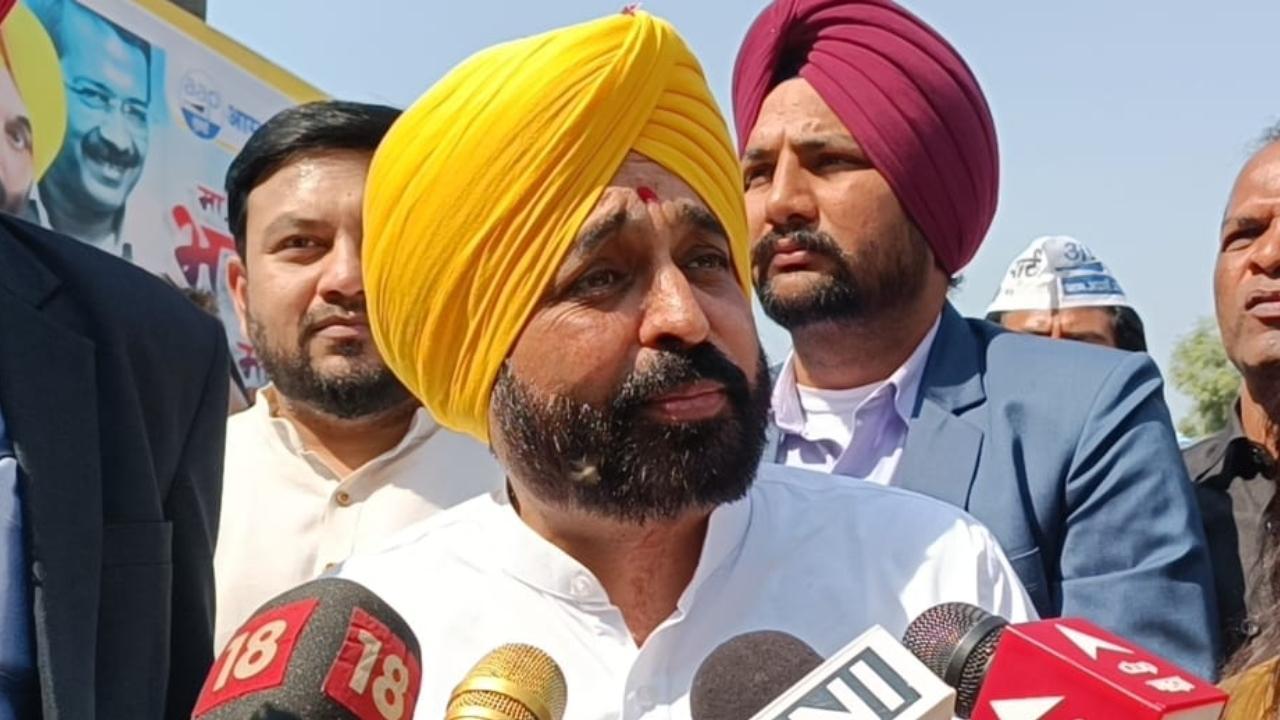 Bhagwant Mann. Pic/AAP
Punjab Chief Minister Bhagwant Mann on Sunday made a visit to Mumbai. He said that his government is planning to establish a big film city in Punjab. Mann, in an indirect attack at the ruling Bharatiya Janta (BJP) government said, "the Aam Aadmi Party (AAP) works on basic issues like schools, electricity, water, hospitals, infrastructure, employment and does not promote hate politics unlike others."
While talking to reporters, Mann requested filmmakers and producers from Mumbai to set up their studios in Punjab. Mann's visit comes weeks after Uttar Pradesh (UP) Chief Minister Yogi Adityanath met prominent members from the entertainment industry in Mumbai and invited them to explore UP as a filmmaking destination.
"I am here to connect the Punjabi cinema industry and Bollywood," Mann said.
Punjab CM during his two-day visit to Mumbai will meet investors, with an aim to strengthen trade relations between Punjab and Maharashtra.
"Under the leadership of Aam Aadmi Party National President and Delhi Chief Minister Arvind Kejriwal, all the schools in Delhi have improved, even several mohalla clinics have been started in the national capital. Looking at the development works in Delhi, the "Delhi Model" is discussed all over India. Similarly, the AAP-led Punjab government will mirror the Delhi government's efforts and improve schools in the state. Five hundred mohalla clinics will be inaugurated in Punjab on January 27," the Punjab CM further said.
Also Read: Rahul Gandhi should not play with India's pride and prestige: Rajnath Singh
Speaking about his two-day visit to Mumbai, Mann said earlier industrialists who used to go to invest in Punjab were asked to give share in the profits. 
"Now everything has changed as the Aam Aadmi Party government has come to power in Punjab. So now if industrialists come to Punjab no one will have to give share in profits and there will be a single window for all permissions. There are many Punjabi investors, industrialists and entrepreneurs in Mumbai. As now the AAP-led government is there in Punjab, this is the perfect opportunity for them to invest in Punjab. I have come to Mumbai to meet them and strengthen trade relations between Punjab and Maharashtra," he added.
Speaking about the upcoming civic, zilla parishad, and gram panchayat elections in Maharashtra, Mann said that Aam Aadmi Party will contest every election held in Mumbai and Maharashtra. 
"Be it civic body, zilla parishad or gram panchayat elections, Aam Aadmi Party will contest on all the seats. It is our right. The people have the right to decide the rest," he said. Will the newly created special police commissioner post help Mumbai with better policing?