ndia on Thursday "suspended till further notice" its visa services in Canada. The move comes amid the escalating diplomatic row that erupted following Canadian Prime Minister Justin Trudeau's allegations of a "potential" involvement of Indian agents in the killing of a Khalistani separatist in June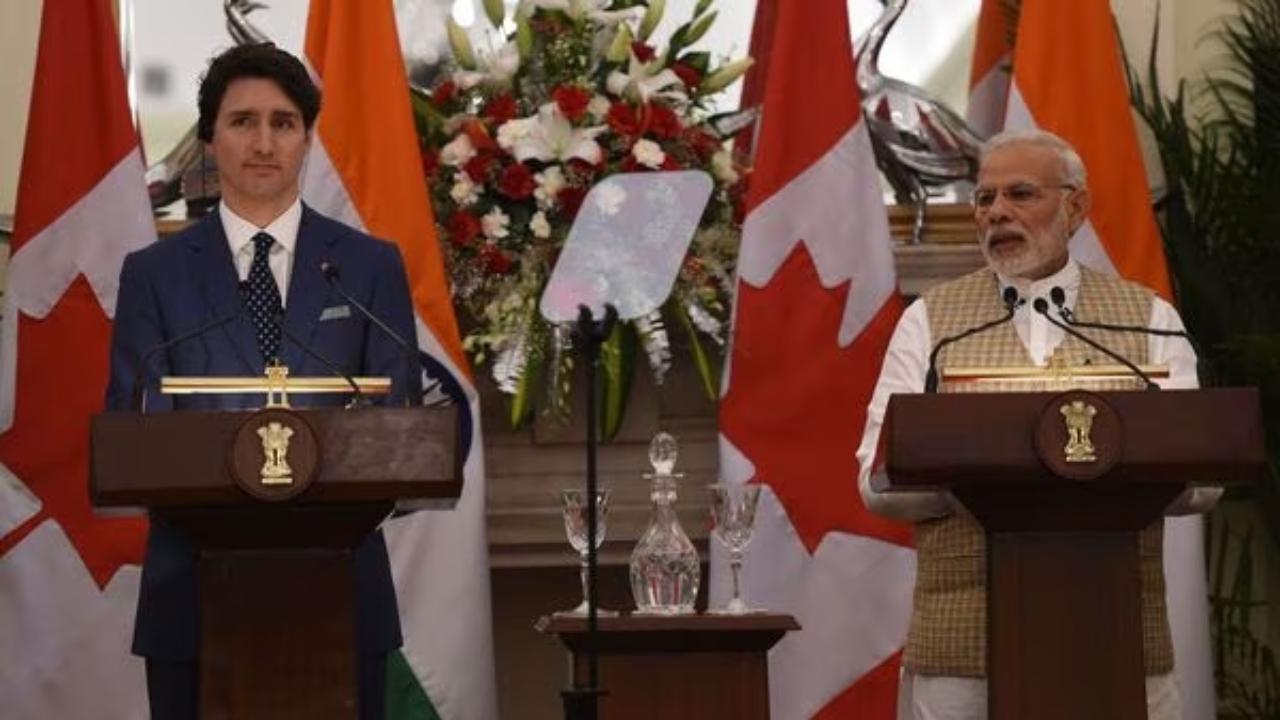 Prime Minister Narendra Modi (R) speaks as Canadian Prime Minister Justin Trudeau looks on, in this file picture. (AFP)
Listen to this article
India temporarily suspends visa services for Canadians
x
India on Thursday "suspended till further notice" its visa services in Canada. The move comes amid the escalating diplomatic row that erupted following Canadian Prime Minister Justin Trudeau's allegations of a "potential" involvement of Indian agents in the killing of a Khalistani separatist in June.
Sources said India has suspended visa services for Canadians in the wake of the ongoing row.
ADVERTISEMENT
A private agency hired for initial scrutiny of visa applications of Canadians put out a note on its website that Indian visa services have been "suspended till further notice".
The ties between India and Canada came under severe strain following Trudeau's allegations of "potential" involvement of Indian agents in the killing of Khalistani separatist Hardeep Singh Nijjar in June.
India on Tuesday rejected the allegations as "absurd" and "motivated" and expelled a senior Canadian diplomat in a tit-for-tat move to Ottawa's expulsion of an Indian official over the case.
In reflection of the hardening of its position, India on Wednesday advised all its nationals living in Canada and those contemplating travelling there to exercise "utmost caution" in view of growing anti-India activities and "politically-condoned" hate crimes as well as "criminal violence" in that country.
The India-Canada ties have been reeling under some strain for the last few months in view of increasing activities of the pro-Khalistani elements in the North American country. India believes the Trudeau government is not addressing its genuine concerns. 
Also read: Mumbai: Bombay HC grants bail to activist Mahesh Raut in Elgar Parishad-Maoist links case
Meanwhile, amid the diplomatic row, an Indo-Canadian lawmaker from Prime Minister Justin Trudeau's party has expressed dismay at the "glorification of terrorism" and hate crime targeting Hindus in this country in the name of "freedom of expression".
The sharp reaction from Chandra Arya, who represents the riding of Nepean in the House of Commons of Canada, came as extremist elements backed by a leader of the Khalistan movement openly asked Hindu Canadians to go back to India.
"A few days back Khalistan movement leader in Canada and the president of Sikhs for Justice which organises the so-called referendum Gurpatwant Singh Pannun attacked Hindu Canadians asking us to leave Canada and go back to India," Arya, a member of the Liberal Party of Canada, said.
"I have heard from many Hindu-Canadians who are fearful after this targeted attack. I urge Hindu-Canadians to stay calm but vigilant. Please report any incident of Hinduphobia to your local law enforcement agencies," the Indo-Canadian MP posted on X.
The Khalistan movement leader is trying to provoke Hindu Canadians to react and divide the Hindu and Sikh communities in Canada, Arya said. (Agencies)
"Exciting news! Mid-day is now on WhatsApp Channels

Subscribe today by clicking the link and stay updated with the latest news!"
Click here! Are you going to attend Bandra Fair this year?