Based on disappointing numbers, action panel urges planning authorities to draft detailed non-motorised transport policy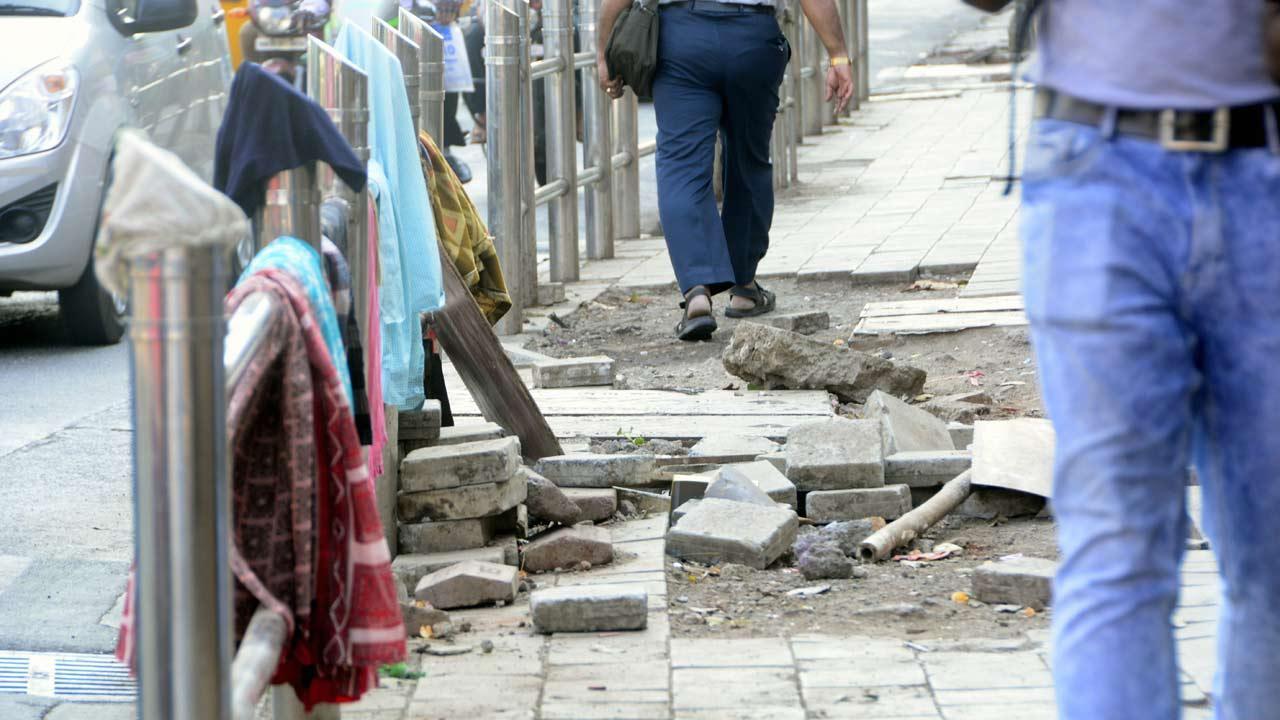 Paver blocks have come off a stretch of a footpath at Worli. File pic
Maharashtra may have framed an urban transport policy over five years ago to develop infrastructure aligned with walking, cycling, and public transportation, as well as to combat traffic congestion, but in Mumbai walking remains a nightmare. The recently launched Mumbai climate action plan's (MCAP) sustainable mobility outlook has highlighted that only 22 per cent of the city's roads are pedestrian-friendly.
 
To increase walkability and eliminate pedestrian-vehicular conflicts on the street, MCAP has recommended that the city planning authorities draft a detailed Non-motorised transport (NMT) policy for Mumbai by 2035.  The MCAP has also set a target for BMC, MMRDA and other city planning authorities to implement pilot pedestrianisation projects in high footfall areas by 2025, fixing signs near pedestrian crossings, and increase signal timings for walkers by 2030 to ensure a reduction in fatality rates for pedestrians, and increase in km of pedestrian walkways in low-income areas. At present, most footpaths are encroached, obstructed by structures, or used to park two-wheelers.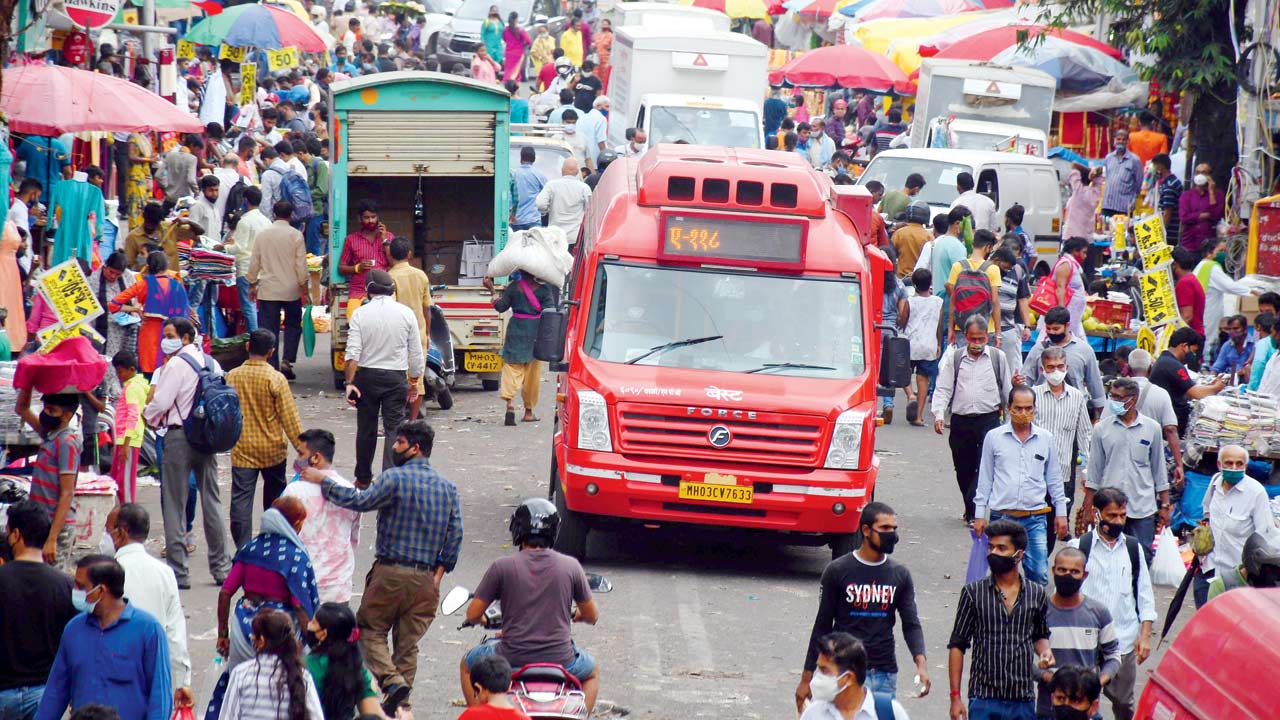 Area outside Dadar station. Hawkers occupy most city roads, says MCAP study. File pic
ADVERTISEMENT
MCAP has called for a policy outlining goals for sustainable non-motorised transportation, as well as guidelines for implementation and funding. "We are working on creating a 'strategic mobility plan', which will outline a time-bound programme for achieving the goals of increasing pedestrian and NMT infrastructure, which will increase walkability. Wherever we can, we are trying to encourage non-motorised transport," said a BMC official. MCAP sets a target of achieving 85 per cent mode share for public transport and NMT by 2050.  
The MCAP study says, "Incorporating age-friendly, disability-friendly and women-friendly policies for public transport accessibility and non-motorized transport (NMT) planning would enable an inclusive and equitable mobility approach. This is important since 46% of the population prefers walking, with a large share being women, children and the elderly."
Lubaina Rangwala, the program head of urban-development-and-resilience team of World Resources Institute India, said, "The idea was to flag off what's lacking and how it can be achieved. It is very important as we have a very high share of walkers, cyclists and those using public transport. Normally we think and work out existing sources of emission, and tend to miss out on a modal shift to public transport and NMT. Of course, metros are coming up, however, if we do not integrate them we will continue to face issues that we are facing with existing public transport and lack of enough NMT infrastructure."
Plan for walkers
>> Implement pilot pedestrianisation projects in such high footfall areas, such as Central Kala Ghoda, with age-friendly, gender-neutral and universally accessible components, such as ramps on curbs, street furniture and lighting, and play areas. Deadline: 2025
>> Fix signs near the pedestrian crossings, and increase signal timings for pedestrians. Deadline: 2030
>> Create a multistakeholder NMT cell within the transport Department. Deadline: 2024
>> Develop NMT street design guidelines, a cycle master plan and an NMT policy for Mumbai. Deadline: 2035
Targets set by MCAP
Share for public transport, NMT
2030: 73 %
2040: 78%
2050: 85%
46%
Share of population that prefers walking