Bollywood actress Karisma Kapoor's lawyers on Tuesday opposed the application filed by estranged husband Sunjay Kapur for the custody of their two children - Samaira and Kiaan Raj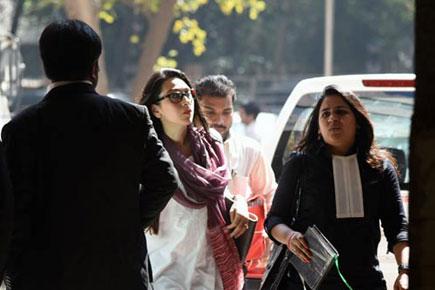 In another hearing in the Karisma Kapoor-Sunjay Kapur divorce yesterday, the actress' lawyers opposed her husband's application for the interim custody of their kids. The argument over custody will be heard on the next court date, March 3, when Karisma is also expected to file her reply to Sunjay's fresh divorce petition.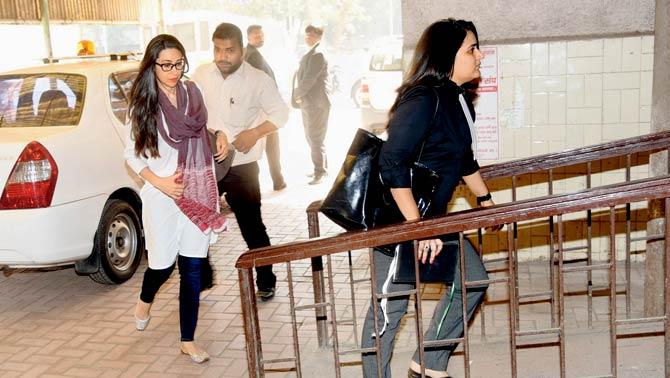 Karisma Kapoor arrives at the Bandra Family Court on Tuesday to file a reply opposing Sunjay Kapur's application for interim custody of their children. Pic/Sameer Markande
Karisma, along with her lawyers and manager, came to the Bandra Family Court at 11.45 am. After waiting for a while, the matter was called out and Karisma's lawyer, Kranti Sathe, filed a reply opposing the application filed by Sunjay's lawyer last time for the interim custody of the couple's two kids — Samaira and Kiaan Raj.
While Karisma was present in court yesterday, Sunjay was represented by his lawyer, Heer Karamchandani, who refused to comment on the case.
Karisma is yet to file her reply to Sunjay's divorce petition, which he filed after the couple withdrew the earlier divorce petition on the grounds of mutual consent. At the time, Karisma had alleged that Sunjay had failed to comply with financial commitments mentioned in the consent terms.
When the court heard Sunjay's fresh application, several strong allegations were made that the actress had failed as a wife, mother and daughter-in-law, and that she had married Sunjay for money. Karisma's lawyers sought time to respond to this and are likely to file the reply on March 3.
In the fresh petition, Sunjay claimed that Karisma used access to the children to demand money, and added that Karisma had denied his ailing father access to the kids. In the next hearing, the court will also hear arguments on the application of interim custody of the kids. In addition, Sunjay's lawyer might file another reply in the same matter.
As the couple's legal battle gets messier, Karisma's lawyer might also file an application in the next hearing to keep the matter in-camera, which will mean that only the people related to the case will be allowed to attend.