Central Railway's chief public relations officer Dr Shivraj Manaspure told PTI that the train services were disrupted after the grass caught fire near tracks between Juinagar and Nerul stations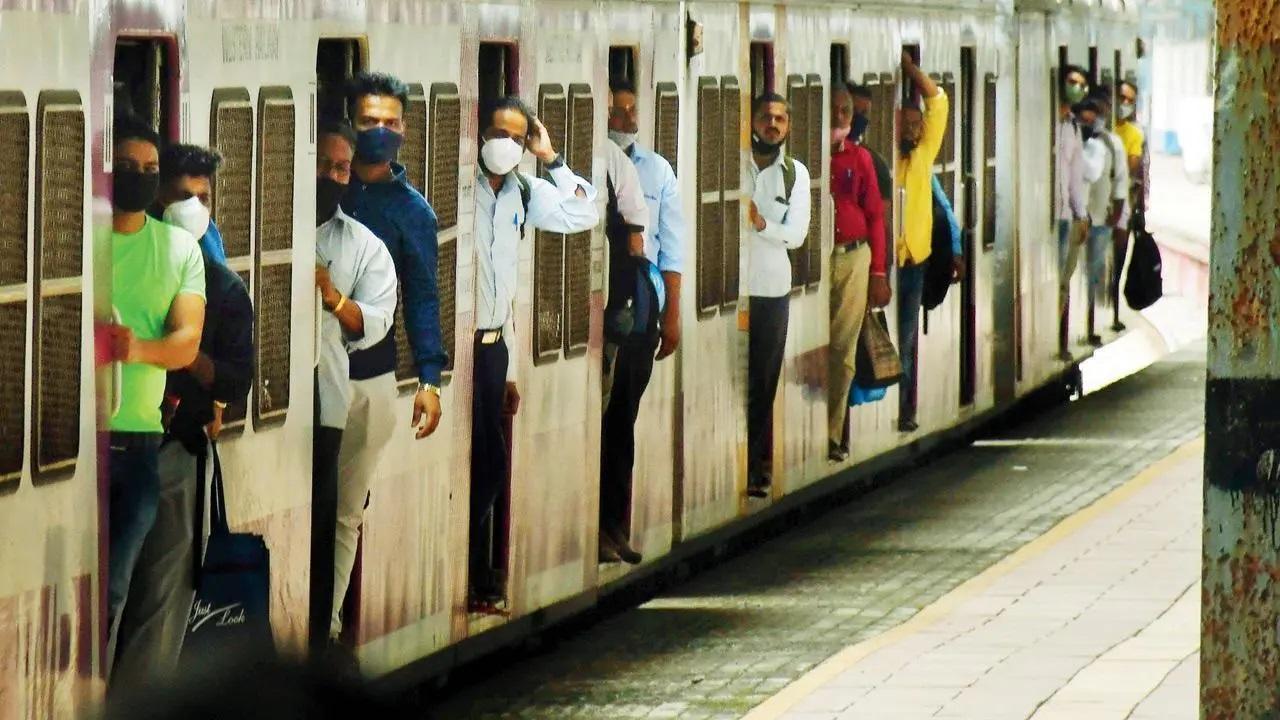 Representational Image
Local train services on the Central Railway's Harbour Line were disrupted due to a fire near tracks between Juinagar and Nerul stations in Navi Mumbai on Wednesday morning, officials told news agency PTI.
According to some commuters, the trains on the corridor were running late by 30 to 45 minutes, resulting in the crowds swelling on trains and at stations during the morning rush time.
ADVERTISEMENT
Central Railway's chief public relations officer Dr Shivraj Manaspure told PTI that the train services were disrupted after the grass caught fire near tracks between Juinagar and Nerul stations.
He said they had to shut the power supply of overhead wires from 7.30 am to 7.50 am as the fire was close to stabling lines, where the trains remain parked, and as a result the train operations on the Harbour Line were affected.
The trains were running late by at least 15 to 20 minutes, but the situation was slowly coming back to normal, the official said. The Harbour corridor of the Central Railway connects south Mumbai with the western suburbs and Navi Mumbai.
Around 8 to 10 lakh commuters travel on the corridor every day.
Meanwhile, The Neral-Matheran narrow gauge 'toy train' will remain suspended between June 10 to October 15 for safety reasons, the Central Railway said on Tuesday.
The train services are stopped during monsoon every year for fear of landslides or stone fall.
Shuttle services between Matheran and Aman Lodge, the station close to Dasturi point beyond which vehicles are not allowed, will remain operational during the monsoon, the CR release said.
Six pairs of regular passenger services and one 'material special' service will be operated daily from Monday to Friday between Matheran and Aman Lodge stations, it added.
Two additional special shuttle services will be operated on weekends.
On June 3, one of the wheels of the engine derailed near Jumma Patti station, located some 95 km from Mumbai, around 5.30 pm while the train was heading to Neral from Matheran, a CR spokesperson told PTI.
The toy train, which had left Matheran around 4 pm, had 90 to 95 passengers onboard, but no passenger suffered any injury due to the engine derailment, the spokesperson said.
The train was re-railed around 9 pm and was brought back to Neral station, located at the foot of Matheran hills, by 10.30 pm.
The incident led to the cancellation of the last train from Neral to Matheran.
The toy train moves at a slow speed, and sometimes, in the case of derailment, the support staff manually lift and put a derailed coach back on the tracks.
The Neral-Matheran train route, among the few mountain railways in India, is more than 100 years old.
(With inputs from PTI)