Dr. Bhimrao Ramji Ambedkar is known as the father of the Indian Constitution. He fought to eradicate the social evils like untouchability and for the rights of the dalits and other socially backward classes throughout his life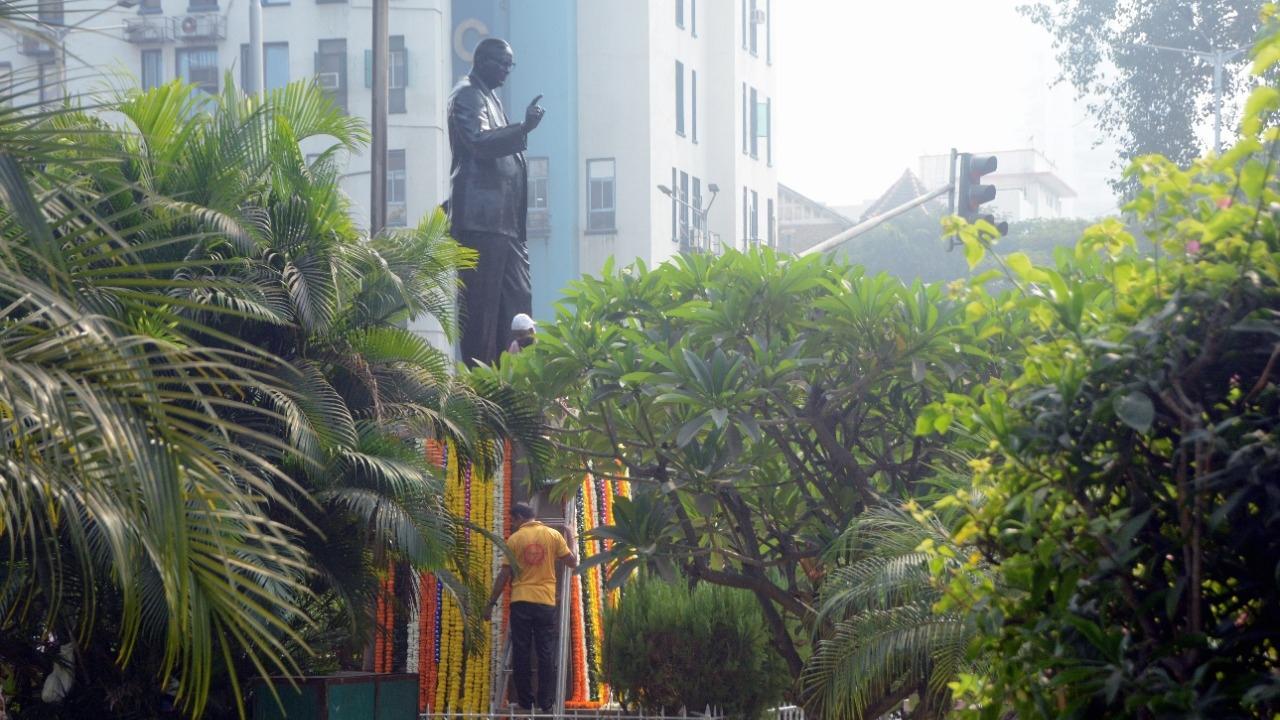 Preparations to mark the Mahaparinirvan Diwas on December 6. Pics/Satej Shinde
Ahead of the Mahaparinirvan Diwas, hundreds of followers of Dr Bhimrao Ramji Ambedkar, also lovingly called as Dr Babasaheb Ambedkar have reached Mumbai's Dadar and Shivaji Park area to mark the day on December 6.
Dr Babasaheb Ambedkar is widely known for empowering and voicing the concerns of the unheard and fighting for their rights.  Throughout his life, Ambedkar fought for the abolition of the practice of untouchability. Dr Ambedkar died in his sleep on December 6, 1956 at his home in Delhi.  To commemorate Dr Ambedkar's significant contribution to the society, December 6 is observed as Mahaparinirvan Diwas across India.
It is said that 'Parinirvan' is one of the major principles of Buddhism. It also translates to 'Nirvana after death'. As per the Buddhist text Mahaparinibbana Sutta, the death of Lord Buddha at the age of 80 is considered as the original Mahaparinirvana. Dr Babasaheb Ambedkar followed Buddhism. Owing to Babasaheb Ambedkar's status as a Buddhist leader, his death anniversary is referred to as Mahaparinirvana Diwas. December 6 is reportedly observed to commemorate Babasaheb Ambedkar's unfathomable contribution to the society.
IN PHOTOS: Hundreds gather at Dadar to mark Mahaparinirvan Diwas
Dr Babasaheb Ambedkar is remembered for his several contributions to the country. He headed the committee drafting the Constitution of India. He is also called the father of the Indian Constitution. Babasaheb Ambedkar was posthumously awarded India's highest civilian honour, the Bharat Ratna, in 1990.