Becomes the first state to have a Niti Aayog-like think tank, Maharashtra Institution for Transformation; cabinet approves proposal for the same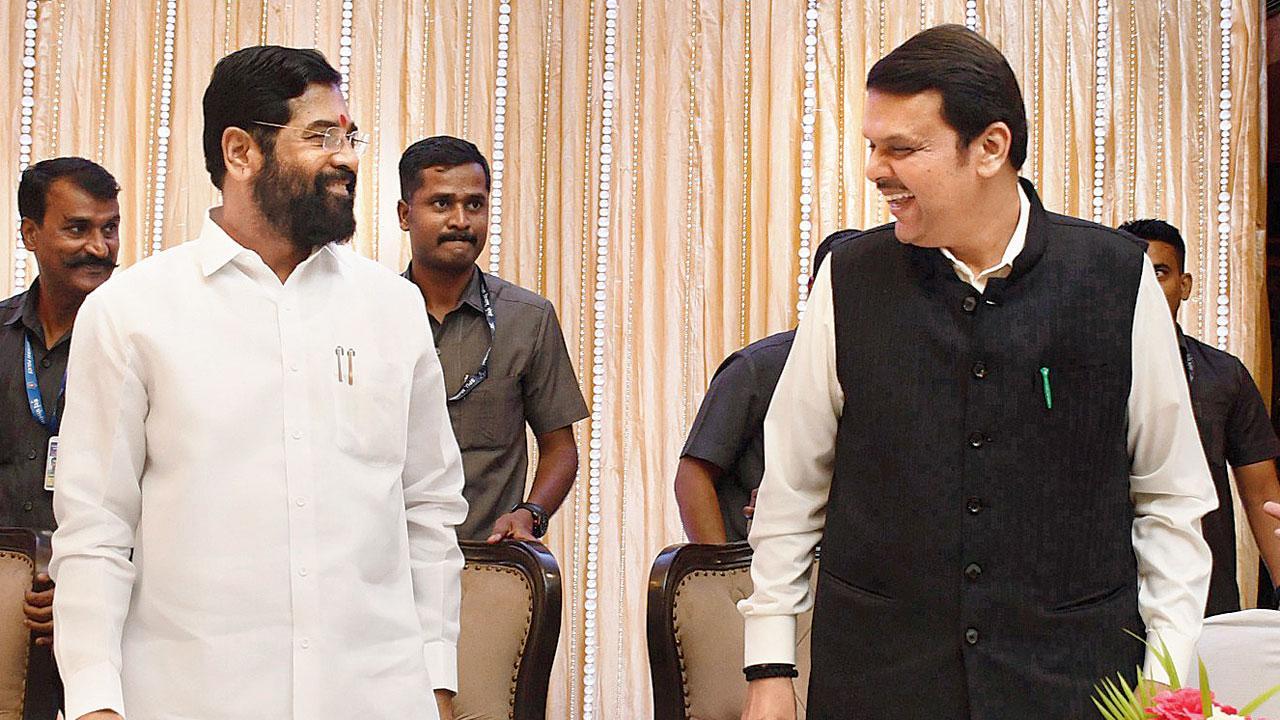 CM Eknath Shinde will be chairman while Deputy CM Devendra Fadnavis will be co-chairman of a regulatory board. Pic/Ashish Raje
Maharashtra has become the first state to have a Niti Aayog-like think tank called Mitra —Maharashtra Institution for Transformation. The state cabinet approved a proposal to this effect on Thursday. Chief Minister Eknath Shinde will be the chairman of a regulatory board. Deputy Chief Minister Devendra Fadnavis will be co-chairman.
The vice-president's position will be occupied by an expert. A Chief Executive Officer will head Mitra's executive board. The Centre had asked all states to establish a Niti Aayog-like planning body as part of an idea for transforming the country into a developed nation by 2047. The target is to make India a 5 trillion dollar economy by 2025-26. The country planners have the aim of achieving goals of sustainable development by 2030.
Fadnavis, who is also state finance minister, had a meeting with the Niti Aayog CEO last month which led to a cabinet proposal. The state has focused on a one trillion dollar economy goal by 2027 and go for a 3.5 trillion dollar economy by 2047. Maharashtra is the biggest economy in the country and contributes 15 per cent to the country's GDP.
Also Read: Mumbai: BEST's 11 lakh consumers can soon track power usage pattern online
Mitra's goals
The state think tank will work in coordination all stakeholders - private, public sector and non-government institutes, state's departments, the Indian government, Niti Aayog, civil society to expedite all-inclusive growth. It will advise the government on development policies, boost it technologically and help it sail in the right direction to achieve its 2047 objective.
Concurrent subjects such as agriculture and allied sectors, public health and nutrition, education, skill development and innovation, urban development, housing and real estate infrastructure, land administration, finance, tourism, sport, energy, environment, climate change, wildlife protection, industry, basic infrastructure,  information technology and communication will be handled. In addition, drone tech, artificial intelligence, machine learning, Internet of Things (IOT), cloud computing, cyber safety, robotics, block chain and geographic information systems will be part of policy matters.
The statutory development boards of Vidarbha, Marathwada and rest of Maharashtra will be regional assistants to Mitra. The cabinet has decided to rope in the services of information technology service providers such as Tata Consultancy Services and IBPA, instead of its disputed secondary recruitment board to fill 75,000 vacancies of non-gazetted category (Group B, C and D). Last year, the recruitment exam conducted by the state board had to be scrapped because of a scam.