Maharashtra CM Eknath Shinde inaugurated the Shetkari Samvad Yatra on Thursday at Tembhi Naka, Thane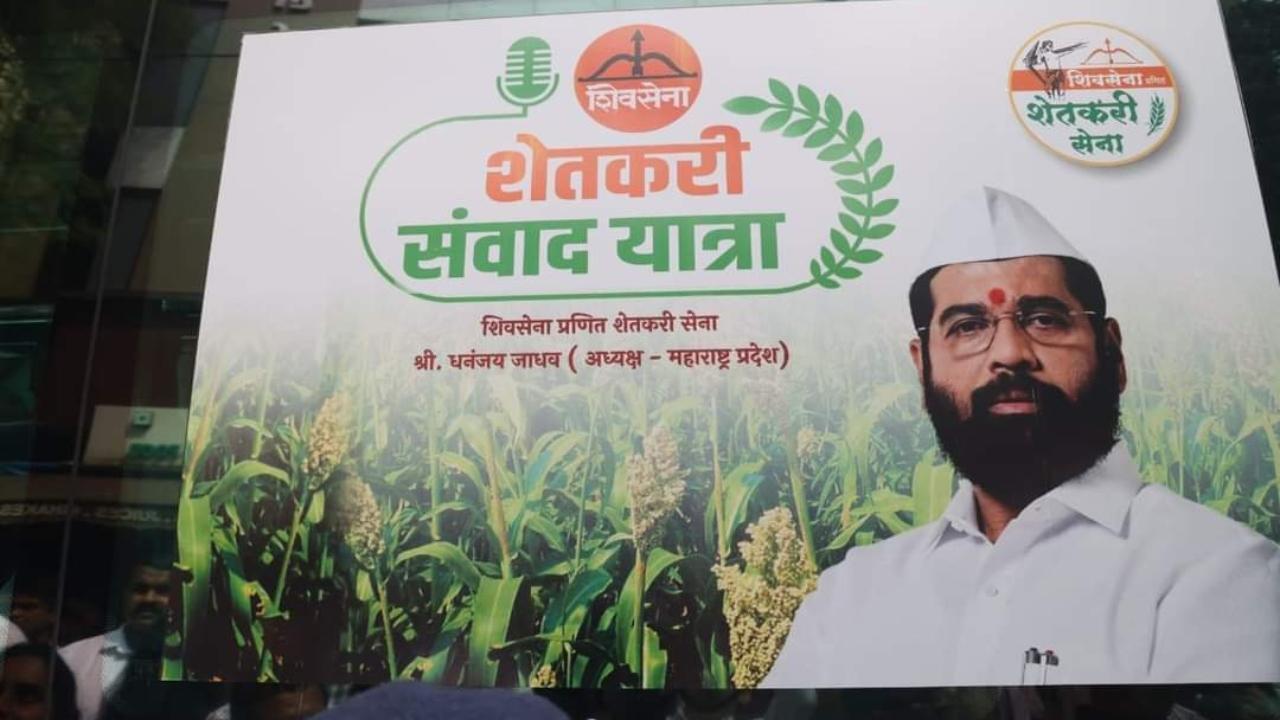 Pic/CMO
Listen to this article
Maharashtra: CM Eknath Shinde flags off 'Shetkari Samvad Yatra' to address farmers' concerns
x
In a significant move to address the concerns of farmers across the state, Maharashtra Chief Minister Eknath Shinde inaugurated the Shetkari Samvad Yatra on Thursday at Tembhi Naka, Thane. The yatra, organised by the Shiv Sena-led Shetkari Sena, aims to establish direct communication with farmers, understand their challenges, and provide immediate solutions, an official statement said on Thursday.
The Chief Minister, accompanied by party members and dignitaries, hoisted the saffron flag, symbolizing unity and solidarity with the farming community. This initiative draws inspiration from the late Shiv Sena chief Balasaheb Thackeray and Dharmaveer Guruvarya Anand Dighe, both of whom were deeply empathetic towards farmers and their issues, the statement said.
ADVERTISEMENT
Balasaheb Thackeray, during the coalition government's tenure, took several decisions in favor of farmers. Chief Minister Eknath Shinde is now carrying forward this legacy by launching the Shetkari Samvad Yatra. The primary objective is to bridge the gap between farmers and the government, enabling swift resolution of their problems, it further said.
The yatra, commencing today, will traverse various districts of the state, facilitating direct interactions with farmers. The officials of Shiv Sena Shetkari Sena will visit farmers' dams, listen to their concerns, and offer on-the-spot solutions. If necessary, the Chief Minister himself will engage with farmers online to address their issues promptly, the statement said.
This dialogue-focused initiative also aims to acquaint farmers with various government schemes and ensure they benefit from these programs. Moreover, it will provide a platform for progressive farmers who have adopted innovative agricultural methods to share their experiences and insights with their peers, an official said.
The Shetkari Samvad Yatra serves as a direct line of communication between farmers and the government. Given this year's low rainfall and the challenges faced by farmers, it underscores the government's commitment to addressing their concerns and providing timely solutions, an official said.
In attendance at the inaugural ceremony were key figures such as Dhananjay Jadhav, President of Shetkari Sena, Nathrao Karad, Yogeshwar Raite, Coordinator, and various office bearers of Shetkari Sena. Progressive farmers from different parts of the state also participated, emphasizing the collective effort to support and uplift the farming community.
"Exciting news! Mid-day is now on WhatsApp Channels

Subscribe today by clicking the link and stay updated with the latest news!"
Click here! Should housing societies be more cautious with their elevators and sewer lines?