City had two cases of even more infectious mutation of the Delta variant, health minister says 7,500 samples were tested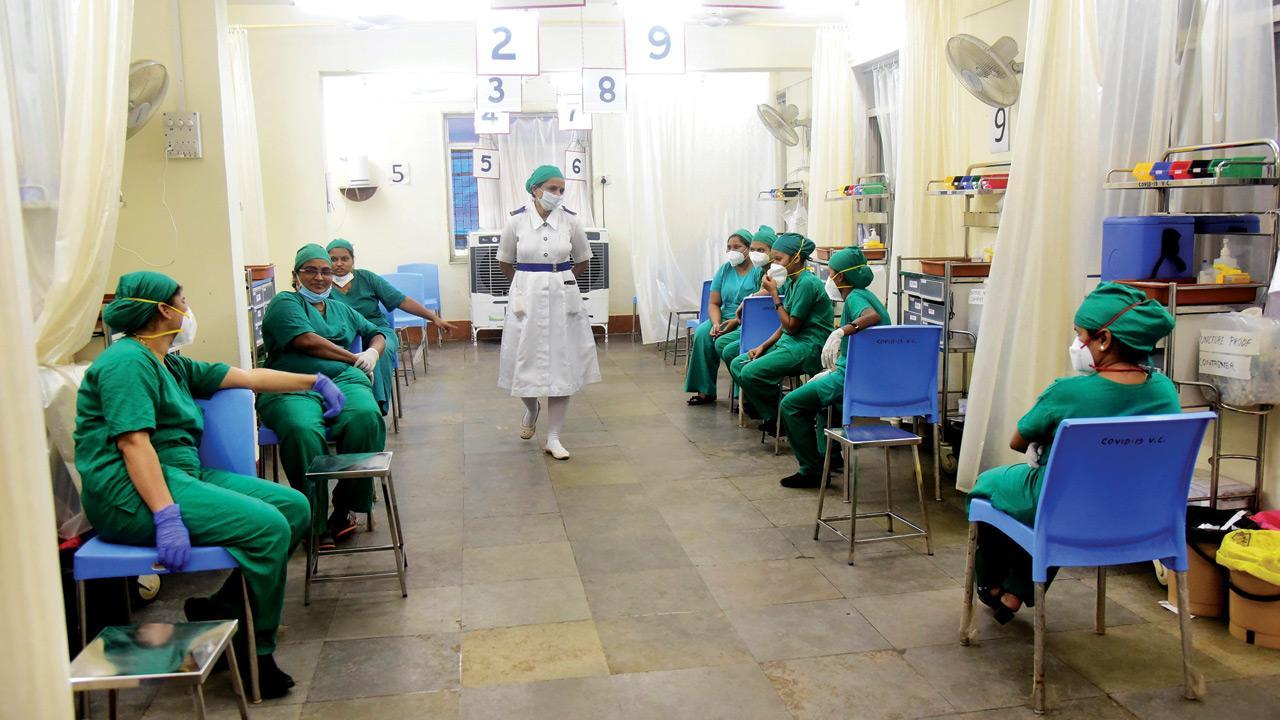 Few citizens visited Nair hospital's vaccination centre on Monday. Pic/Suresh Karkera
State Health Minister Rajesh Tope said on Monday that Maharashtra has seen 21 Delta-plus cases, two of which have been recorded in Mumbai itself. The latest mutation of the highly infectious Delta variant spreads even faster. Tope said that 7,500 samples from across the state were tested to determine their variant. In another development, Tope also extended the vaccination drive to everyone aged above 18 years from Tuesday to speed up immunisation.
Of the 21 patients found with the Delta-plus variant, nine are from Ratnagiri, seven from Jalgaon, two from Mumbai and one each from Palghar, Sindhudurg and Thane.
Ratnagiri, which has a population of 16.2 lakh, registered 761 Covid-19 cases on Sunday and 446 cases on Monday.

People talking to a doctor before taking their Covid-19 vaccination at a civic centre in Abhyudaya Nagar in Kalachowkie on Monday. Pic/Ashish Raje
Tope said that the state government had decided regarding genomic sequencing and started the process of taking 100 samples from each district. Since May 15, 7,500 samples have been taken, out of which 21 cases of Delta-plus have been found.
"Further action is being taken regarding these cases and high-risk contacts are being investigated by taking information about their travels, vaccination status and Covid-19 infection, whether they have been re-infected and if they got infected despite vaccination," Tope said.
Each week, around 50 samples are sent from the city to check for the presence of the Delta variant. BMC's additional commissioner Suresh Kakani said earlier in the day that studies are yet to be done on whether the Delta-plus variant is vaccine-resistant.
'June has more vax supply'
After the civic body started vaccinating those aged 30-44 years on Monday, the city, for the first time, witnessed more than one lakh vaccinations in a day.
Of the 1.08 lakh vaccines administered in civic, government and private centres on Monday, 75,316 given to people between 18 and 44 years of age. 
With more than three lakh doses in hand, civic-run centres started the vaccination drive for those aged 30 to 44 years on Monday. The civic body had planned to observe the drive this week and take a call on splitting the group of 18-44-year-olds by next week. Mumbai has five million people aged 18 to 44 years.
However, late on Monday, Tope extended the vaccination drive to everyone above 18 years. "Till Monday, only those in the age group of 30 to 44 years [apart from the 45-59 and 60 above group] were vaccinated in Maharashtra. We want to speed up the immunisation programme and hence we are approving immunisation for all aged above 18 years starting Tuesday," Tope said.
The city received 8.70 lakh vaccine doses in April but only 4.57 lakh in May. "In June, the corporation has received more than six lakh doses so far. Current supply is better than in the recent past. We are expecting more doses from the state and accordingly we will increase the number of centres," said Kakani. Till June 19, 2.5 lakh doses have been administered in civic and government-run centres. 
The average vaccination at civic centres in June has been 16,000-18,000. On Monday, civic-run centres administered 44,384 vaccines out of which 22,120 were given to people aged between 30 and 44 years.
Similarly at government-run centres, out of 4,824 vaccinations, 2,712 were given to people aged 30 to 44 years.
At private-run centres, out of the total 58,940 doses, 49,439 were given to people between 18 and 44 years.  
Of the total 1,08,148 vaccines, 13,688 were given to senior citizens, 16,788 were given to those aged 45 to 59 years, while 253 students and 11 lactating mothers also received the doses. 
Vax numbers in June at civic, govt centres
People vaccinated
June 1 to 10: 1,26,565
June 11 to 19: 1,27,620
Vaccine supply to Mumbai
April: 8.70 lakh doses
May: 4.57 lakh doses
June: Around 6 lakh doses
50
Cases from city tested weekly for variant