City records the highest rainfall in the month of March since 2006, experts say extreme heat won't return soon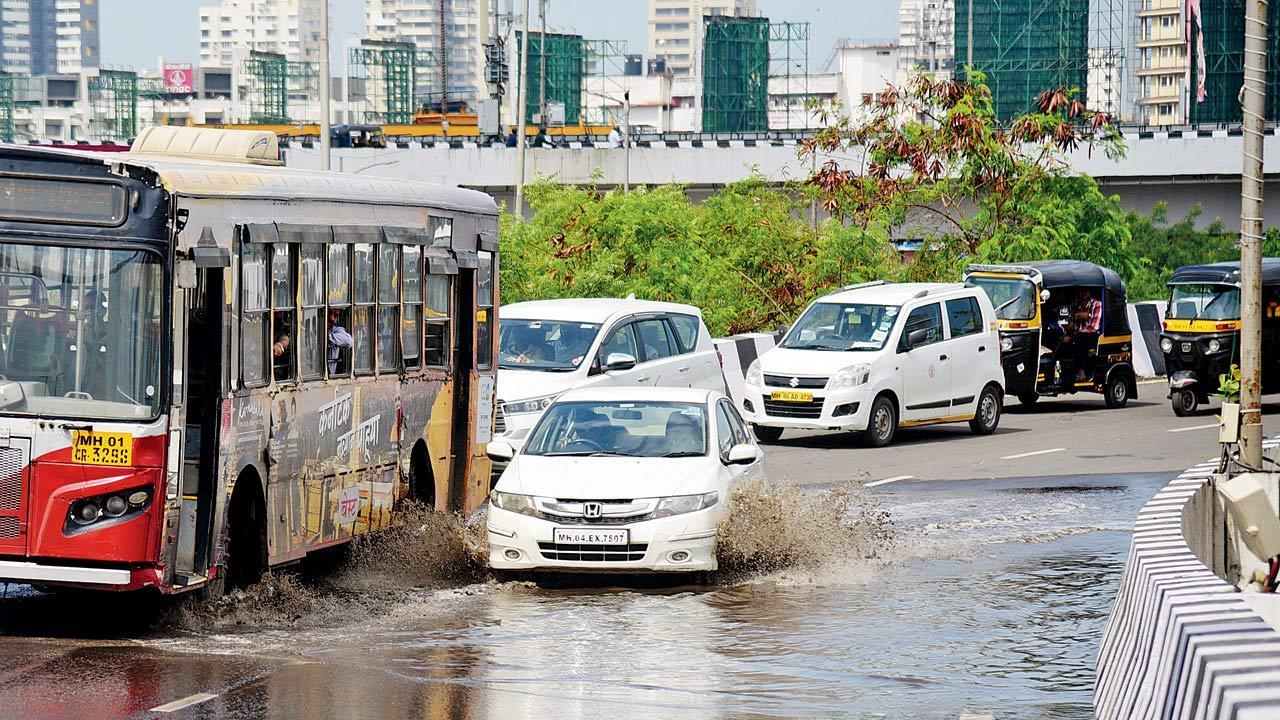 Waterlogging at Bandra Reclamation during the rain on Tuesday. Pic/Pradeep Dhivar
The rain on Tuesday morning surprised Mumbai, even meteorologists, who had not expected it. Mumbai recorded the highest rainfall in the month of March since 2006, with it.
Meteorologists attributed the weather condition to westerly winds picking up. "Westerly winds lead to moisture incursion from the Arabian Sea. Mumbai is currently experiencing light to moderate rain, mostly in the suburbs," said Sushma Nair, scientist with India Meteorological Department's (IMD) Regional Meteorological Centre (RMC), Colaba.
ADVERTISEMENT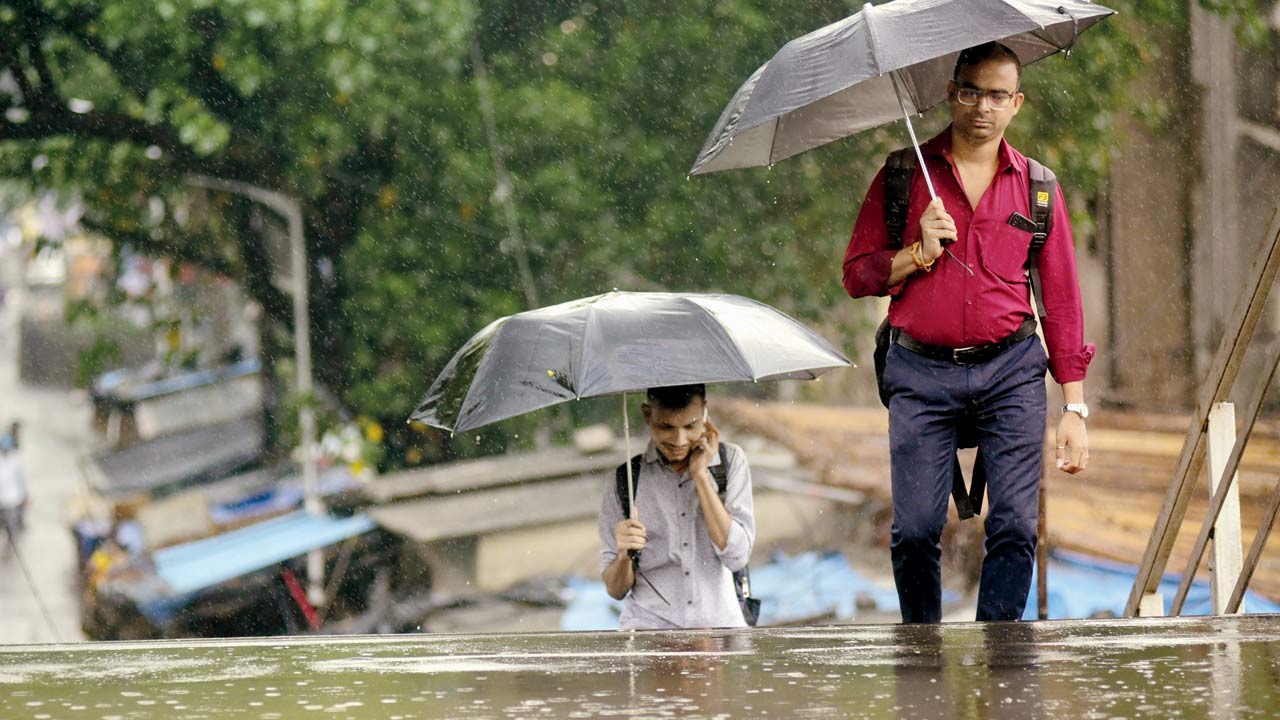 People make their way through the rain at Sion. Pic/Atul Kamble 
After a break of two days, on Tuesday, Mumbaikars awoke to an unusually rainy morning, with the unseasonal rain pounding the western suburbs. Following the rain and thunder in the morning on Tuesday the IMD updated their nowcast (immediate forecast) stating the city and adjoining areas would witness thunderstorms with lightning, light to moderate rain, and gusty winds reaching 30 to 40 kmph. 
Rainfall recorded at IMD's Santacruz observatory on Tuesday was at 16.9 mm, while Colaba recorded 25.4 mm.
Also Read: In Photos: Rain lashes parts of Mumbai, Thane, Raigad
Record for March 37.1 mm
"This is not only the highest rainfall recorded in 24 hours during the month of March but also the highest total rainfall recorded for the entire month of March since 2006. The previous (24 hours) highest was 11.9 mm on March 10, 2006, with 13.1 mm recorded total rainfall in March 2006. The all-time record in Colaba for March is 37.1 mm in 1918," said Rajesh Kapadia of Vagaries of the Weather, a popular private weather blog.
He added, "Tuesday's rain was totally unexpected. Such intense rain is rare in March. Mumbai does sometimes witness light rain and thunder in the month of March. What happened in the early hours of Tuesday was totally unexpected."
Explaining the reason for the showers and thunder, Kapadia said, "Westerly winds picked up late Monday night to the upper levels of the atmosphere, bringing in moisture/clouds. Also late on Monday night, the humidity got very low at around 47 per cent. This was due to the high-level trough (low-pressure area) in the north Konkan. This attracted winds, causing rain."
A meteorologist from Skymet Weather, a private weather forecasting agency said, "Weather conditions have observed some kind of change due to pan India rainfall activity, which has resulted in heat leaving most parts of the country. Extreme heat is unlikely to return in the next few days." 
How much it rained
Koparkhairane: 41 mm
Vashi: 39 mm
Memonwada: 38 mm
Mumbai Central: 35 mm
Bhendi Bazaar: 34 mm
Pawne and Mumbra: 33 mm
Sanpada: 32 mm
Byculla and Malabar Hill: 31 mm
Aadharwadi and Grant Road: 30 mm
Marine Lines: 27 mm
Kopri: 26 mm
Sion, Colaba and Grant Road: 25 mm
Elphinstone Road: 24 mm
CSMT: 23 mm
Dahisar, Virar and Matheran: 22 mm
Dadar East: 21 mm
Panvel and Vile Parle: 20 mm
Airoli and Nerul: 19 mm
Belapur, Haji Ali and Powai: 18 mm
Santacruz IMD: 16.9 mm
Andheri and Sakinaka: 16 mm
Naupada: 15 mm
Malad and Worli: 14 mm
Bandra: 13 mm
Kandivli: 12 mm
Jogeshwari: 7 mm
Goregaon: 8 mm
Borivli: 5 mm
Dombivli: 3 mm
Rainfall was recorded in Mumbai and MMR till 9 am on Tuesday.
(Data credit: IMD, BMC, Indian Institute of Tropical Meteorology (IITM) and Vagaries of the Weather)