In WhatsApp status, Vaibhav Kadam apologises to his family; cop was accused along with ex-minister Jitendra Awhad in assault case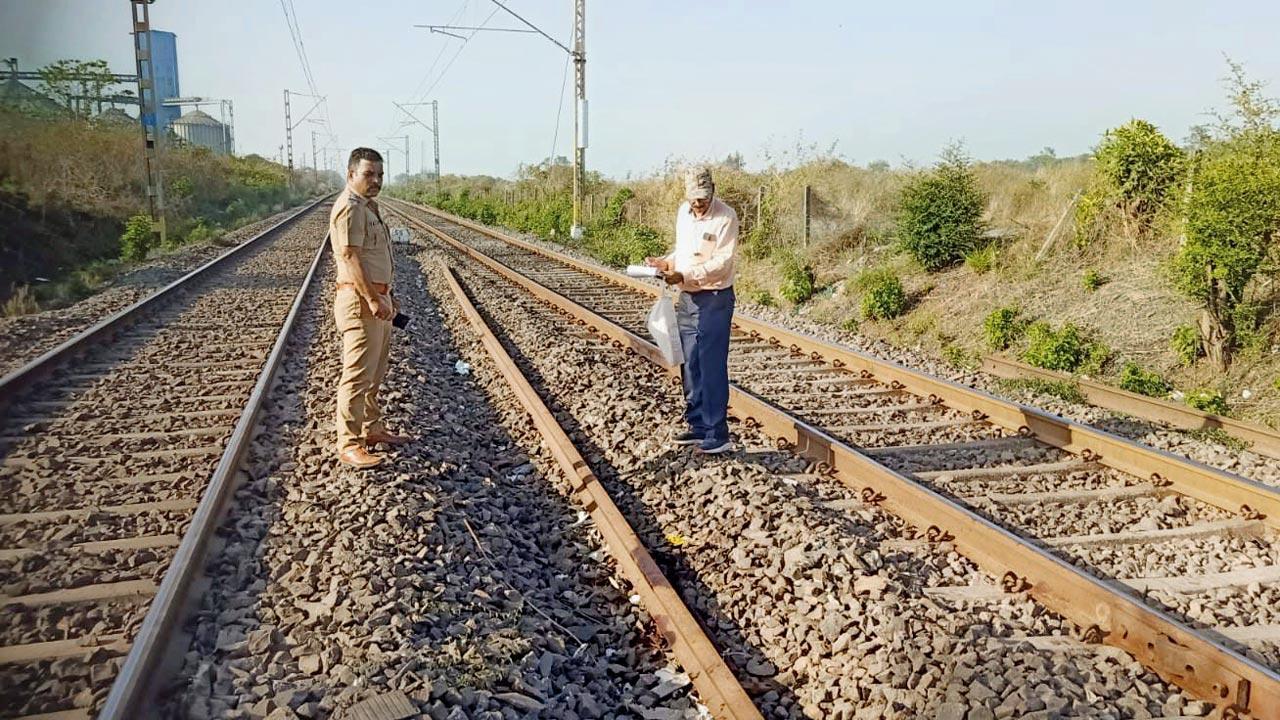 He died by suicide between Nilje and Taloja stations
The Government Railway Police (GRP) on Wednesday morning found the body of a 40-year-old head constable on the tracks in Navi Mumbai and found WhatsApp status, wherein he appealed to the cops, saying he was not an accused. He, however, did not mention the case.
Vaibhav Kadam, who was deputed to the Special Protection Unit (SPU) in Mumbai, is an accused in a 2020 assault case. Thirteen people, including Kadam and former minister Jitendra Awhad, were arrested in the case.
ADVERTISEMENT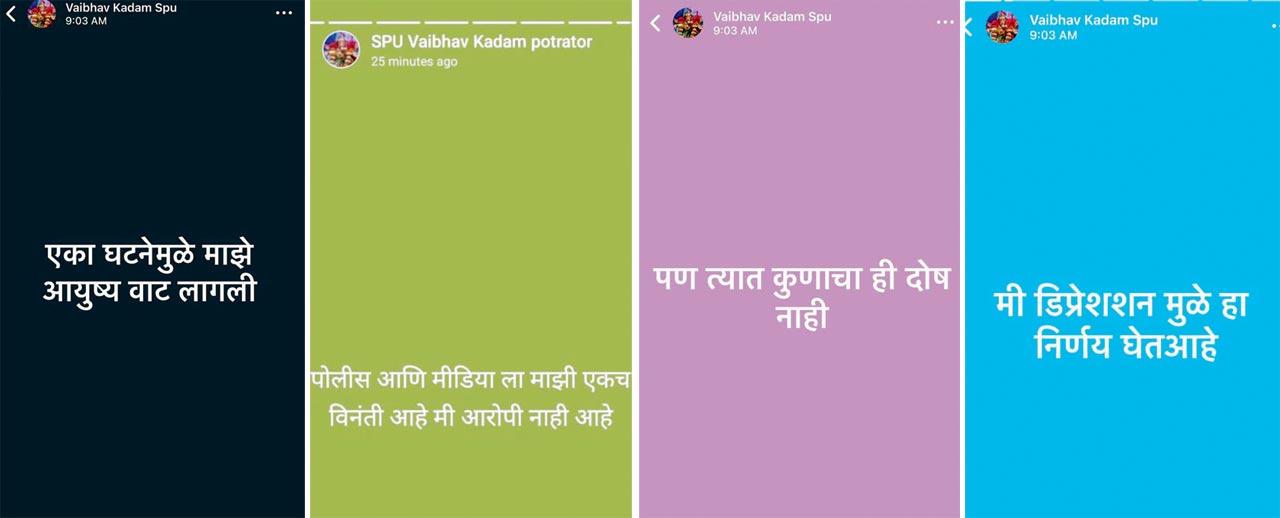 Words from his suicide note, posted as WhatsApp status
Around 9.15 am on Wednesday, a motorman informed the GRP at Taloja that a person came in front of the train between Nilje and Taloja stations. The railway cops alerted their counterparts at Diva railway station, who found Kadam on the tracks and rushed him to Civil Hospital, Thane.
Also Read: Worli Sea Face accident case: Court rejects accused Sumer Merchant's bail plea
The death
Dr Kailash Pawar, chief medical officer at Civil Hospital, said, "The person was brought dead with head, hands and legs severed. There was trauma to the chest and stomach. A team of three doctors performed the post-mortem, and his viscera have been preserved. The medical examination reveals it's a case of accident."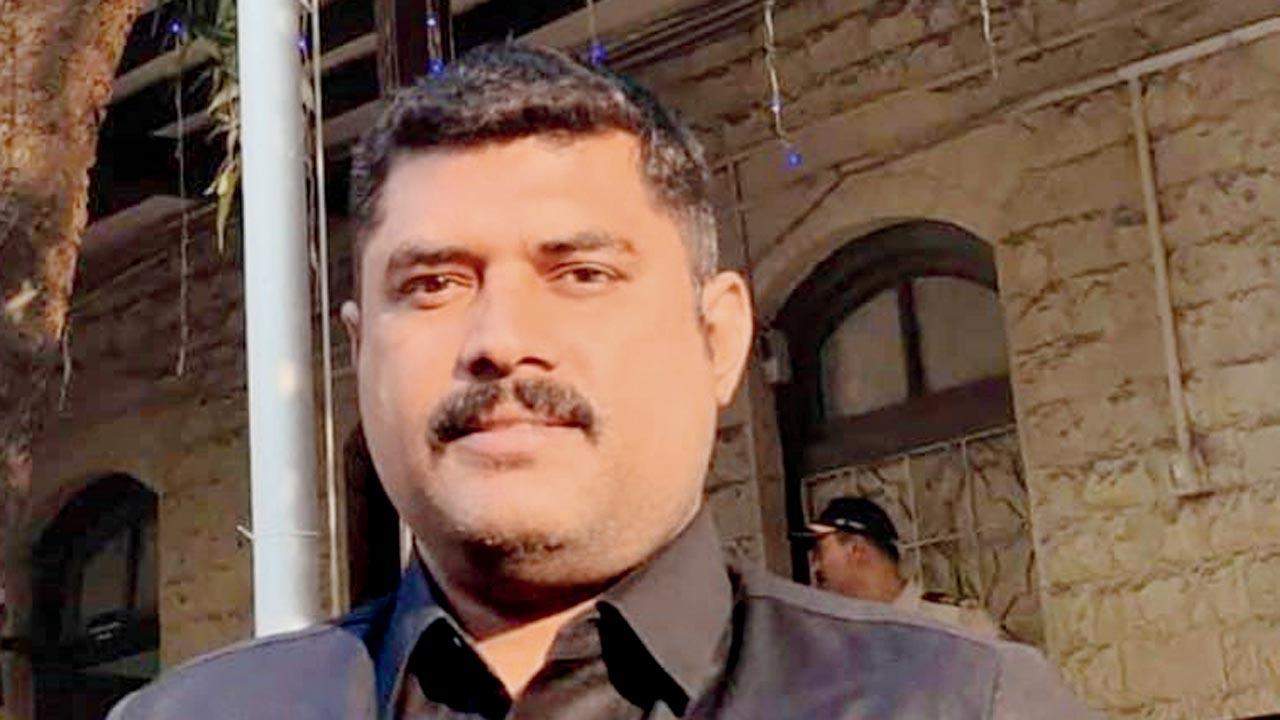 Vaibhav Kadam in his suicide note
The Thane GRP have filed an accidental death report and are investigating the case. Kadam lived with his wife Sakshi and a son Swar in Taloja. "Around 8-8.30 am, Kadam left for a morning walk after informing his wife," a cop told mid-day.
The GRP identified him with the help of his ID card, which he was carrying along with his mobile phone. "There were several missed calls on his phone. We called his brother and established his identity," the cop said.
The cops found seven posts in Marathi on his WhatsApp status, which translated to, "Sakshi, please forgive me; Swar, please forgive me; mummy-papa, please forgive me. I couldn't be a good husband, a father, a son and a brother. I am taking this step due to depression. Nobody is responsible for this. One incident destroyed my life. But it's nobody's fault. Swar, please forgive me. I am appealing to the police and the media that I am not an accused."
The case
Kadam was stationed at the State Reserve Police Force's (SRPF) camp number 7 until five years ago, when he was deputed to the SPU and appointed Awhad's bodyguard. In April 2020, Kadam and 11 others allegedly abducted Anant Karmuse, an engineer, who was accused of posting a morphed image of Awhad. The accused allegedly beat him up.
The Vartak Nagar police in Thane booked 13 people and made the arrests. In February 2023, Karmuse approached the Supreme Court seeking a reinvestigation by the CBI. The SC rejected the appeal, but directed the Thane police to continue the probe and submit a report to the sessions court within three months.
After the SC verdict, Assistant Commissioner of Police (Wagle Estate division) Gajanan Kabdule summoned all the accused. According to sources, the investigating officer called Kadam twice in March, and he was reportedly upset over the ongoing process.
Currently, he was deputed at the SRPF. 
PoliceSpeak
"As of now, there are no complaints from family members. The deceased's brother has given us a statement, but there are no allegations against anyone. Prima facie, this is a case of suicide. We are probing the matter," Deputy Commissioner of Police (Central Railway) Manoj Patil said.
Foul play: BJP
Alleging foul play, BJP's Mohit Kamboj tweeted, "MANSUKH HIREN 2.0 Head Constable Vaibhav Shivaji Kadam SPU Mumbai Found Dead Today Morning! Was In Protection For EX Cabinet Minister Maharashtra & Was Accused In A Case & Was Going To Be Witness In A High Profile Matter. It's A Clear Cut Murder Not Suicide! I Will Expose U.  This Is The Last Post Of Vaibhav Kadam Who Is Accused? Whom System Is Saving? We Can Let Sushant Singh Rajput Happen Again! Murder Can Not Be Given Face Of Suicide Always. We Have now Eknath Shinde Ji As CM Want FAIR Investigation, Can't Tolerate High Profile People Escape Always. [SIC]"
2020
Year the assault case was filed