The I-N-D-I-A alliance meeting will take place at a luxury hotel in Mumbai on August 31 and September 1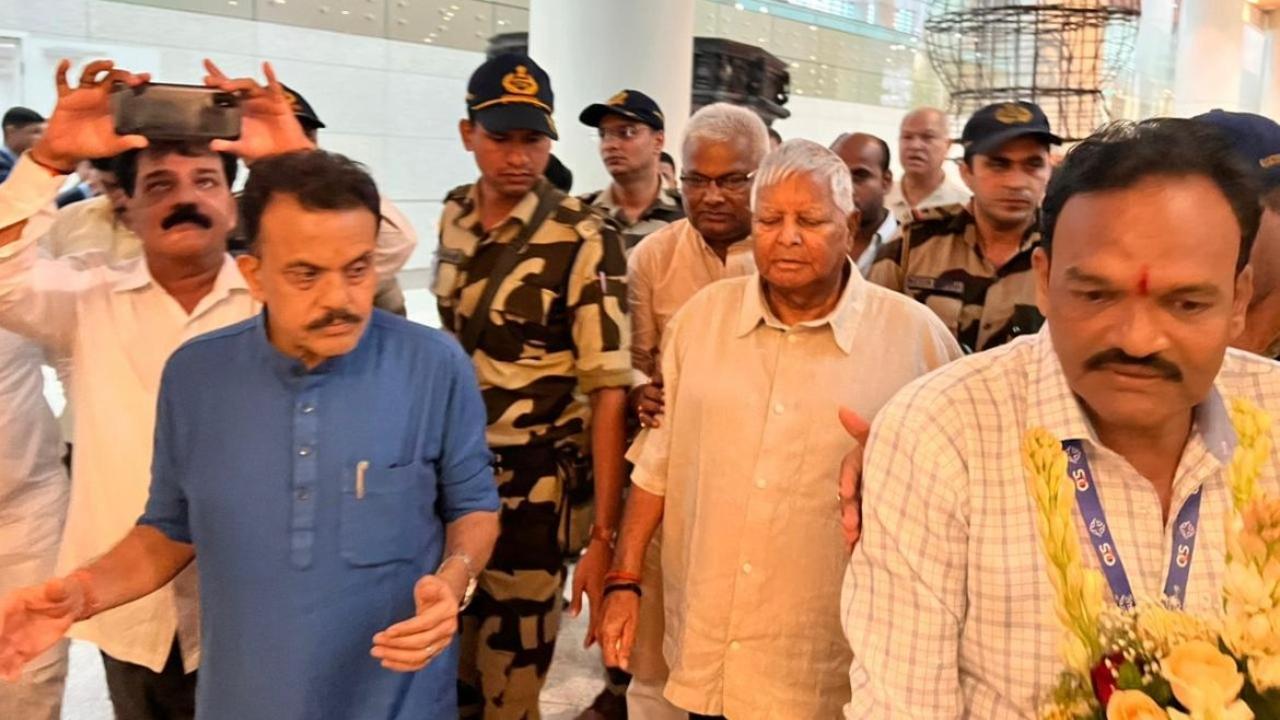 Lalu Prasad Yadav arrived in Mumbai on Tuesday. Pic/ Sanjay Nirupam's office
Listen to this article
Maharashtra: Lalu Prasad Yadav, Tejashwi reach Mumbai for I-N-D-I-A bloc meet
x
Rashtriya Janata Dal president Lalu Prasad Yadav and Bihar Deputy Chief Minister Tejashwi Yadav on Tuesday reached Mumbai for the third meeting of the Opposition coalition, the I-N-D-I-An National Developmental Inclusive Alliance (I-N-D-I-A), in Mumbai scheduled later this week, the PTI reported.
The I-N-D-I-A bloc meeting will take place at a luxury hotel in Mumbai on August 31 and September 1. The alliance logo is expected to be unveiled on Thursday.
ADVERTISEMENT
Congress leaders Sanjay Nirupam and Naseem Khan welcomed Lalu and Tejashwi at Mumbai airport.
Earlier in the day, Shiv Sena (UBT) leader Aaditya Thackeray and Zeeshan Siddiqui of Congress visited the Santacruz-based Grand Hyatt hotel to review the preparations for the upcoming meeting.
Formation of a coordination committee, appointment of convenors, and talks on seat-sharing for next year's general elections, are on the agenda of the I-N-D-I-A alliance meeting.
Maharashtra's ruling grand alliance of BJP, Shiv Sena and NCP Ajit Pawar group will be holding a meeting at Worli in south Mumbai on August 31 and September 1 to discuss Lok Sabha polls.
We have been planning this meeting for many days now. Senior leaders of all the three parties will be meeting in Mumbai, said Ajit Pawar group NCP's state president Sunil Tatkare.
Meanwhile, the Maharashtra Congress will hold a grand felicitation for its senior leader Rahul Gandhi, who was recently reinstated as an MP, when he arrives in Mumbai this week for a meeting of the opposition I-N-D-I-A bloc, party's state chief Nana Patole said on Tuesday, reported the PTI.
According to the news agency, Nana Patole also said that the constituents of the Maha Vikas Aghadi (MVA) Congress, Uddhav Thackeray-led Shiv Sena (UBT) and the NCP group with Sharad Pawar will discuss the seat-sharing formula for next year's Lok Sabha polls on the basis of merit.
Key leaders of the anti-BJP bloc I-N-D-I-A, which has more than two dozen parties now, will gather in a luxury hotel here on August 31 and September 1 in what will be their third huddle since coming together on a common platform for the first time in June in Patna.
Nana Patole said, the Modi government disqualified Rahul Gandhi from Parliament as part of its revenge politics. But he did not budge and instead gave the message of 'Daro Mat' (do not be afraid). The state Congress will hold a grand felicitation of Rahul Gandhi as he will be spending two days here for the I-N-D-I-A meet, as per the PTI.
(with PTI inputs)
"Exciting news! Mid-day is now on WhatsApp Channels

Subscribe today by clicking the link and stay updated with the latest news!"
Click here! Do you have a fixed sleep-wake cycle?