After irreparable losses during lockdown, it's glory days for MSRTC buses with state school edu dept making it mandatory for schools to book these for field trips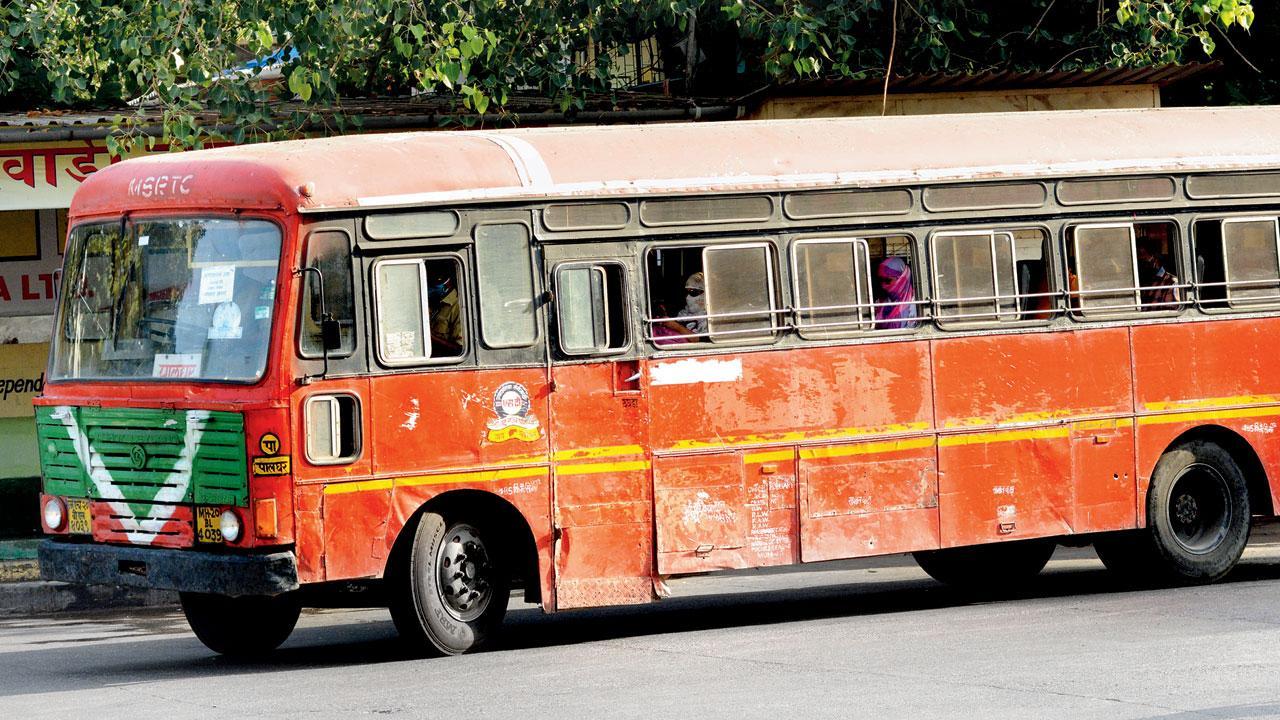 An MSRTC spokesperson said it has been engaging an average of 700 to 900 buses per day for school field trips and excursions across the state. File pic/ Satej Shinde
School field trips and excursions returning to the academic calendar after the two-year COVID-19-induced pandemic restrictions have proven to be a boon for the Maharashtra State Road Transport Corporation (MSRTC), bringing the department extra cash. In less than a fortnight, (from December 28 to January 8), over 10,000 ST buses were booked by schools across the state for their excursions and field trips, according to MSRTC data. This is the result of a recent circular issued by the state school education department, making it mandatory for schools to book only MSRTC buses for excursions and annual field trips.
"Excursions and field trips are particularly significant in the school's curriculum. In the past two years, the trips did not take place due to the closure of schools owing to the COVID-19 pandemic-induced restrictions. However, now that physical schools have reopened, picnics are back on the list," said an MSRTC spokesperson. He further stated that the corporation has been engaging an average of 700 to 900 buses per day for school field trips and excursions.
ADVERTISEMENT
Also Read: Mumbai: Over 3,000 students out of school after BMC transfers them
Most schools organise trips and excursions between November 15 and January 15 to take the students to historical, scenic places across Maharashtra. The corporation provides buses to schools and colleges on casual contracts throughout the year. Besides this, a 50 per cent discount is offered on ordinary non-AC buses. "This year, the school education department issued a circular and fixed terms and conditions regarding school trips. One of the clauses in the circular is that schools and colleges are required to book only MSRTC buses," the spokesperson said. This has led to an additional inflow of cash in MSRTC coffers.
"Besides saving some money, we are also at ease as these are government buses. Booking charges/rent of private buses have increased, especially after COVID. We organise trips/ excursions in batches so multiple buses are booked according to the number of students and staff who accompany them. ST buses are affordable, though the condition of buses is a little inferior to the private luxury buses," said the principal of a government-aided school in Mumbai. A total of 14,547 buses were booked by schools and institutions across the state in 2017–18, bringing in Rs 64 crore revenue for MSRTC.
Number of ST buses booked by schools in the past 12 days
1. December 28    859
2. December 29    923
3. December 30    945
4. December 31    717
5. January 1    585
6. January 2    741
7. January  3    842
8. January  4    931
9. January  5    883
10. January 6    1030
11. January  7    923
12. January  8    853
Total    10,232
64
Revenue (in crore rupees) for ST in the year 2017-18 Will the newly created special police commissioner post help Mumbai with better policing?