Forest dept officials send big cat, wild boars also captured by locals to rescue centre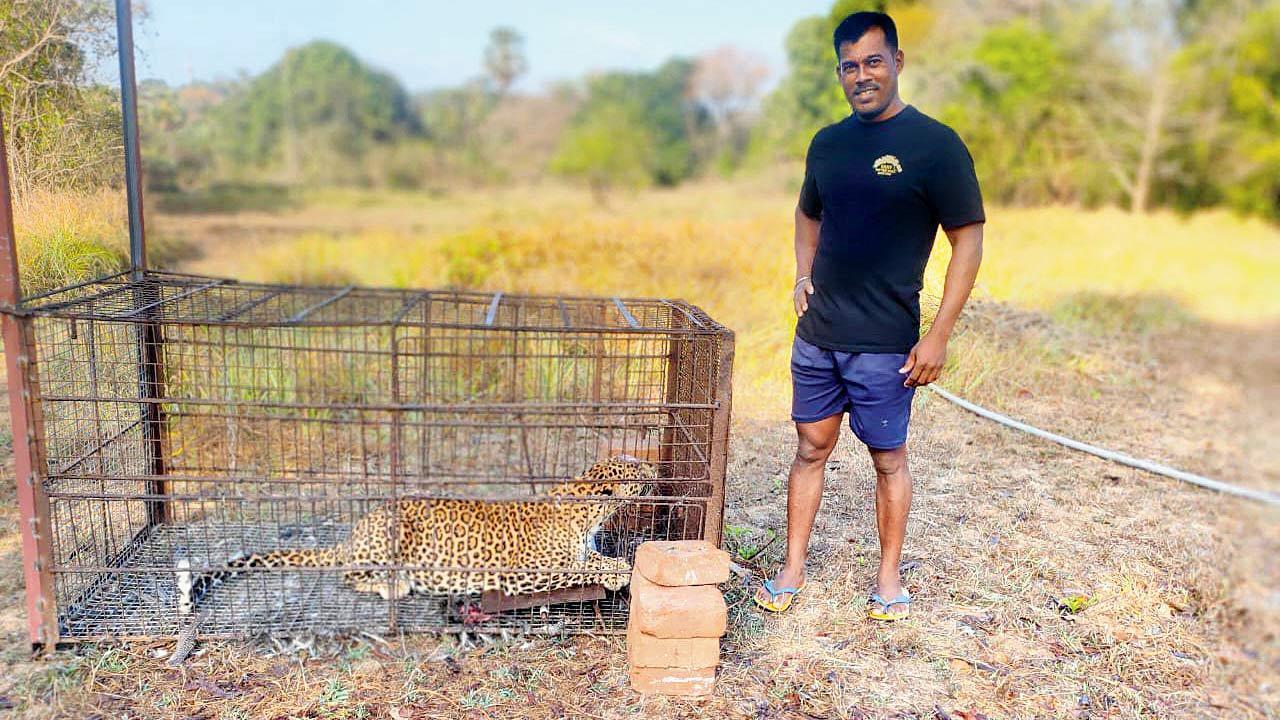 The leopardess and Uttan resident Danny Gonsalves
A free-ranging leopardess that was not causing any trouble was illegally trapped in a cage by locals at Uttan near Gorai. The forest department has detained one person in connection with the case.
As soon as the news reached the Thane Forest Department (Territorial), Deputy Conservator of Forest (DCF) Santosh Saste immediately asked Assistant Conservator of Forest (ACF) Girija Desai to look into the matter. On instructions of the ACF, Range Forest Officer (RFO) Rakesh Bhoir and his team rushed to the spot, and the process to register an offence under the Wildlife Protection Act, 1972, has begun.
ADVERTISEMENT
Volunteer Raj Jadhav from NGO Wildlife Welfare Association (WWA) reached the spot along with the Mumbai range team on Friday morning. The Sanjay Gandhi National Park (SGNP) leopard rescue team was also present. Bhoir said, "We have detained one Danny Gonsalves, a resident of Uttan, for illegally trapping the leopard. Two boars which were kept inside another cage behind a house were also taken into custody. The leopardess and boars have been sent to the leopard rescue centre at SGNP."
Also Read: Mumbai: Leopard sighting rocks Marol, camera traps set up
Forest department sources told this newspaper that the leopardess is the same big cat that was rescued from Bhayandar in February 2022.
It is also said that Uttan villagers were not happy about the presence of leopards and wild boars, which were raiding their crops.
The leopardess that was captured could be the same one that had been sighted in the area over the past two years.
A local, who wished to remain anonymous, stated, "There have been numerous leopard sightings in the area over the past two years, and the forest department has also visited some locations as a result of local complaints. Early on Friday, the villagers living in Keshav Srushti, close to Uttan, caught a full-grown leopard in a cage they had made."
Honorary Wildlife Warden of Thane Pawan Sharma said capturing any wild animal without permission is considered hunting, which is prohibited as per the Wildlife Protection Act.
"An offence is being registered against the individuals involved by forest department officials. The department is investigating whether more such animals were illegally captured using this method in the past," Sharma said.
In March 2022 mid-day reported on how residents of the Gorai-Manori belt spotted pugmarks, hinting at the presence of leopards in the area. Locals and the forest department had claimed that leopard sightings in the area were unheard of. It was also stated in the story that locals had been spotting huge pugmarks in the forested patch in the area for two weeks.
The distance via road between the SGNP main gate to Gorai is 25 km. In February 2022, a leopard was rescued from a drain in Bhayander slum near Jai Ambe Nagar. 
Environmentalist Stalin D from NGO Vanashakti alerted the department after learning about the trapping on Friday morning.
25km
Distance from SGNP main gate to Gorai